Fire up the barbecue and make these grilled sweet potato wedges flavoured with cumin and cayenne pepper. 
Sweet potatoes on the grill. Nothing revolutionary, but these are life-changing. I've made baked sweet potatoes on the grill before, but the smoky flavour that comes from the potatoes being placed directly on the grill is unmatchable – and can you get over those stunning grill marks? I really believe that grill marks make everything better. But the thing about potatoes is that they are starchy and take longer to cook than say grilled asparagus, so they require a quick parboil beforehand, otherwise, you'll end up with scorched sweet potatoes.
My method for grilling sweet potato wedges is to slice them into wedges (keep the skin on, it's the best part), boil them in salted water for about three minutes, then toss in canola oil, cumin and cayenne pepper. Sprinkle with a touch of salt, and toss on a preheated barbecue for about three minutes per side. Flip once for beautiful grill marks, then serve and sprinkle with a touch of parsley for a finishing touch. I like to serve my grilled sweet potatoes with my traditional tzatziki sauce but these would also be delicious with a chipotle mayonnaise.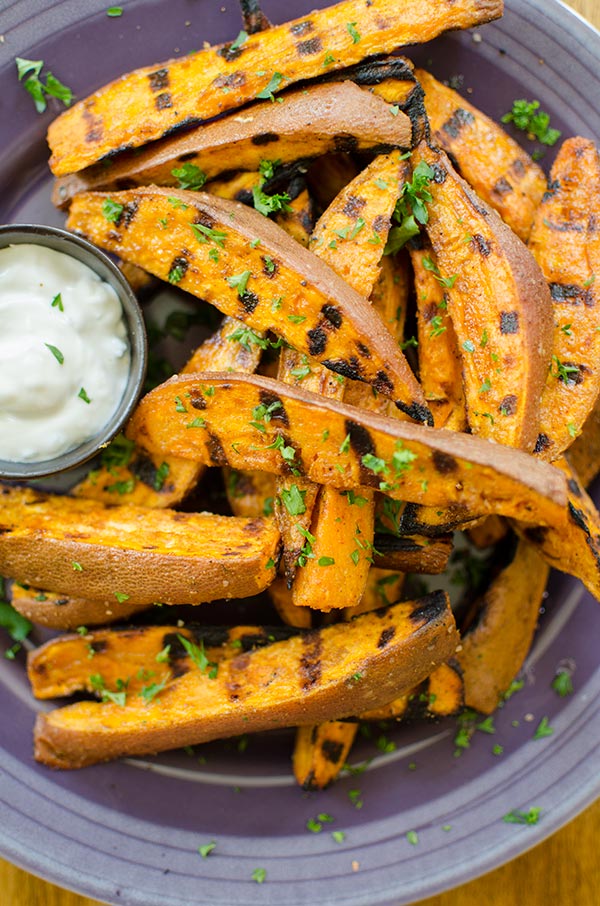 I'm going to be honest here and say that I haven't really felt like blogging much lately. Maybe call it a rut, or a lull, but whatever it is, I can't really seem to put a finger on it. About nine or so months ago, my friend Chris introduced me to the idea of thinking of your life in seasons. Not the summer-fall-winter seasons, but more the seasons of your life.
It's kind of a trendy thing these days, I think. Does this sound insane? It's really not. There are seasons where, for example, you may be really into your work, or you may be really into a hobby or your blog, seasons of emotional growth, seasons of new beginnings and so on. I think right now I'm in a season that is riddled with a strange combination of amazing, wonderful highs and an underlying current of uneasiness.
Maybe that's the nature of this transient, not-so-stable, 20-something period? Am I overthinking this? Probably. I'm really good at overthinking things, and I don't think it helps that I have a blog where I literally overthink things on a regular basis. Yay!
Actually, now that I'm writing about this, I feel like this is the most common 23-year old story/feeling/ramble ever. I like reading my friend Carly's post about 23-year old woes, because I feel like I can so relate to a few of the things she talks about.

Yields 4
Grilled sweet potato wedges
Ingredients
3 medium sweet potatoes, scrubbed and sliced into wedges
2 tbsp canola oil
1 tsp cumin
½ tsp cayenne pepper
½ tsp salt
parsley to serve
Instructions
Preheat grill over medium-high heat.
Boil salted water in a large pot, add sweet potatoes and cook for 3 minutes. Drain.
In a large bowl, toss sweet potatoes with canola oil, cumin, cayenne pepper and salt.
Grill, for 3 minutes per side.
Serve topped with parsley.
Nutrition
Nutrition Facts
Amount Per Serving

Calories

256

% Daily Value*



Total Fat:

28 g

43.08%

Saturated Fat:

2 g

10%

Cholesterol:

0 mg

0%

Sodium:

1250 mg

52.08%

Potassium:

42 mg

1.2%

Total Carbohydrate:

1 g

%

Sugar:

0 g

Protein:

0 g

Vitamin A:

1.64%

Calcium:

21 mg

2.1%

Iron:

1 mg

5.56%
7.8.1.2
242
https://www.livinglou.com/grilled-sweet-potato-wedges/
Let me know if you give these grilled sweet potato wedges a try in the comments below.