Grilled salmon skewers with zucchini, onion and bell peppers are marinated in a olive oil, lemon juice and dried thyme marinade.
Recently I've been turning to books and reading to help relax and stop my brain from constantly cycling through my to-do list. Growing up, I always did a ton of reading in the summers, and I feel like I've been conditioned to spend time reading in the summer. I recently finished a collection of essays and poems called I Can't Believe It's Not Better by Monica Heisey who is a writer and comedian from Toronto. It is so funny and relatable. I especially loved that the stories took place in and around Toronto.
I've been reading a combination of non-fiction and fiction, I'm halfway through Aidan Donnelly Rowley's The Ramblers right now and loving it, but my next 'project' is to do a deep dive into some culinary reading and research.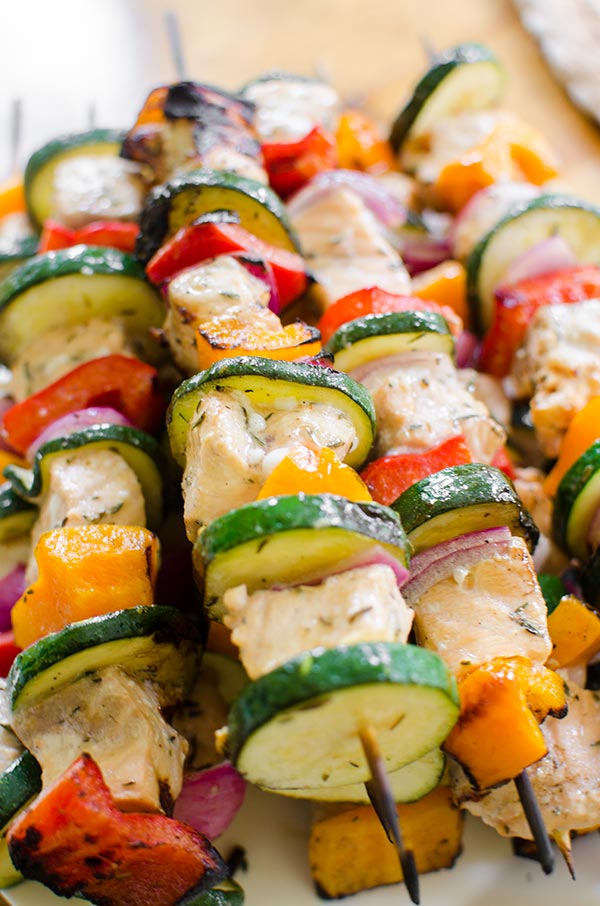 When I was working in a test kitchen, I was constantly learning and improving my skills. Learning to think about flavours and balance, texture and taste. How to actually season your food properly (everyone should learn this!). Combining all of these elements to make your recipes better each time you are developing and testing them. It's been over a year and a half since I had that job and I've definitely been missing how much I would learn about food each and every day because there is always something new to learn about food and cooking.
I've got a growing list of classic cookbooks, memoirs and gastronomic bibles. If I actually had all of these books, my bedside table and desk would be piled high. Many of these books aren't available anymore but can be found in the reference library in Toronto. So you can expect to find me there over the next little while. Maybe I'll document and share some of my findings on here (or on Instagram) is that something you'd be interested in?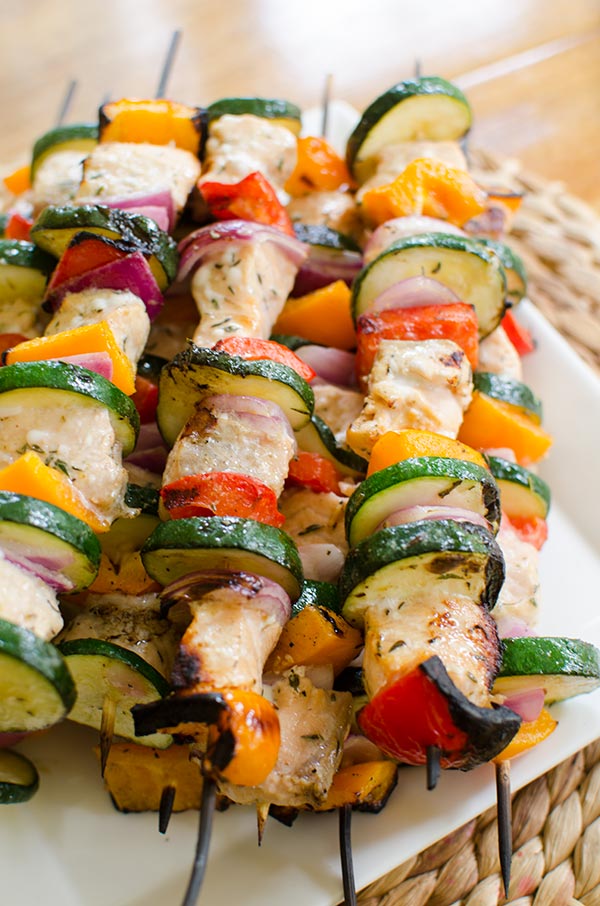 These grilled salmon skewers are a basic recipe but I find a lot of people are intimidated by grilling fish. It's so easy to overcook and can fall apart right on the grill. Trust me, I've made both of those mistakes before. The trick to making salmon skewers (or skewers of any type) is to be very selective with the kinds of veggies you are grilling along with your protein. Because salmon cooks quickly, I opted for onion, zucchini and bell peppers because I knew they would cook in the same time as the fish.
The other key to making skewers or kabobs is in the marinade. I marinate the veggies and salmon in the same bowl to keep things simple. It's a very basic marinade of olive oil, lemon juice, salt and dried thyme. I'm using dried herbs here because they won't burn on the grill and can stand up to high temperatures and direct grilling.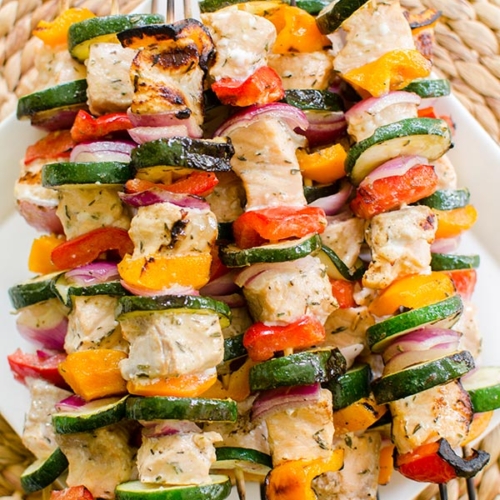 Grilled Salmon Skewers
Grilled salmon skewers with zucchini, onion and bell peppers are marinated in an olive oil, lemon juice and dried thyme marinade.
Pin
Print
Ingredients
For marinade:
3

tbsp

olive oil

2

tbsp

lemon juice

1

tsp

dried thyme

½

tsp

salt
For skewers:
1.5

lbs

/ 680g fresh salmon filets

,

skin removed cut into 1" cubes

1

large red onion

,

sliced into 1" pieces

2

zucchini

,

sliced into ¼" rounds

2

bell peppers

,

sliced into 1" pieces
Instructions
In a large glass bowl, whisk olive oil with lemon juice, thyme and salt. Add salmon and vegetables, toss to coat. Cover and refrigerate for 20 minutes. Meanwhile, soak 8 medium length wood skewers in water.

Preheat the grill to medium-high heat. Thread salmon and veggies onto skewers.

Grill for 3-4 minutes per side or until fish is cooked.
Did you try this recipe?
Leave a comment + rating and let me know what you think!
Let me know if you give these grilled salmon skewers a try in the comments below.