Make the perfect melt in your mouth and tender beef and butternut squash stew, made with stewing beef, butternut squash and peas. Cook it low and slow in the oven for two hours for the most delicious stew ever!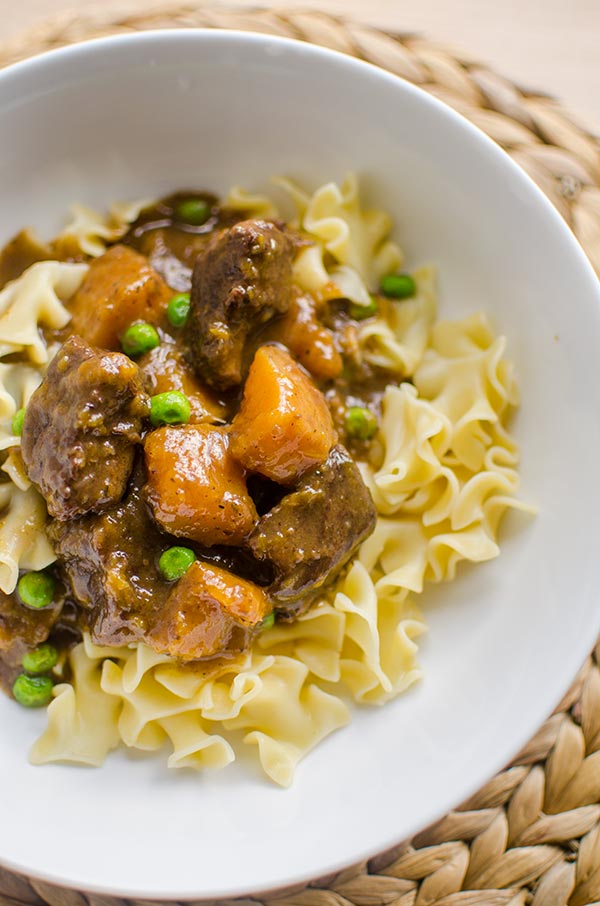 There is nothing better than a delicious beef stew. Especially on a cold day and the stew has your entire apartment smelling like amazing, and where the beef is so tender that it literally melts in your mouth. That's my kind of stew.
There are a few secrets to achieving the perfect stew, it's why stewing is the technique that I'm starting off my 8-weeks to better cooking with. (Have you signed up yet? It's not too late!).
Stewing is a fail-proof technique; it's almost impossible to overcook a stew. The idea is that  the longer you cook it, the more tender it becomes. You do need to be more careful with the vegetables, but that's why using a sturdier vegetable like butternut squash works so well in this stew recipe.
Over the years I've shared many slow cooker stew recipes, but this beef stew is made in the oven. While you could definitely adapt it for the slow cooker I'm very partial to cooking stews in the oven these days.
How long do you cook beef stew in the oven?
This beef stew cooks for two hours in the oven at 250F. I found any higher temperature lead to the beef being tough and the butternut squash breaking down completely, so I wouldn't go any higher than 250F. This stew cooks for an hour and a half covered and uncovered for another 30 minutes. This allows the liquid to reduce a little bit more and the stew to thicken.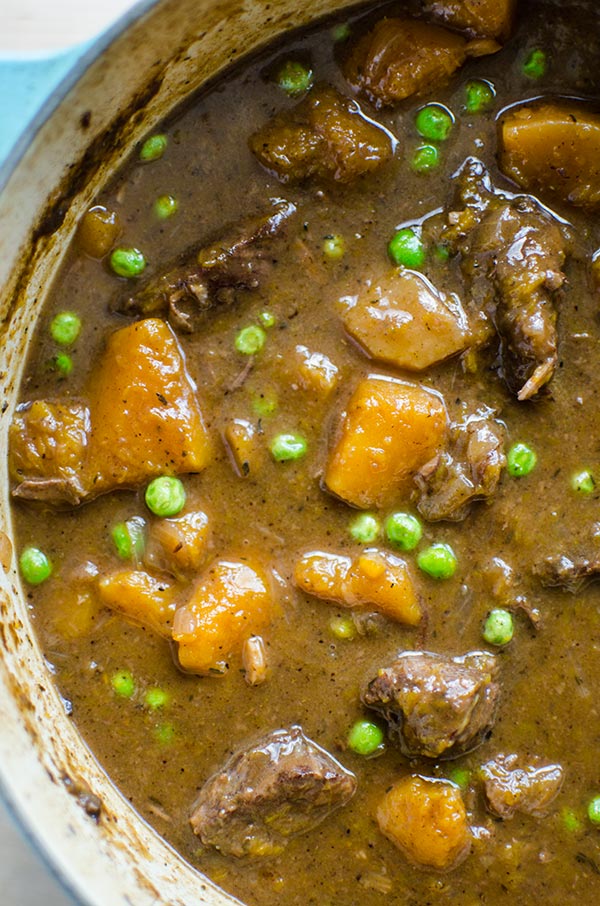 What's the best way to thicken beef stew?
To thicken this stew, I do three things:
Dust the beef in flour before searing it.
Stir in one tablespoon of flour when you're caramelizing the tomato paste and cooking the garlic.
At the very end, if it's still not thick enough, use a beurre manié to thicken the stew. A beurre manié is a mixture of equal parts softened butter and flour. To thicken using this technique, bring your stew to a simmer, and add the beurre manié in small chunks. As the butter melts, this will thicken the stew and give it a velvety finish.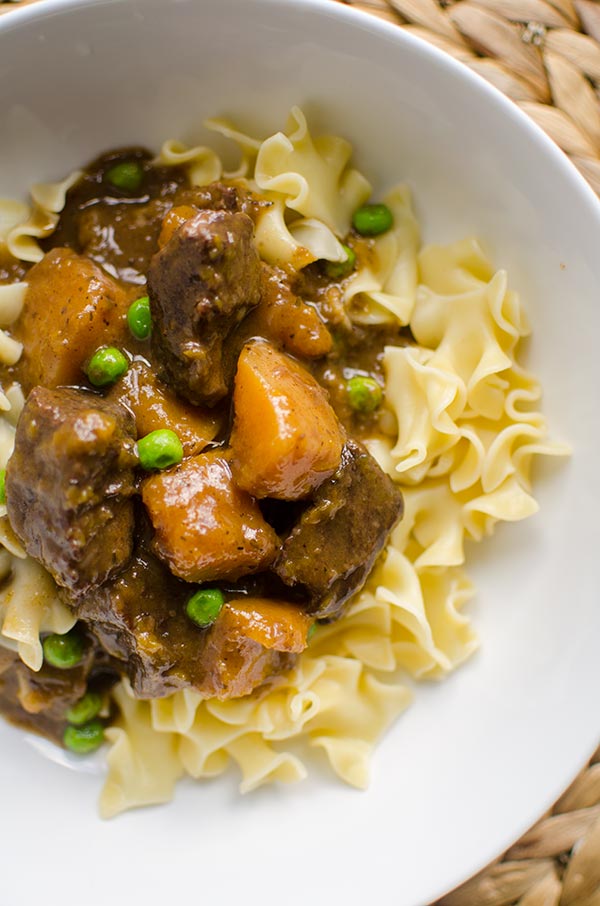 Peas, a very tender vegetable get thrown in right at the end. They don't need to cook and simply need to be heated up with the stew. I like to add peas because they add a hit of brightness and fresh flavour, but if you're not a fan of peas you can definitely leave them out.
Beef and Butternut Squash Stew
Make the perfect melt in your mouth and tender beef and butternut squash stew, made with stewing beef, butternut squash and peas.
Pin
Print
Ingredients
2

lbs

stewing beef

1 ½

tsp

salt

,

divided

2

tbsp

flour

,

divided

4

tbsp

olive oil

,

divided

2

onions

,

chopped

3

cloves

garlic

,

chopped

2

tbsp

tomato paste

1 ½

cups

red wine

2

tbsp

worcestershire sauce

4

cups

beef stock

1

tsp

dried thyme

1

bay leaf

1

small butternut squash

,

peeled and cut int 1" cubes (about 6 cups)

1

cup

peas
For beurre manié:
1

tbsp

all purpose flour

1

tbsp

butter

,

softened
Instructions
Preheat oven to 250F.

Season beef with 1 tsp of salt and dust with 1 tbsp of flour.

Heat a large Dutch oven over medium-high heat. Add 2 tbsp of olive oil to pan, in batches, sear beef until browned on all sides, about 4 minutes flipping occasionally. Repeat with remaining beef, adding 2 tbsp of olive oil before final batch (I do it in three batches). Remove from pan and set aside.

Reduce heat to low, add onions and ½ tsp of salt, cook until lightly browned, stirring often, about 3 minutes.

Add garlic, tomato paste and remaining 1 tbsp of flour. Cook 30 seconds, tomato paste should start to turn a deeper red.

Deglaze with red wine, scraping brown bits from the bottom of the pan, cook for a minute. Add worcestershire, beef stock, thyme and bay leaf. Carefully add beef back to the pan.

Bring to a boil, cover and place in the oven. Cook for two hours. Remove from oven and carefully add butternut squash, return to oven and cook another hour, during the last 30 minutes, remove the lid and continue cooking uncovered.

Remove from oven, discard bay leaf and stir in peas. If your stew doesn't seem thick enough, thicken with beurre manié.
To thicken:
In a small bowl, mash flour and butter together. Bring stew to a simmer over medium heat, add beurre manié to stew in small chunks, As the butter melts, the stew will thicken.
Did you try this recipe?
Leave a comment + rating and let me know what you think!
Let me know if you give this beef and butternut squash stew recipe in the comments below.