Baked Camembert cheese with sun dried tomatoes and red pepper jelly is the perfect appetizer.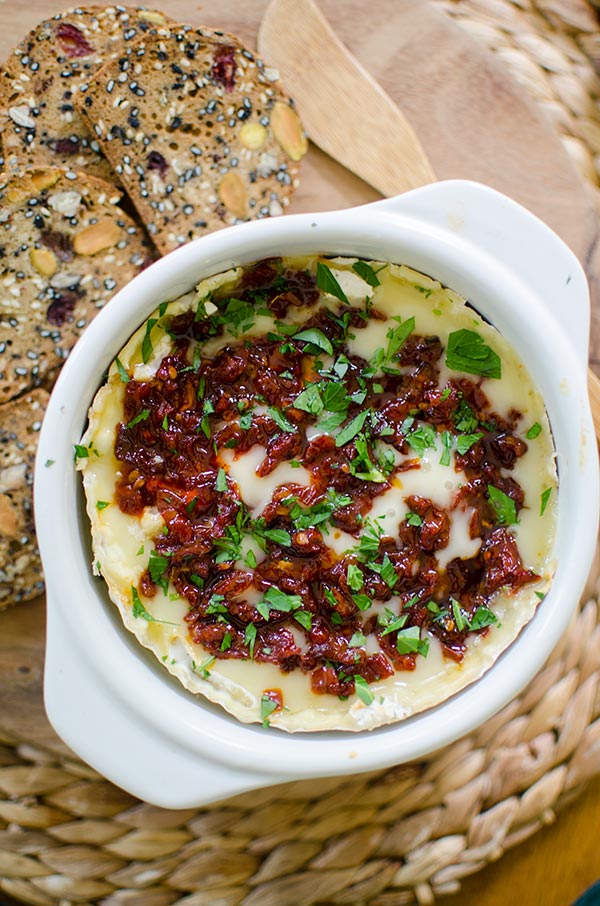 Growing up in Canada (specifically in Ontario) means that I've become used to the idea that there is a small window for most of our local produce, so you really need to take advantage of it. But, this isn't the case when it comes to cheese! You can find locally made, high quality Canadian cheese all year around.
This month's cheese from Dairy Farmers of Canada is Comfort Cream, which is from the Upper Canada Cheese Company in the Niagara escarpment region in my home province of Ontario.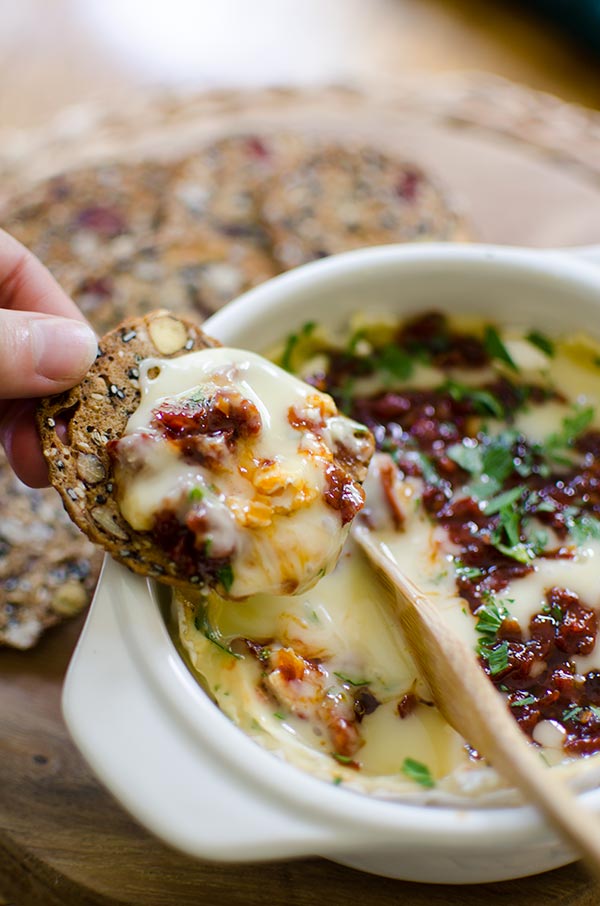 Is there anything better than a creamy, gooey baked Camembert? Gathering around the counter or table with a warm gooey wheel of cheese and some crackers, add in a glass of wine and my favourite people and I have basically just described what I consider to be the perfect evening. Hosting a dinner party can be overwhelming (and let's be honest, who has the space let alone a kitchen table to have people over for dinner?), but having your girlfriends over for an evening of wine and cheese is totally doable.
This cheese is made with locally sourced Guernsey milk and is aged for a minimum of four weeks, which helps it ripen and mature in flavour, texture and colour. I love supporting local cheese makers and am really excited about the Upper Canada Cheese Company.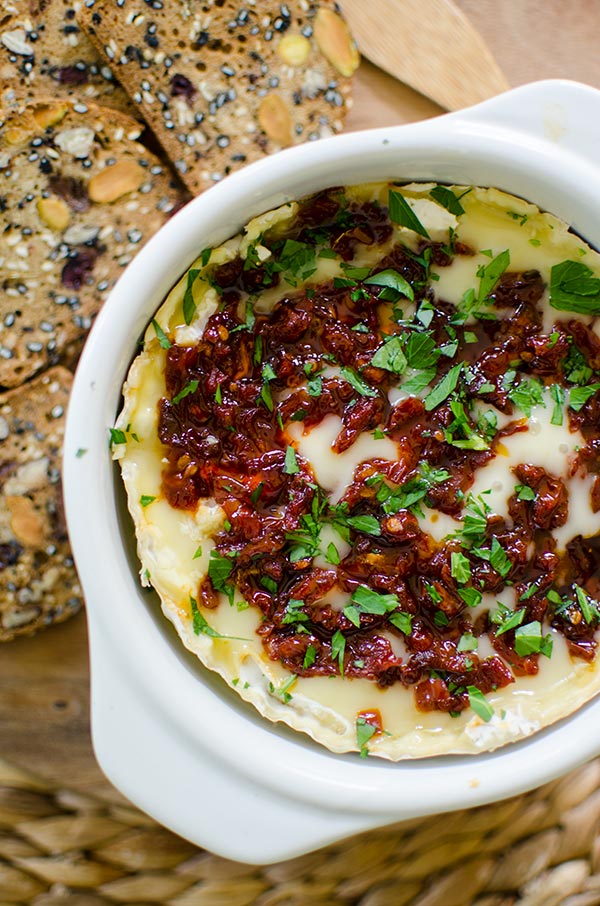 To me, the best thing about baked Camembert is adding different flavours and toppings. For this recipe, I wanted to complement the buttery and tangy finish of the Camembert by adding elements of sweetness (sun dried tomatoes) and a little bit of spice from red pepper jelly. I topped it off with fresh parsley for a bit of a fresh finish and for presentation it adds a nice pop of colour.
There are a couple of quick steps when making baked Camembert. It starts by slicing off the top rind, because this cheese is so creamy, you need a really sharp knife! Then I mix up the toppings and scatter them all over the cheese before baking it in a 350F oven for about 8 or so minutes.
Baked Camembert with Sun Dried Tomatoes and Red Pepper Jelly
Ingredients
1

wheel of Canadian Camembert – Comfort Cream

1/4

cup

finely chopped sun dried tomatoes packed in oil

,

drained

2

tbsp

red pepper jelly

1

tbsp

finely chopped parsley
Instructions
Preheat oven to 350F.

Cut top rind off the cheese. Put cheese in brie baker.

Meanwhile, in a small bowl, stir sun dried tomatoes with red pepper jelly. Scatter mixture all over cheese.

Bake for 8-10 minutes, until softened.

Serve warm or room temperature with crackers.
I think if you're planning any sort of gathering or heading to a gathering, this baked Camembert with sun dried tomatoes and red pepper jelly is going to be a crowd pleaser. Because this dish can be served warm or cold, it has become a favourite no-fuss appetizer to serve.
Disclosure: This post was sponsored by Dairy Farmers of Canada – as always, all opinions are my own. Thank you for supporting my sponsors and allowing me to continue creating recipes like this baked Camembert with sun dried tomatoes and red pepper jelly!