Avocado chicken salad skips the heavy dressing with a simple yogurt and avocado dressing with fresh basil and lemon.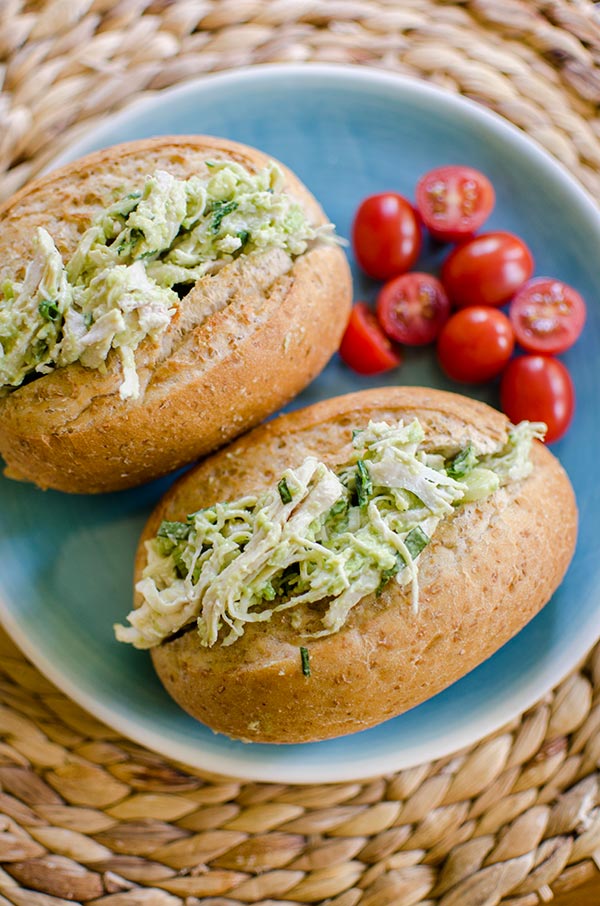 If you know me, you know that my food philosophy is around balance and cooking unabashedly delicious food based on simple, fresh and flavourful ingredients. This creamy, avocado chicken salad is exactly the kind of recipe that I love.
This avocado chicken salad is not your traditional, mayonnaise-loaded chicken salad, but it's still creamy and satisfying because it's made with avocado and yogurt. In this recipe, the avocado and yogurt take the place of mayonnaise. The yogurt adds a nice tang that balances out the richness of the avocado.
The other reason I love this recipe is that it includes one of my all-time favourite flavour combinations; avocado and basil.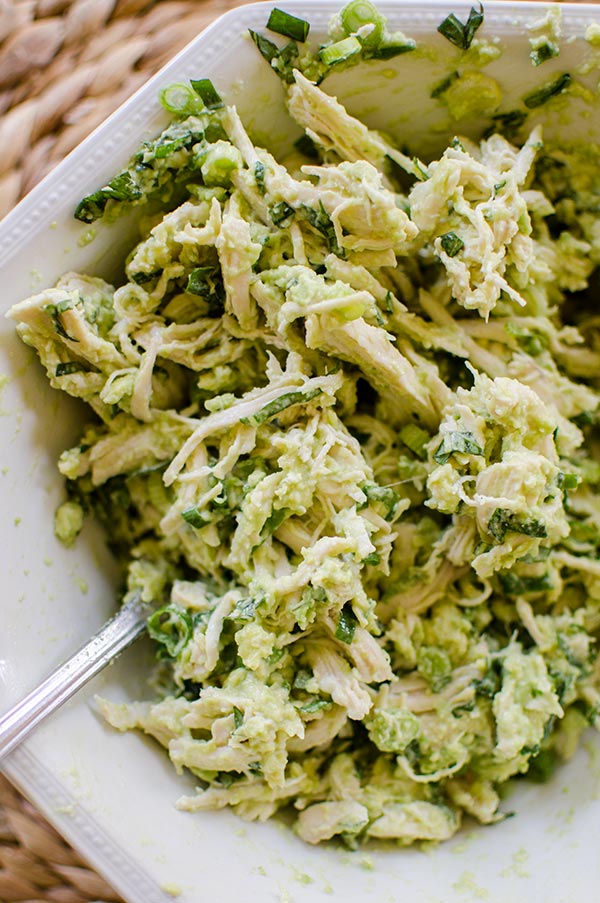 Have you tried avocado and basil together before? You've probably had avocado and cilantro together in guacamole, but basil and avocado is another combination of flavours that just works and totally screams summer. The first time I had these two together was in a sandwich with an avocado basil spread and I couldn't get enough of it!
For this recipe, I poach chicken then shred it, but you could easily use store bought rotisserie chicken here as well, whichever is easier for you.
Along with avocado, basil and yogurt, I also add some green onions in here for a tiny bit of a mild kick.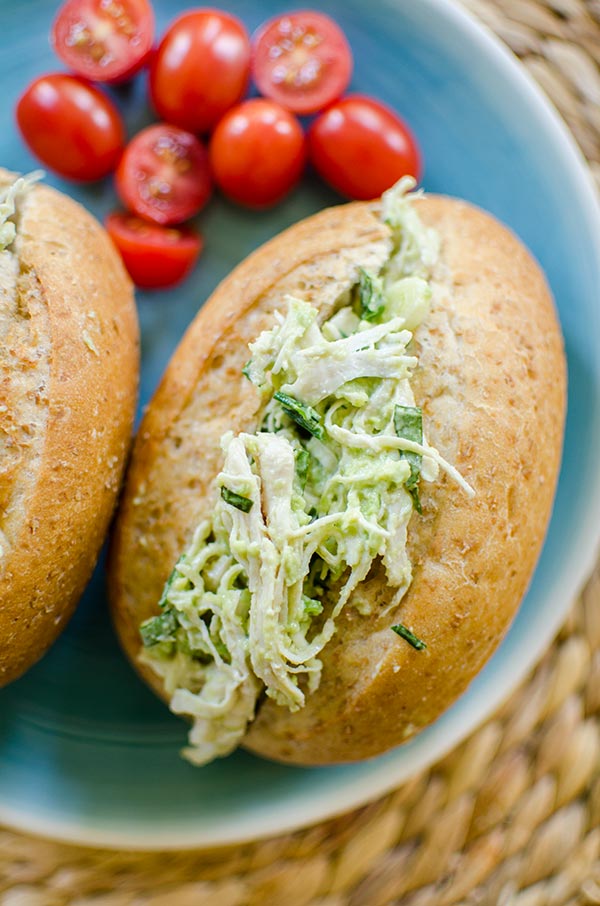 I love green onions and add them to pretty much all of my recipes. I love how mild they are, with a hint of onion flavour and I also love that you don't end up with ¾ or ½ an onion sitting in your fridge. I'm not the kind of person to use half of this and a quarter of that, it just gets a little annoying to have bits and bobs of ingredients floating around the fridge.
If you love chicken salad and are looking for something a little on the lighter side, or if you just love avocados, or maybe you're super into basil right now (it is August after all), then you have to give my avocado chicken salad a try. It's insanely simple but elevates and updates the somewhat dated chicken salad.
Louisa Clements
Yields 2 ½ cups
Avocado Chicken Salad
Avocado chicken salad made with yogurt, avocados and fresh basil.
10 minPrep Time
21 minCook Time
31 minTotal Time
Ingredients
2 chicken breasts or about 2 cups shredded rotisserie chicken
¾ tsp salt, divided
2 avocados
¼ cup plain yogurt
¼ cup thinly sliced basil
2 green onions, thinly sliced
2 tbsp olive oil
1 tbsp lemon juice
Instructions
In a medium pot, bring water and ½ tsp salt to a boil. Add chicken, cover and cook for 3 minutes, remove from heat and let sit covered for 18 minutes. Discard water and shred chicken.
In a large bowl, mash avocado with yogurt. Sitr in basil, green onions, olive oil and lemon juice. Add chicken and mix until combined.
Nutrition
Nutrition Facts
Amount Per Serving

Calories

1447

% Daily Value*



Total Fat:

113 g

173.85%

Saturated Fat:

20 g

100%

Cholesterol:

187 mg

62.33%

Sodium:

2006 mg

83.58%

Potassium:

3046 mg

87.03%

Total Carbohydrate:

48 g

%

Sugar:

6 g

Protein:

75 g

Vitamin A:

24.14%

Calcium:

534 mg

53.4%

Iron:

19 mg

105.56%
7.8.1.2
243
https://www.livinglou.com/avocado-chicken-salad/
Let me know if you give this avocado chicken salad a try in the comments below.