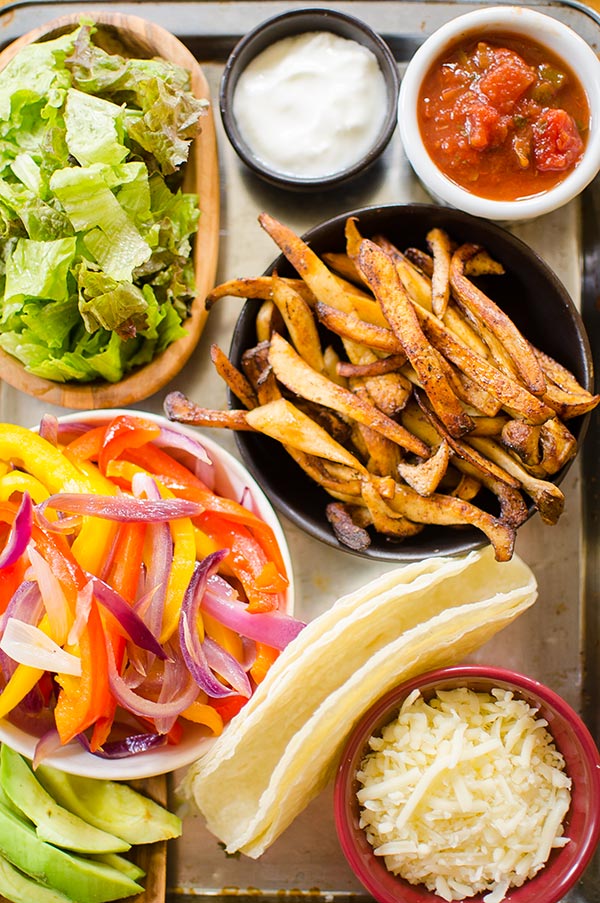 Looking to eat more vegetarian meals? I've got one quick solution for you, vegetarian fajitas using king oyster mushrooms. These are ready in under 30 minutes (hello weeknight dinner) and are loaded with flavour and veggies. Does it get much better? I've created a recipe that has all the classic flavours of fajitas and gave it a vegetarian twist using mushrooms, but not your typical preparation using portabellas, but using their meaty cousin the King Oyster mushroom.
So, what's the deal with king oyster mushrooms? They are a a variety of mushroom that is native to the Mediterranean, but you'll often find them used in soups in asian cuisine. They are related to the more common, oyster mushroom, but kings are quickly gaining in popularity worldwide and it's just a matter of time before they are part of our regular cooking routine. They are a large mushroom with a thick, meaty stem that is perfect to replace the chicken in fajitas. The cap is small and meaty, but the reason I wanted to use the king oyster mushroom is because of this thick stem. I buy mine pre-sliced in 227g packages and then slice them into long, thin strips, because that is what I've found in most grocery stores in Toronto, but if you can't find pre-sliced, you can always thinly slice them on our own. One of the pros to using king oyster mushrooms is that their stem retains its texture when cooked and is slightly chewy – in the vegetarian fajita recipe, you'll notice what might be a surprisingly long cook time for the mushrooms, but they can hold up to the longer cooking time and they become deliciously caramelized.
You might be familiar with these mushrooms as "scallop" mushrooms; that's because their meaty stems are often used to replace scallops by vegans and vegetarians. I've never tried this preparation before, but I'm sure it's delicious. I love using mushrooms in vegetarian dishes, like in a spicy asian-inspired soup and a meaty, quinoa pilaf.
I created this recipe for my friends at Mushrooms Canada, I've been working with them for years now and always have fun developing new recipes using mushrooms. This time, I wanted a challenge and developed two delicious recipes using king oyster mushrooms. The first, was a meaty breakfast favourite on toast with arugula and garlic butter and today I'm sharing these vegetarian fajitas. These recipes were my first time using king oyster mushrooms, and I can't wait to use them in more recipes. They are meaty and satisfying and hold up wonderfully to cooking. I think you could even slice the stems into rounds and use them in a stew (maybe even in the slow cooker?). There is a ton of room for creativity with these mushrooms. And that's my favourite part about cooking, the creative element. I think that's why I've never gotten sick of it, no matter how many hours I spend in the kitchen every week.
If you want to try this recipe, you'll have to hop on over to Mushrooms Canada. It has two parts, the first is to saute up the peppers and onions, then come the mushrooms and spices like cumin, oregano and chili powder. Make vegetarian fajitas tonight using king oyster mushrooms.
Disclosure: I was compensated by Mushrooms Canada to develop this recipe, however the choice to post about it on my blog was my own. As always, all opinions are my own. Thank you for supporting my sponsors and allowing me to continue creating content like these vegetarian fajitas!