I'm not going to pretend for a second that I am remotely interested in the Superbowl or football in general. Because I'm not. Sorry to disappoint. Hockey is more of my thing. Or March madness, to be honest. But, it's almost time for the big game and the world is currently exploding with chicken wings, which is not a problem in my book. Naturally I've had some serious cravings, which resulted in my newest obsession, and trust me, you'll thank me later for these: Sticky Tandoori Spiced Chicken Wings. If you ask any of my friends, they will back me up 100% when I say that I am addicted to chicken wings. Whenever we find ourselves at our local neighbourhood pub, I order wings. Whether it's half-priced wings night or not. I have zero self control when it comes to chicken wings.
These wings are something pretty unique because it's not often that you'll find Indian-inspired chicken wings at your local pub. My family is crazy for all things Indian flavours and spices so I created these tandoori wings just for us, but they ended up being so delicious that I knew I had to share them. Traditionally, tandoori chicken is prepared using a variety of spices and yogurt and is cooked in a clay oven which is called a tandoor. It is somewhat similar to my yogurt marinated chicken thighs (they are both marinated in a yogurt mixture which keeps them incredibly moist). While this recipe doesn't require the use of a tandoor or a yogurt marinade, the chicken wings get their "tandoori spiced" title from the spices that get rubbed on them before they are baked. For these wings I used a tandoori masala powder I found at my local grocery store, but you could also use garam masala (it just won't have the same bright, red colour as garam masala is more of a brown spice powder).
These chicken wings require two steps. First there is a dry rub, followed by roasting for 40 minutes. Then there is the sticky, honey tandoori sauce that you toss them in at the end. Do not skip either step, I repeat, do not skip either step. For the past year or so, I've been on the hunt to figure out the perfect method for crispy, oven-baked wings. I've tried using cornstarch for a crisp coating and just a simple dry rub, but I've been doing some research and decided to try out a new method; baking powder. This new method requires the wings to be tossed in baking powder to create a crispy crust before they are cooked (the baking powder works to pull out the moisture, creating that blistering, crunch we know and love in deep friend wings). While these wings are not exactly the same as their deep-fried counterpart, but I think for oven baked wings, these are pretty close to perfect.
While they are baking, the sticky tandoori sauce comes together on the stovetop. It's a mixture of honey, ketchup, vinegar (for some tang) and spices to add to the Indian flavours of the dry rub. Because the wings are tossed in a sauce after they are baked, it's important to serve them right away because the longer they sit in the delicious sauce, the less crispy the skin will be.
Baked tandoori chicken wings recipe breakdown
Inspired by the flavours of Indian tandoori, serve tandoori spiced chicken wings for something a little different during football season or March madness. These crispy wings are tossed in a dry rub of tandoori spice and baking powder for the ultimate baked wing. They are then tossed in a simple sauce of honey, ketchup and spices.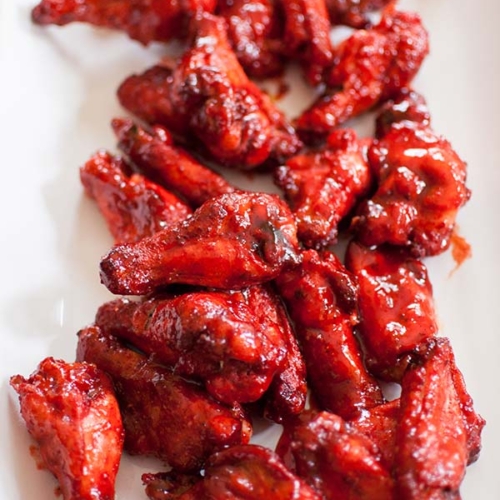 Sticky Tandoori Spiced Chicken Wings
Tandoori spiced chicken wings are crispy from being tossed in a dry rub of tandoori spice and baking powder for the ultimate baked wing. They are then tossed in a simple sauce of honey, ketchup and spices.
Pin
Print
Ingredients
4

lbs

chicken wings

4

tbsp

tandoori masala powder

2

tbsp

baking powder

2

tsp

salt

½

tsp

cayenne pepper

,

more to taste
For sauce:
⅔

cup

honey

¼

cup

ketchup

1

tbsp

white wine vinegar

1

tbsp

tandoori masala

3

cloves

garlic

,

crushed
Instructions
Arrange racks in top and bottom thirds of oven and preheat to 400F. Line two large-rimmed baking sheets with foil. Set a wire rack on each prepared sheet.

In a large bowl, toss chicken wings with tandoori masala, baking powder, salt and cayenne pepper.

Arrange chicken wings on the prepared racks. Bake for 20 minutes, switch and rotate sheets and bake another 20 minutes.

Meanwhile, prepare the sauce. In a small pot, whisk together all ingredients for sauce. Heat over medium-high heat, bring to a boil, whisking constantly for 30 seconds. Remove from heat immediately.

In a large bowl, toss cooked chicken wings in the sauce. Serve immediately.
Did you try this recipe?
Leave a comment + rating and let me know what you think!