Make restaurant worthy risotto at home with this simple recipe for spinach risotto made with fresh spinach and arborio rice.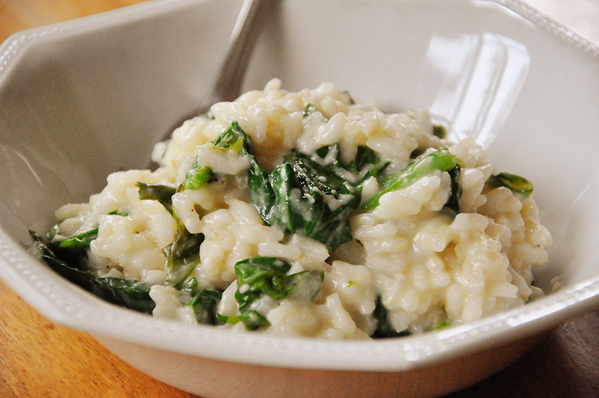 When my brain is on overload (i.e. senior year stress) there are certain things which help me deal with said work load, things like making risotto. The repetitive process of stirring the rice, adding liquid, then stirring again is very comforting. For about thirty minutes, instead of thinking about the 1.9 million things I need to do, all I have to focus on is risotto. And let me tell you, in the middle of 3 essays, one seminar and other homework assignments, 30 minutes of risotto making is an extremely welcome break.
People often think that risotto is super complicated, but the truth is, it's actually really easy. There are a couple of important things to keep in mind. First of all, make sure you're always using arborio rice. These grains of rice are sturdier than typical rice and will hold up to the cooking process, resulting in a somewhat creamy yet tender dish. The second thing to keep in mind is the liquid used, I like to use low-sodium chicken broth, but use homemade if you have it on hand! I find using regular chicken broth will make your risotto a touch too salty. Finally, don't omit the wine because it adds so much flavour. Without this hit of acidity, I'm afraid that this risotto would be pretty bland. To me, the wine makes it.
When we received our weekly basket of organic produce, I was struck with an idea, inspiration was bubbling inside of me: risotto + spinach = perfect Meatless Monday meal. I'm not sure that I have ever mentioned my love for spinach, but it's a pretty deep relationship, and the best thing about it? It's mutual, unlike chocolate and um… more chocolate, spinach is good for the body as well. And well, everyone knows risotto is my favourite, so this really is a no brainer.
If you're looking for more spinach inspiration, try my lighter warm shrimp and spinach salad or add spinach to homemade turkey meatballs.

Louisa Clements
Yields 4
Spinach Risotto
10 minPrep Time
25 minCook Time
35 minTotal Time
5 based on 1 review(s)
Ingredients
3-4 cups low-sodium chicken broth
2 tbsp olive oil
1 small onion, finely chopped or grated
1 cup Arborio rice
½ cup dry white wine
¼ tsp salt
½ cup Parmesan cheese
1 bunch fresh spinach, 8-10 oz chopped
Instructions
In a pot over medium heat, bring broth to a simmer.
In a large pan, heat the olive oil over medium heat, add the onion and saute until translucent, about 5 minutes. Add rice and stir until coated in oil.
Add wine, continue to stir until the liquid is absorbed. Add broth in ½ cup additions. Stirring constantly until liquid is absorbed. Then make another addition of water, and repeat until the rice grains are creamy on the outside and somewhat tender on the inside. This entire process should take between 15-18 minutes.
When rice is cooked, remove from heat. Add in spinach and Parmesan. Stirring to combine, spinach should wilt from the heat of the rice.
7.8.1.2
127
https://www.livinglou.com/spinach-risotto/
Let me know if you give this spinach risotto a try in the comments below.