A healthy vegetarian soup, this recipe for slow cooker black bean soup is so easy to make and loaded with spices, black beans and carrots.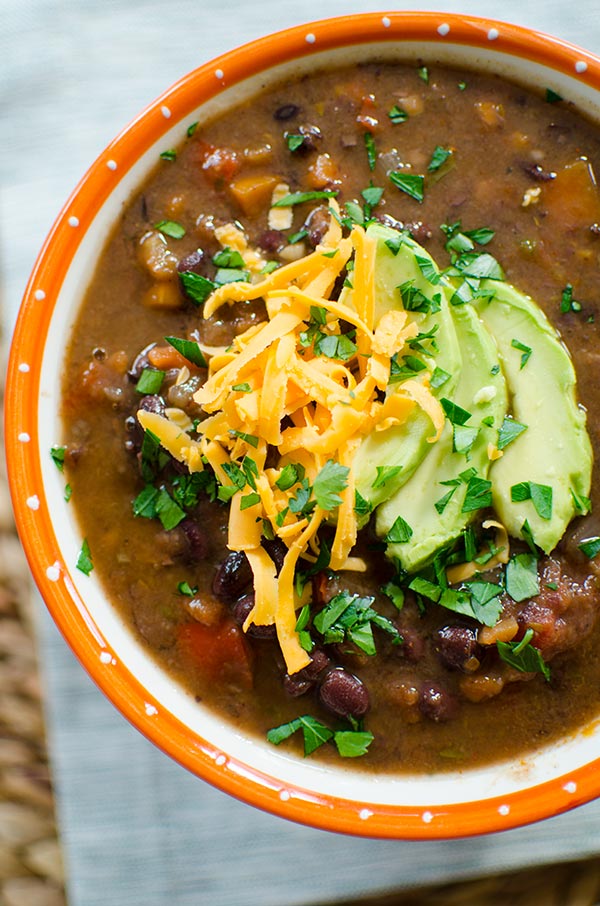 I'm just going to start off by stating the obvious: you need this slow cooker black bean soup in your life. If you're looking for a bowl of comfort, look no further and even if you don't think you're looking for a bowl of comfort, look no further.
January is a strange month, (especially when Mercury is in retrograde for most of it – fun fact, I love astrology), but it's a Monday morning and I think we should start the week on a positive note. Are you with me? Let's think about all the things we actually love about January, because as dark and freezing as this month may be, it's not all bad. Right? Ok, the first thing I like about January is the food. There are healthy comforting soups like this black bean soup and other healthy favourites like my turkey and white bean chili. There's also this thing called football, so we can't forget the crispy wings and party dips. I think that when you sit back and look at January as a whole, when it comes to the food, it's a pretty balanced mix between healthy eats and indulgent favourites.
Want to know something else I like about January? We all know that the weather is freezing, but there is a silver lining; there is absolutely zero guilt for curling up in my sunroom and watching Suits on Netflix all Sunday while this slow cooker black bean soup cooks away in the kitchen. Or curling up with a good book, which is something that I've been consciously carving time out of my day to do. I just finished reading Eight Hundred Grapes by Laura Dave and have moved on to Brene Brown's latest, Rising Strong which I have been dying to read since it came out in the fall. She's one of my favourite writers and I find her research to be fascinating. Plus, every time I read one of her books I learn so much about myself. I highly recommend any of her books, but Daring Greatly is my favourite and I've gotten most of my friends to read it and they've agreed, it's life changing.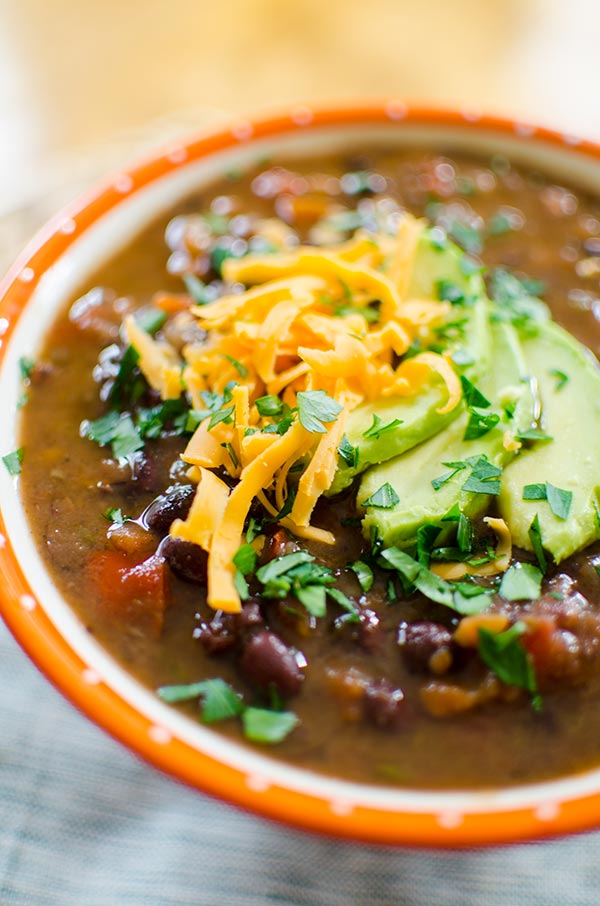 January isn't looking so bad anymore when you think about the delicious food and hibernation that goes on. And let's not forget about turtle neck sweaters, because those are the absolute best. If I can lie on the couch in a turtle neck, with a bowl of this black bean soup, a homemade latte and Rising Strong I think I'll be good for a couple of hours.
Recipe breakdown
There are a couple of important things to note about this slow cooker recipe, the most important thing is to saute the carrot, onion, bell pepper and garlic before adding them to the slow cooker. I tested this recipe by adding the vegetables raw to the slow cooker and it just doesn't work as well (flavour wise), they need to be cooked out on the stovetop before to get rid of the bite from the raw onion and garlic (I never find that onion cooks properly in the slow cooker). So don't skip this step, it just takes 5 minutes and is so worth it. The second thing to note about this recipe is that secret ingredient pickled jalapenos it's just a tablespoon of chopped pickled jalapenos, but those briny peppers add a touch of heat and tang to this dish that helps to create a perfectly balanced slow cooker soup. I also opted to use water as the liquid in this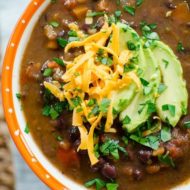 Ingredients
1

tsp

canola oil

2

carrots

,

diced

1

onion

,

diced

1

red bell pepper

,

diced

2

cloves

garlic

,

minced

1-2

jalapenos

,

minced

1

tbsp

chili powder

1 ½

tsp

cumin

1

tsp

oregano

2 540-

ml/19-oz cans black beans

,

drained and rinsed

1 796-

ml/28-oz can diced tomatoes

1

tbsp

chopped pickled jalapenos

1

tsp

salt

3

cups

water
Instructions
Heat a large pan over medium heat. Add oil, carrots, onion and red pepper. Cook for 5 minutes, add garlic, jalapeno, chili powder, cumin and oregano. Cook another minute. Scrape mixture into slow cooker insert.

Add black beans, diced tomatoes, pickled jalapenos and salt. Cover with water. Cook on low for 6 hours.

Using an immersion blender or a regular blender, puree roughly ⅓ of the soup to create a thicker and creamier consistency.
Did you try this recipe?
Leave a comment + rating and let me know what you think!
Spread the positivity and let me know what you love about January in the comments below, and if you do try this slow cooker black bean soup, let me know what you think.