Sheet pan oven baked gnocchi with sausage and vegetables is a quick dinner that comes together in just 25 minutes and is made in one pan.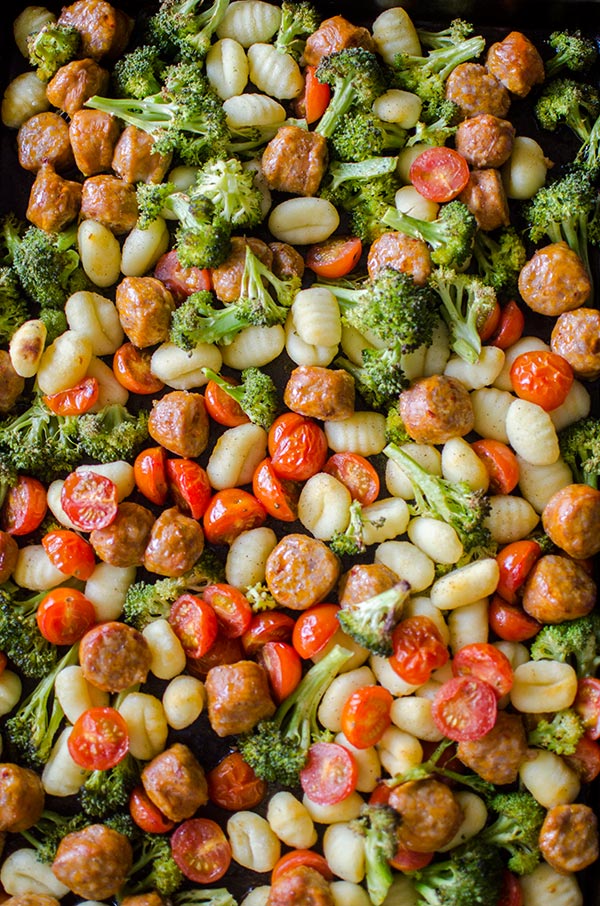 Did you know that you can bake gnocchi instead of boiling it? I know, it blew my mind too. I first saw this technique in this recipe for crispy sheet pan gnocchi from The Kitchn and had to try it for myself. I found that my gnocchi didn't end up "crispy", but instead it was kind of pillowy (and perfectly cooked)–which I loved.
I knew that I had to adapt this into a recipe to share with you because it's exactly the kind of recipe I like to feature on here; simple, fresh and flavourful. Recipes with a few ingredients utilizing great techniques to bring you the kind of dishes you want to eat over and over again.
Bonus that it's a super quick, sheet pan supper. While this technique is nothing revolutionary, it really does simplify your life if done properly. I also love making sheet pan sheet pan chicken with vegetables or one pan salmon with broccoli for a quick weeknight dinner.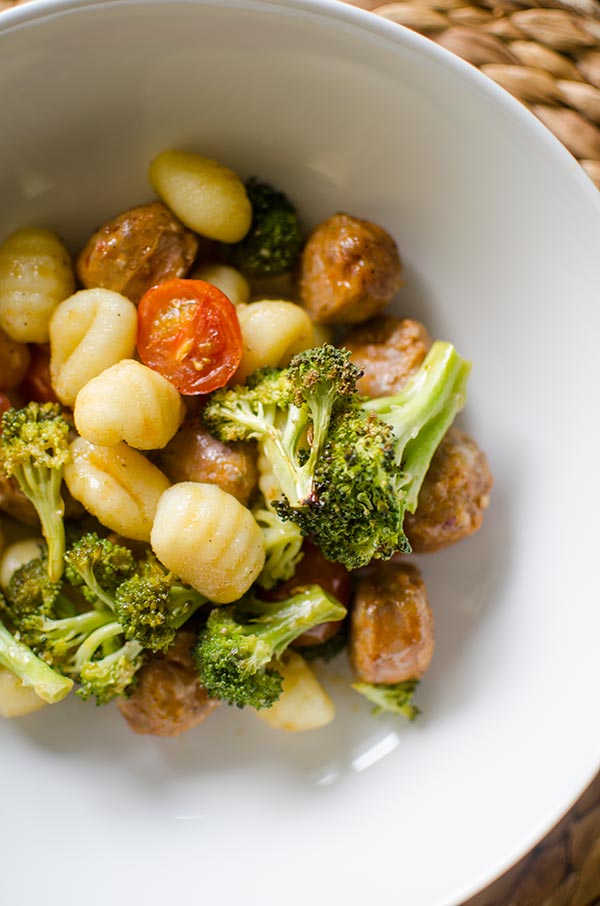 This is a dish that utilizes simple ingredients with little to no other seasonings. I find that using a delicious, spicy sausage (don't shy away from a sausage with quite a bit of fat, that's where the flavour is for this recipe) adds enough spice and flavour to not overpower the dish. Sometimes keeping things simple is the best way.
The first time I tested this recipe I included thyme and hot pepper flakes but found that they didn't really add much to the dish. That's part of writing recipes, sometimes it's about taking things out as much as it is about adding a bit of this or a bit of that.
It's like any great editor knows, how can you say the same thing with less, more powerful words?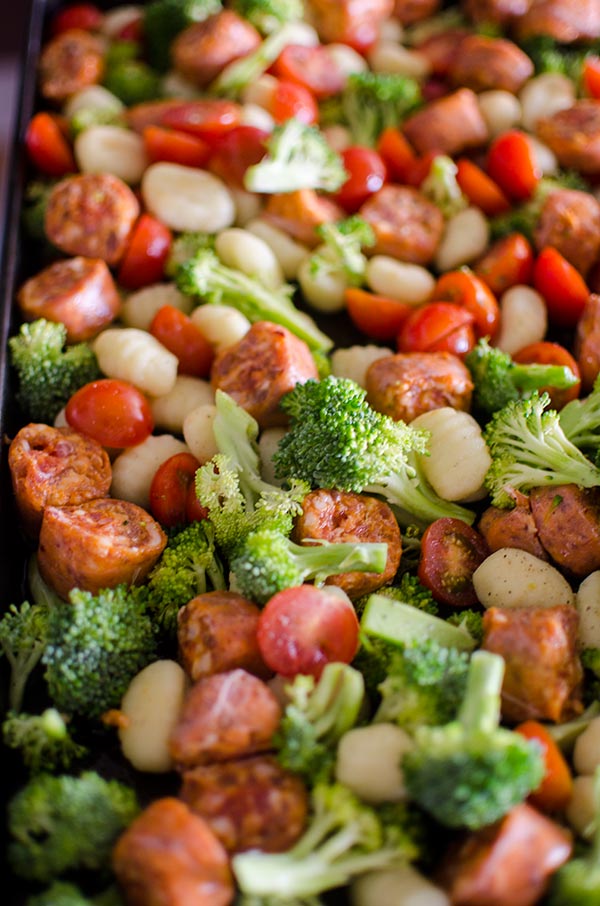 I'm in the midst of a move right now and haven't really had my own kitchen for a month or so. I know that this is the kind of easy recipe that I'll be cooking when I finally move into my apartment. It's for that week where you're in a bit of a weird limbo when you aren't totally settled yet and still have half of your kitchen in boxes.
You may look at the ingredients and think 'Wow ¼ cup of olive oil is a lot!'  but the olive oil is the only liquid in this recipe and it helps cook the gnocchi–the amount of olive oil is what gives the gnocchi a more pillowy texture than a crispy one.
The olive oil also helps crisp up the broccoli and break down the tomatoes. This is a great recipe for using out-of-season tomatoes because they become super sweet when they cook down and release delicious juices.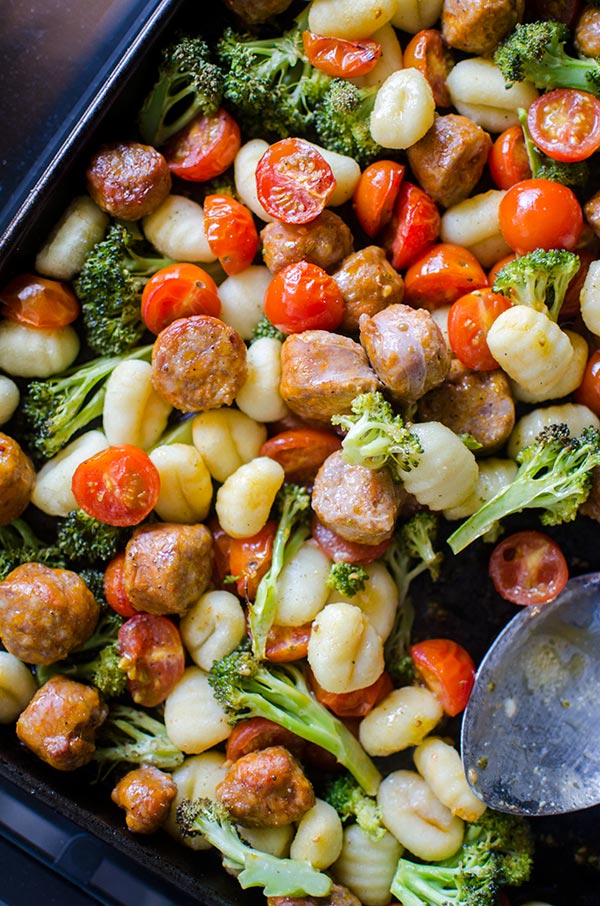 I definitely wouldn't use another kind of oil in this recipe, the flavour of the olive oil is important to the final dish. In certain recipes you could sub in a canola oil, but here we're using the olive oil to impart flavour into every ingredient on the pan. I recommend opting for something that is fruity that you often reach for when you're cooking any kind of Italian or Mediterranean dish.
I'm pretty partial to olive oil–my grandfather makes his own in Greece.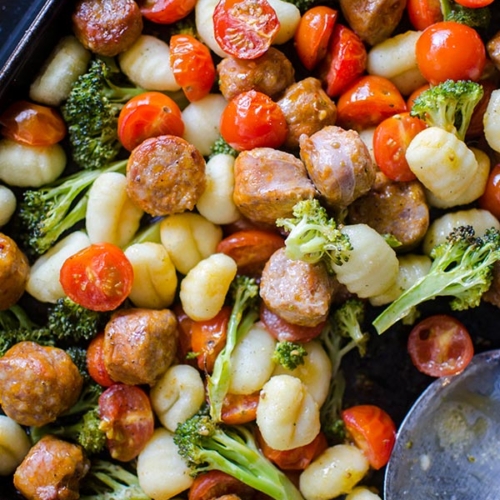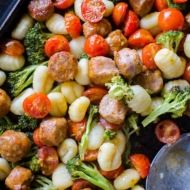 Sheet Pan Oven Baked Gnocchi with Sausage and Vegetables
Sheet pan oven baked gnocchi with sausage and vegetables is a quick dinner that comes together in just 25 minutes and is made in one pan.
Pin
Print
Ingredients
2

lbs

of shelf-stable gnocchi

¼

cup

olive oil

1

head broccoli

,

chopped into florets

1

pint

cherry tomatoes

,

halved

5

hot Italian sausage links

,

cut into 1" pieces

¼

tsp

salt
Instructions
Preheat oven to 425F.

In a large bowl, toss gnocchi with olive oil, broccoli, cherry tomatoes, sausages and salt. Dump onto a baking sheet.

Bake in the oven for 15 minutes or until sausage and gnocchi are fully cooked.
Did you try this recipe?
Leave a comment + rating and let me know what you think!
Let me know if you give this oven baked gnocchi with sausage and vegetables a try in the comments below.