Get dinner on the table quickly with this recipe for roasted salmon steaks and broccoli that cooks on one pan and flavoured with soy sauce, sesame oil and rice vinegar.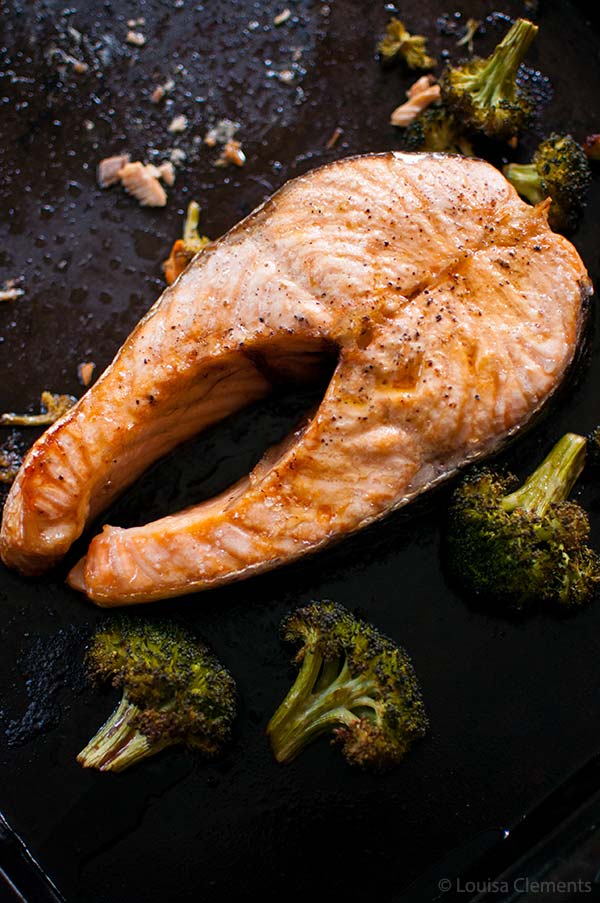 One recipe, one pan, and five ingredients is all it takes for dinner – I'm not kidding. Alert the media because this recipe is almost too good to be true. This recipe for one pan roasted salmon steaks and broccoli proves that a delicious dinner doesn't have to be a complicated and time consuming affair. If you haven't noticed, I've been on a big kick for simple food recently; quick recipes with basic ingredients, nothing fancy, nothing complicated, just plain old good food. Basically exactly what this salmon and broccoli recipe is. All you need is a sheet pan to get this recipe going. I used salmon steaks here because I wanted to try something different, but I've made this recipe using salmon fillets also.
Now that summer is here, I've finally had the time to get back to reading again. Ever since I was little I've loved reading, but with school and the hundreds of pages I'd have to read from textbooks, there just wasn't time to read a book for the sake of reading a book. And I found that I was always distracted by other things; email, recipe testing, photographs etc. Over the past four years, I try to catch up on books in the summer in between each year of school.
Last summer I read a ton of books on the train when I was travelling in Europe. It was such a relaxing way to travel and beautiful too. Highly recommend taking the Eurorail during your travels. Most of the books I read were on my e-reader (seriously a life-saver, no need to be lugging books around), but I had a couple of physical copies as well. I love looking back at these photos – I remember exactly what I was reading in those moments, Drink: The Intimate Relationship Between Women and Alcohol (I'm devouring that book on the rocks on the beach in Greece). Was that ever a fascinating read, have you read it? I'm dying to discuss. Next was The Opposite of Loneliness: Essays and Stories which I read on the train from Munich to Neuschwanstein Castle. I loved this book, but the story behind it is so devastating. I especially loved the nonfiction pieces. Next was The Last Summer which I read on the train to Vienna, this wasn't my favourite book but it was a good summer read. And finally, of course on the train to Paris I just had to read Hemingway's A Moveable Feast. 
It's nice to think that I'll be able to do a lot more reading now that I'm done school. I'm lucky that I have a pretty short commute in the mornings, so I get about 20 minutes of reading in on the way to work. I just read the book The Gifts of Imperfection (thought provoking – I love everything I've read by Brene Brown) and A Short Guide to a Happy Life by Anna Quindlen. Up next is Ruth Reichl's Delicious! which I've been meaning to read since it came out. What are you reading these days? I'm always looking for more books to add to my list!
In the meantime, gather these five ingredients for a simple and healthy dinner – for this recipe I've used salmon steaks, but I've also tested it with salmon fillets and it works perfectly.
One pan roasted salmon and broccoli recipe breakdown
A healthy dinner comes together in minutes with this 5-ingredient, one pan roasted salmon and broccoli.

Louisa Clements
Yields 4
One-pan Roasted Salmon Steaks and Broccoli
20 minPrep Time
25 minCook Time
45 minTotal Time
Ingredients
4 small salmon steaks
2 heads of broccoli cut into florets
4 tbsp soy sauce, divided
2 tbsp rice vinegar, divided
2 tbsp sesame oil, divided
oil for greasing pan
Instructions
Preheat oven to 425F grease a large baking sheet with a neutral oil.
In a large dish, whisk 2 tbsp soy sauce, 1 tbsp rice vinegar and 1 tbsp sesame oil. Add salmon and marinate for 15 minutes.
Meanwhile, in a large bowl whisk remaining soy sauce, vinegar and oil. Toss with broccoli and arrange on the baking sheet. Arrange salmon on sheet.
Roast for 20-25 minutes or until cooked through.
Notes
Recipe by Louisa Clements
7.8.1.2
197
https://www.livinglou.com/one-pan-roasted-salmon-steaks-and-broccoli/
Let me know if you give this recipe for roasted salmon steaks and broccoli a try in the comments below.