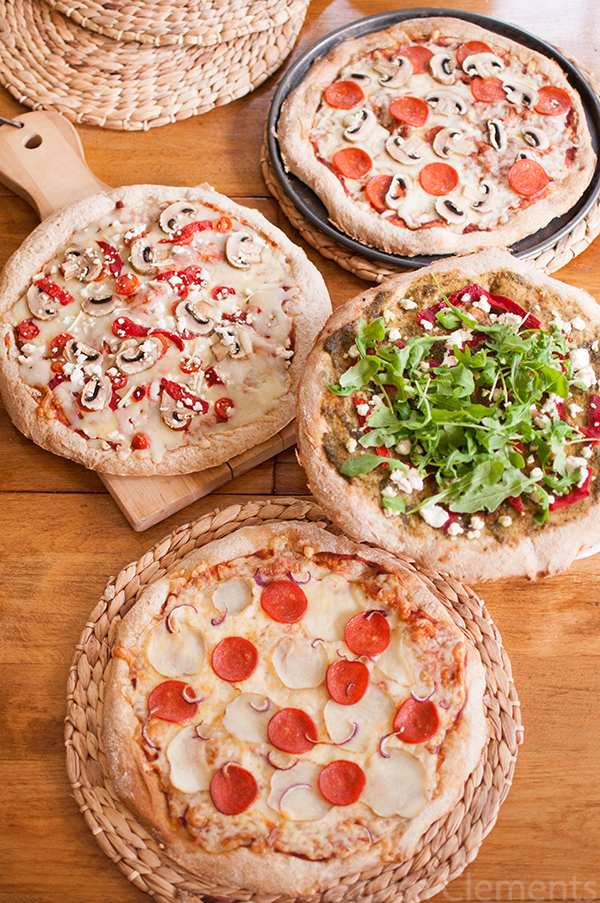 You all know how much I love entertaining, but let's be honest, entertaining on a budget is a challenge. This post originally started out as your typical dinner party, which I love, but I wanted to change things up and do something really fun. Enter the pizza party. Is there a better way to celebrate my fourth week using PC Plus and 20,000 points than with a table full of pizza? Ok, maybe a table full of homemade pizza. Would it sweeten the deal if I told you this all cost under $30 at my local No Frills? You could definitely make your own bread machine pizza dough and homemade pizza sauce, but for this pizza party I ended up buying the whole wheat pre-made pizza dough which ended up costing about $0.95 per pizza.
Now that I've been using PC Plus for a month at No Frills, I thought that I would share a few tips with you that I've learned a long the way. First of all, load all your offers to the app. Then, make sure your phone is charged so it won't die just as you're checking out. Woops. Something else I learned is to make sure that you are using your PC Plus card even if the items you're buying aren't part of your offers. The program will track your purchases and tailor your offers down the road based on your shopping habits. I'm hoping next week I have an offer on arugula because I really can't get enough of that peppery green. Overall my experience with PC Plus has been really positive and I will definitely continue using it for grocery shopping.
Let's talk toppings, I made two vegetarian and two meat pizzas which suited my needs perfectly. But you know what would be pretty fun too? If you were to ask each of your guests to bring a couple of potential toppings with them and then spend your evening getting creative in the kitchen with them! It's like Chopped except the mystery baskets only include pizza toppings.
Here are the pizzas I served:
Mozzarella + roasted red peppers + cherry tomatoes + garlic + mushrooms + crumbled feta
Mozzarella + pepperoni + thinly sliced potatoes + red onion
Mozzarella + mushrooms + pepperoni
Pesto sauce + roasted red pepper + peppercorn goats cheese + arugula
And now for a giveaway! I'm giving away an $100 President's Choice gift card! It is open to residents of Canada (excluding Quebec) over the age of 18 (see terms & conditions for more info.) It's super simple, all you have to do is click "log in" and then enter your name and email in the rafflecopter widget below and then leave a comment letting me know about your favourite pizza toppings.
Disclosure: I was compensated by Loblaw to write this post and they have provided the prize for the giveaway. All experiences and opinions are 100% my own. Thank you for supporting Living Lou!