Make a delicious pasta with a slow braised lamb ragu made with lamb shoulder chops and peas.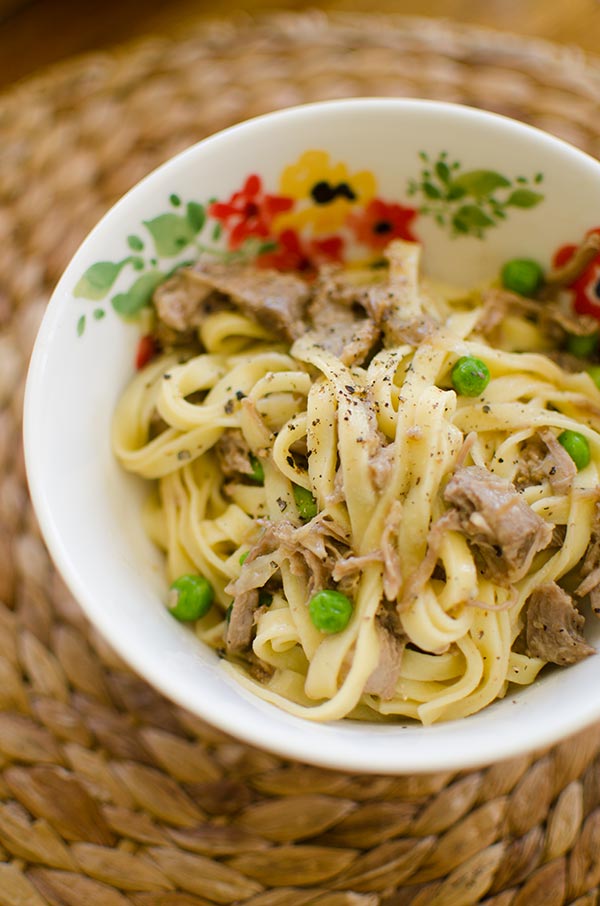 Lamb, it's a polarizing ingredient, I know because it's one in my family. I'm not going to say that this is a dish that will turn a lamb-hater into a lamb-lover (I'll leave that to Alison Roman's lamb chop recipe), but this is a dish that uses a budget-friendly cut of lamb to create the most tender, melt-in-your-mouth braised lamb ragu sauce you'll ever have.
What are lamb shoulder chops?
They are an inexpensive cut of lamb that packs a ton of flavour. Lamb shoulder chops are best when they are given time (hours) to cook, otherwise they tend to be a little on the chewier side (the longer cooking time helps break down the connective tissue).
For perfectly tender lamb shoulder chops, I recommend braising. I like to braise the chops which means a quick sear over high heat and then the rest of the cooking uses moist heat (a combination of broth and wine, obviously).
Now that the weather has really cooled down, this is the kind of dish that you'll want to make on a Sunday afternoon. It's the perfect twist on a traditional, Italian "Sunday Sauce".
The lamb chops are seared, and then the aromatics (onions and garlic) are browned. With a splash (ok, not a splash…a full cup) of red wine, some chicken or beef broth and a little rosemary, the chops are then braised in the oven for 2 hours at 250F. Sometimes I'll use my slow cooker to make Sunday sauces like this pork ragu recipe from last year.
For herbs, I turn to the classic pairing of lamb and rosemary. I'm using dried rosemary in this recipe because it is a sturdier herb that can stand up to the longer cooking process. I don't typically use dried rosemary in my cooking, but in a soup, stew or braised sauce it works perfectly to subtly flavour the dish.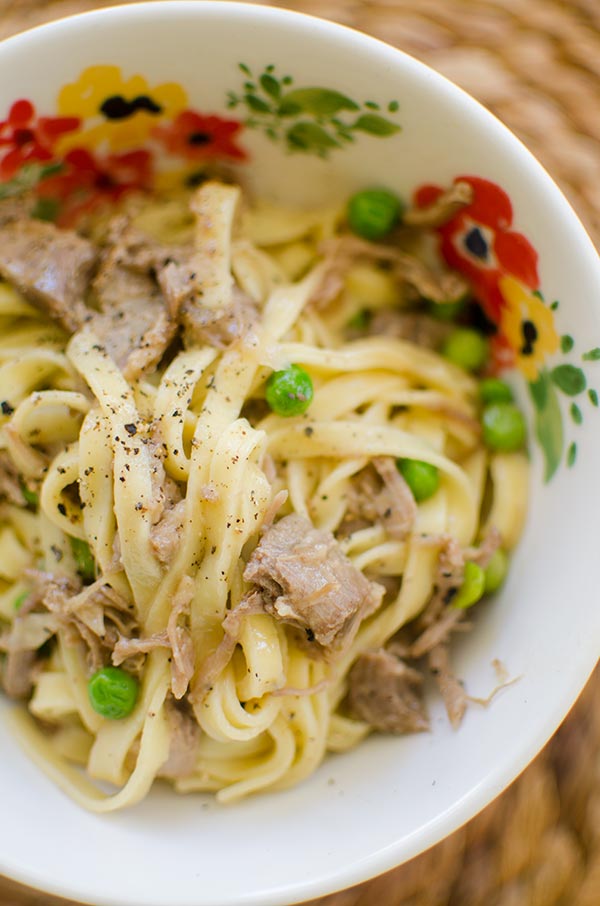 The first time I tested this recipe, I didn't have the peas in the dish, but I felt like it was missing a) a pop of colour and b) a hit of freshness. I immediately thought of peas, which cook in mere minutes and get added just at the last second.
What you need to keep in mind about cooking with lamb shoulder chops is that they have quite a few small bones, so when they are done cooking, you need to carefully remove the chops to shred them and make sure all the pieces of bone are removed from the sauce.
Pasta with Braised Lamb Ragu
Make a delicious pasta with a slow braised lamb ragu made with lamb shoulder chops and peas.
Pin
Print
Ingredients
4

lamb shoulder chops

,

about 1 ½ lbs or 680g

¾

tsp

salt

,

divided

1

tbsp

olive oil

2

onions

,

sliced

2

cloves

garlic

,

sliced

1

cup

red wine

,

I use Syrah in this dish

1

cup

chicken or beef broth

1

tbsp

Dijon mustard

1

tbsp

brown sugar

1

tsp

Worcestershire sauce

½

tsp

dried rosemary

1

cup

frozen peas
Instructions
Preheat oven to 250F. Season lamb with ½ tsp salt.

Heat a large Dutch oven over medium-high heat. Add oil and sear lamb shoulder chops for 3-4 minutes a side or until a dark brown crust has formed. Remove from heat and set aside.

Add onions and cook for 3 minutes until browned, add garlic and remaining ¼ tsp of salt. Cook for another minute until garlic is fragrant.

Add wine, and cook stirring to remove brown bits from bottom of the pot for another minute. Stir in broth, Dijon mustard, brown sugar, Worcestershire and dried rosemary, bring to a boil and return lamb chops to pan. Cover and cook in the oven for 2 hours.

Remove from oven and carefully remove lamb chops to a cutting board, stir in peas.

Shred and chop lamb into small pieces, being careful to remove and discard all bones and overly fatty pieces. Return shredded lamb to pot. Serve with pasta.
Did you try this recipe?
Leave a comment + rating and let me know what you think!
Let me know if you give this lamb ragu recipe a try in the comments below.