One pan roast turkey breast with Brussels sprouts and carrots is the perfect Thanksgiving dinner for a small crowd made with a boneless turkey breast roast.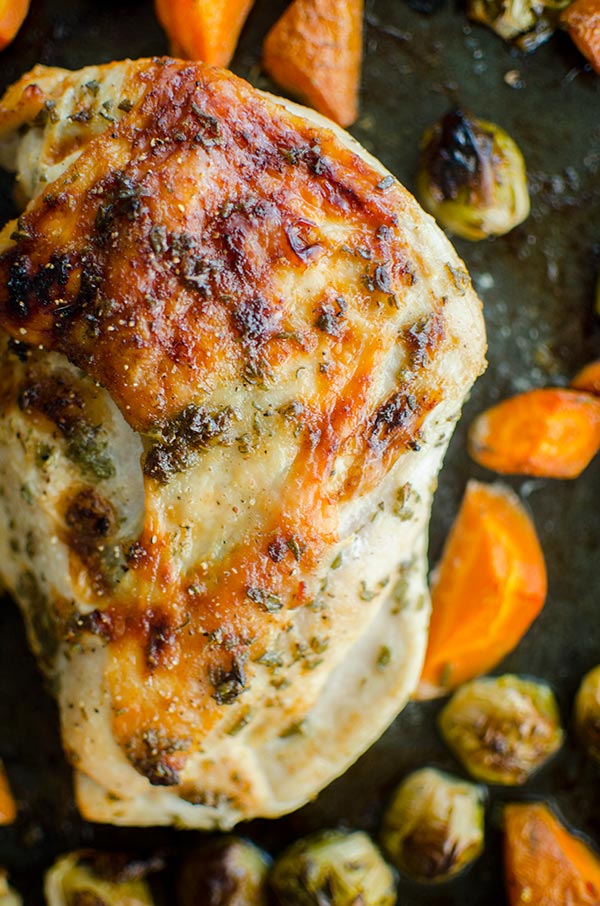 After months of testing and countless Thanksgiving dinners consumed, I've finally mastered the secrets to cooking the perfect boneless roast turkey breast. And believe me, there are many tricks that I've picked up along the way and it all starts with a few of my favourite ingredients: butter, maple syrup and sage. Hello, holiday heaven!
Ok, I know, that doesn't sound like the most exciting announcement in the world, but considering turkey has a reputation of being bland or boring, I consider this to be a serious feat. Everyone who tasted this turkey during my countless tests agrees that it is insanely delicious and juicy.
I set out to create this Thanksgiving recipe for a couple of reasons–first and foremost, most of us 20-somethings don't want to be roasting an entire turkey for our Friendsgiving feast. In fact, I was in Copenhagen for Thanksgiving this year, and believe me, no one even thought about roasting a turkey, but I bet if we had had this one pan turkey breast recipe it would have been on the menu.
Plus you get your main and a side for the price of one without any extra oven space/time required. You're welcome.
The trick is the maple-butter-fresh sage mixture which is rubbed all over the turkey (and under the skin). This helps to make the turkey breast extra juicy and adds a ton of flavour to the meat and the skin. The other trick is using an instant-read thermometer. If you don't have one, I am begging you, please buy one now!
Checking the internal temperature of a turkey breast is the only way to ensure a perfectly cooked roast–it should reach 165F for food safety.
The veggies are roasted in olive oil with a little extra sage and salt. Everything cooks in one pan in the same amount of time, so you end up with perfectly caramelized Brussels sprouts and tender carrots.
Check out my other Thanksgiving recipes for more inspiration for your holiday menu.
Louisa Clements
Yields Serves 2-4
One Pan Roast Turkey Breast with Brussels Sprouts and Carrots
15 minPrep Time
30 minCook Time
45 minTotal Time
5 based on 2 review(s)
Ingredients
1 ½ lb boneless, skin-on turkey breast
1 tbsp olive oil
3 tsp chopped fresh sage, divided
¾ tsp salt, divided
1 lb Brussels sprouts, trimmed and halved
2 carrots, cut into 1 ½" pieces
2 tbsp softened butter
2 tsp maple syrup
¼ tsp garlic powder
¼ tsp black pepper
Instructions
Preheat oven to 350F. Toss Brussels sprouts and carrots with olive oil, 1 tsp chopped fresh sage and ¼ tsp salt.
In a small bowl, combine butter with remaining sage, salt, maple syrup and garlic powder. Loosen skin of turkey breast and rub butter mixture all over. Place turkey in centre of pan and roast for 25-30 minutes or until internal temperature reaches 165F.
Nutrition
Nutrition Facts
Amount Per Serving

Calories

1559

% Daily Value*



Total Fat:

77 g

118.46%

Saturated Fat:

g

0%

Cholesterol:

mg

0%

Sodium:

mg

0%

Potassium:

mg

0%

Total Carbohydrate:

51 g

%

Sugar:

g

Protein:

164 g

Vitamin A:

0%

Calcium:

mg

0%

Iron:

mg

0%
7.8.1.2
318
https://www.livinglou.com/one-pan-roast-turkey-breast-with-brussels-sprouts-and-carrots/
Let me know if you give this one pan roast turkey breast a try in the comments below.