This mushroom, ham and leek skillet is a simple one pan dinner made with just five ingredients. Sponsored by Mushrooms Canada.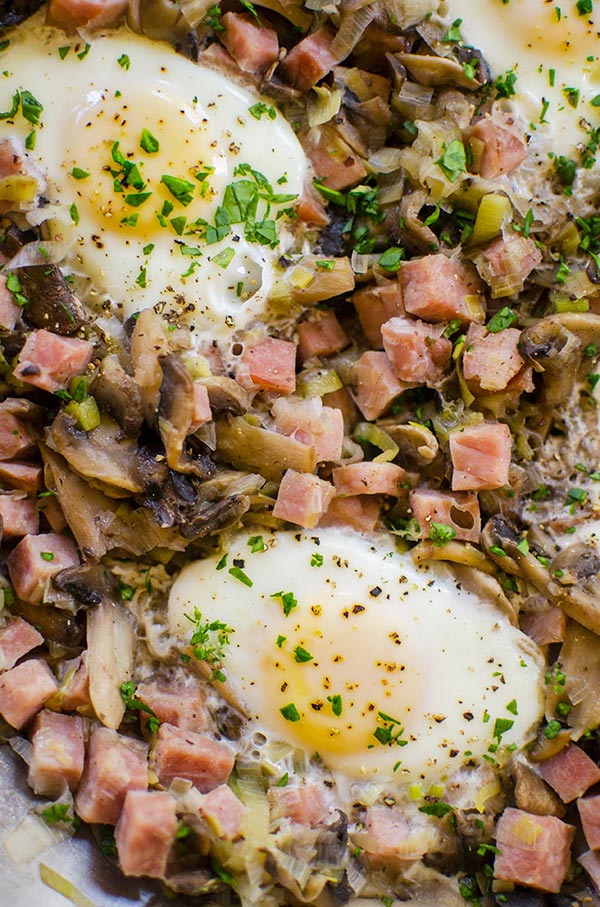 I tend to be laser-focused on the recipes I'm developing (and need to develop) so these days it's pretty rare for me to cook in a way that's completely organic and spur of the moment. There's usually some sort of agenda; a deadline, either literal or self-imposed. I meticulously plan my testing schedule and grocery lists so that I'm not testing the same recipe over and over (and over) again within a two week period. That's when you start to get sick of things and start to give food away to every single friend within a three block radius.
This mushroom, ham and leek skillet was one of those rare occasions where I had some leftover ham, a rogue leek and some mushrooms sitting in my fridge and I needed to figure out something to do with them. It made me realize that cooking in that way, I'd argue the more "normal" way, is a really important exercise for me. To be inspired by the ingredients already in your fridge instead of approaching things from an angle of "What do people want to cook in April?'.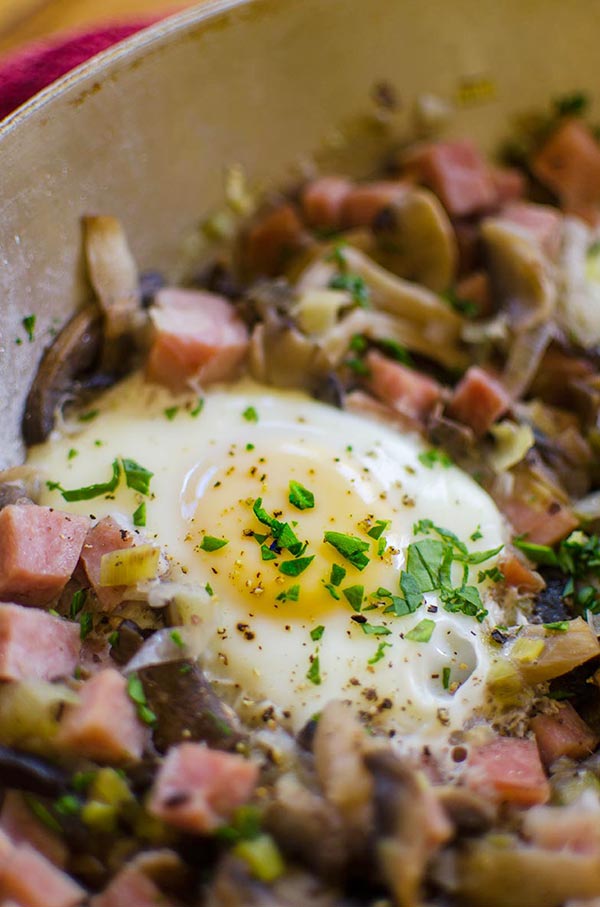 The first iteration of this recipe was in the form of a savoury crepe, which I still love. You can definitely use this as a filling for crepes, just add a bit of cheese (I like aged cheddar or havarti), but honestly this one pan skillet is just so easy I couldn't not share this version of the recipe.
Five ingredients and you have dinner or brunch on the table. I like to cook my eggs to medium in this dish and serve it with a hunk of crusty sourdough bread. Add a light arugula salad on the side, and you've got yourself a pretty fantastic meal.
I've shared this recipe over on the Mushrooms Canada Blog, so head on over there for the full one pan mushroom, ham & leek skillet recipe.