A simple recipe and foolproof technique for making French crepes with a recipe for fresh raspberry sauce.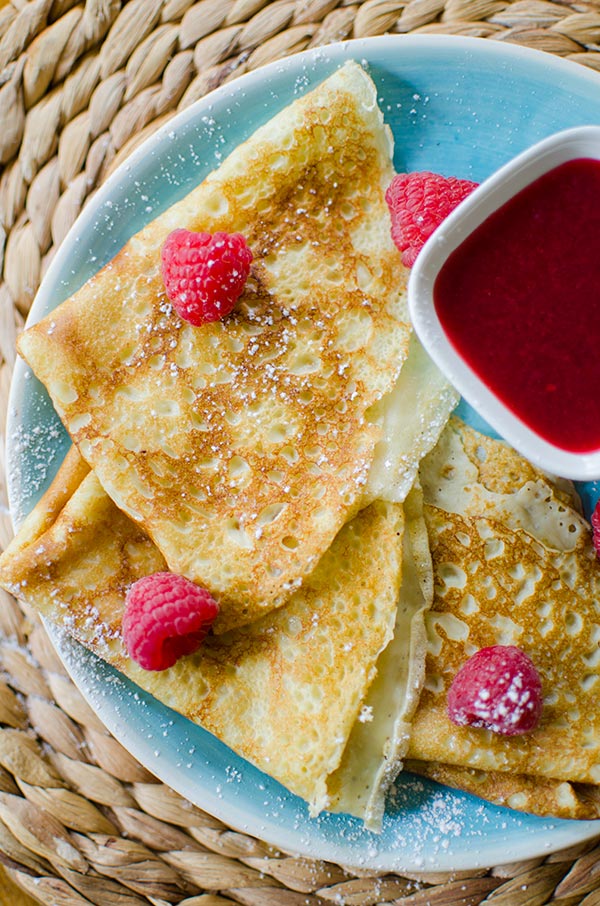 Crepes are one of those dishes that I feel like people think are complicated, when really they are one of the simplest things you could possibly make. I was definitely in this boat of thinking that making crepes was complicated until a few years ago when one of the girl's I used to babysit made crepes for us. I think she must have been around eight or nine years old and I realized that if she could whip up crepes that quickly, it was definitely something I could do. But for some reason, crepes never really became a staple breakfast food for me; I tend to indulge in chocolate chip pancakes more often. That was until I discovered the magic that is crepes sprinkled with lemon juice and sugar. AKA the ultimate, French way of eating crepes, merci beaucoup.
I'll be at Williams-Sonoma Yorkdale on Wednesday May 18th from 5:30-8pm for the French-inspired "Breakfast for Dinner" event that I'm hosting alongside Brittany and Jen for a small group of bloggers, but if you're in the neighborhood be sure to pop by! I'll be taking over food duties and teaching everything you've ever wanted to know about making crepes and raspberry sauce, Brittany will be sharing an awesome DIY coffee scrub and Jen will be covering table styling. I'd love to meet you there, but if you can't make it, you can still follow along on social media with the hashtag #WSFrenchBreakfast.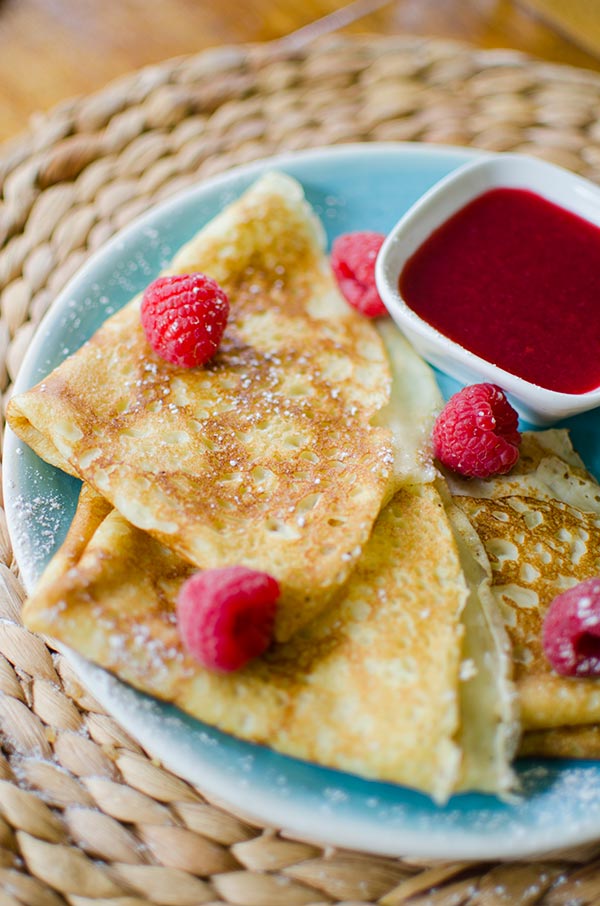 This recipe is my favourite crepe recipe that I've been making a few times a week for the past little while. They are foolproof, but there are certain steps that you can not skip. 
Lou's top 5 crepe-making tips:
1. Ingredients need to be at room temperature. If you add melted butter to cold milk and eggs, the butter will congeal.
2. Pressing the batter through a sieve might seem like an unnecessary step, but it will remove any lumps in the batter.
3. Let the batter rest at least 30 minutes! This allows the gluten to relax and you'll have tender crepes every time.
4. The pan should be hot before you add any batter (I heat my pan over medium-high heat). You want to grease it very lightly with butter, then add your batter. Keep an eye on the level of heat when you're making the crepes, as the pan continues to heat up, the crepes might brown too much.
5. The first crepe is always a throwaway – but eat it anyways.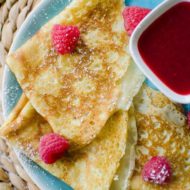 Crepes with raspberry sauce
A simple recipe and foolproof technique for making French crepes with a recipe for fresh raspberry sauce.
Pin
Print
Ingredients
2

eggs

,

at room temperature

1 ¼

cup

milk

,

at room temperature

2

tbsp

melted butter

,

plus extra for pan

½

tsp

vanilla extract

¾

cup

all purpose flour

½

tsp

sugar

¼

tsp

salt
For raspberry sauce:
2

170g

/6 oz pkg. raspberries

¼

cup

sugar

¼

cup

water

1

tsp

lemon juice
Instructions
In a medium bowl, whisk wet ingredients together. Then whisk in dry ingredients.

Strain and press the mixture through a sieve to remove any lumps and allow batter to rest for 30 minutes.

Heat a 12-inch, non-stick skillet over medium-high, lightly grease pan with butter. Whisk batter and ladle ¼ cup into the pan at a time. Swirl to completely cover bottom of skillet.

Cook until underside of the crepe is golden brown, about 1-2 minutes.

Loosen edge of crepe and quickly flip. Cook 1 minute more. Repeat with remaining batter, greasing the pan as needed.
For raspberry sauce:
Heat a medium pan over medium heat. Add raspberries, sugar and water. Cook, breaking down the berries for 10 minutes or until sauce has thickened and berries are completely broken down.

Press through a sieve to remove seeds. Stir in lemon juice and serve.
Did you try this recipe?
Leave a comment + rating and let me know what you think!
Let me know if you give these crepes a try in the comments below.