Take your yogurt to the next level with this easy recipe for macerated strawberries made with sugar and lemon juice. Macerating is a simple technique that will elevate your everyday favourites into something special.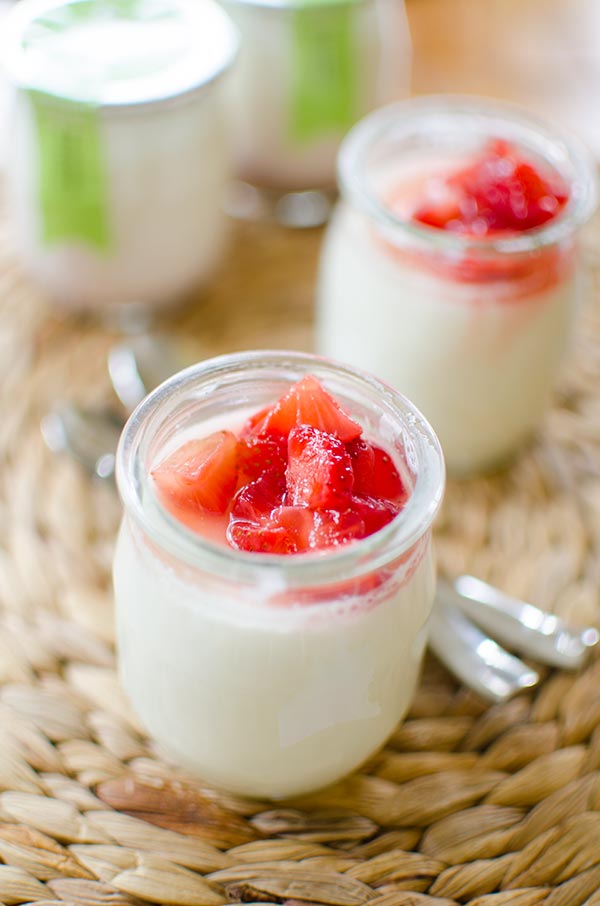 There are a few foods that I eat pretty much every single day – carrots, hummus and yogurt. Carrots and hummus are my go-to snack for lunches and yogurt is what I have for breakfast 99% of the time. While these are foods I eat on a regular basis, I'm a firm believer that eating should be an enjoyable experience and that you should always feel excited to sit down to a good meal. No matter if it's something you've had a hundred times (like a healthy green smoothie) or something for special occasions like a decadent baked French toast or triple chocolate chip pancakes.
There are a few ways to elevate your everyday favourites, for me the easiest way to start is with presentation. Through my travels in Europe and my summers spent in Greece, I've had first-hand experience with the yogurts in Europe – hint, they come in the most adorable containers. In France, you'll typically find beautiful glass jars like the Riviera Petit Pots yogurts.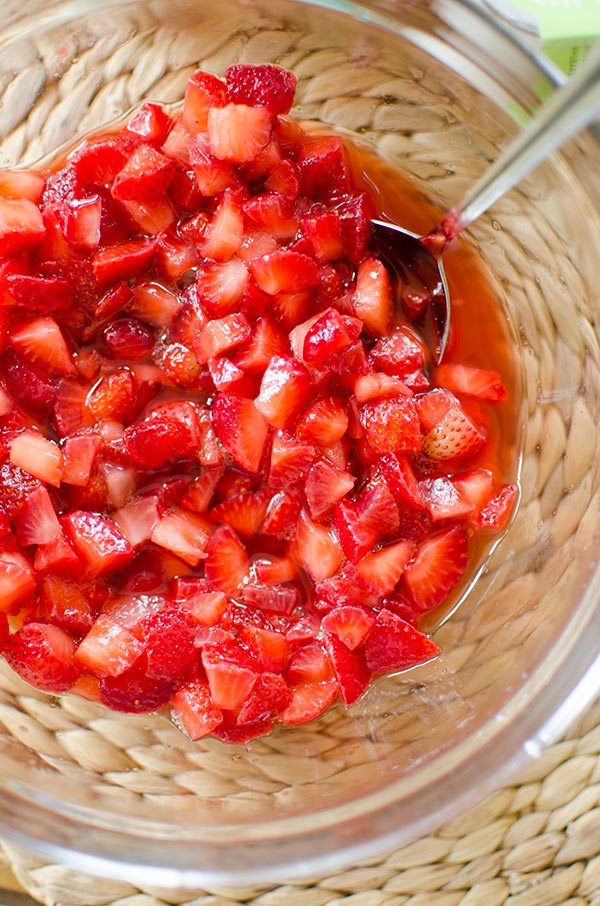 I've used in this recipe, while in Greece, you will find glass jars as well as terracotta bowls. They know a thing or two about packaging over there, I'll tell you! I'm thrilled because with Quebec's Laiterie Chalifoux's line of products inspired by local traditions, (there are butters and creme fraiche as well) we can all have a taste of that effortless French-flair right here at home.
Once you've got the presentation down, the next way to elevate your food is through what I like to call "simple-but-special" techniques. Today, I've got a recipe for the ultimate yogurt topping: macerated strawberries. Macerating is one of those cooking techniques that sounds complicated, but is really incredibly simple.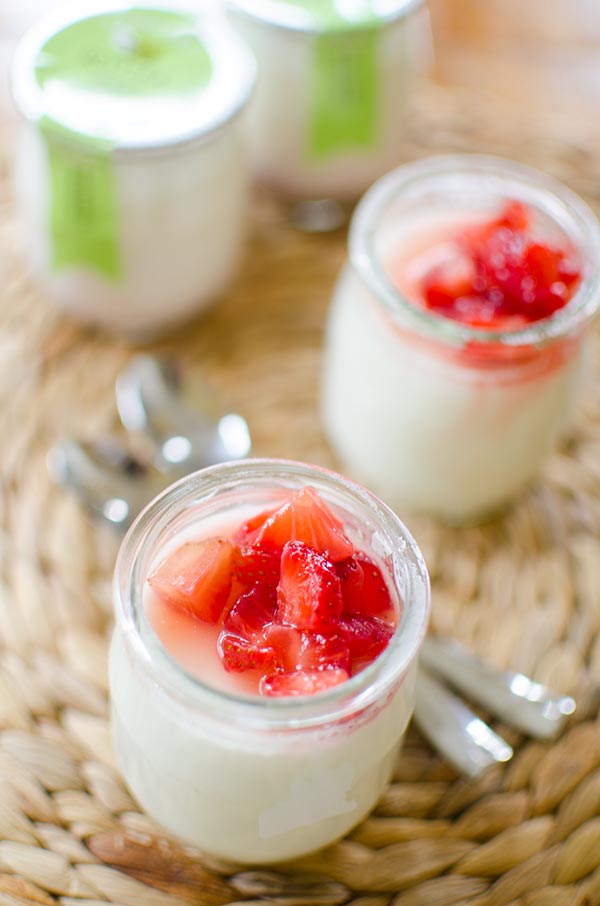 So, what is macerating? Basically, there are two types of macerating but today we're focusing on the technique where you sprinkle fruit with sugar (this draws out the liquid and creates a syrup) and acid, I'm using lemon juice for these macerated strawberries with yogurt. You don't actually need acid to macerate strawberries, but because I'm serving these as a topping for a rich and creamy Riviera Petit Pot set-style coconut yogurt (this, along with the strawberry goat milk yogurts are my favourite from the line!), I wanted a little hit of acid to cut through the strawberries and sugar.
Let me know if you try this recipe in the comments below.

Macerated Strawberries with Yogurt
Take your yogurt to the next level with this easy recipe for macerated strawberries made with sugar and lemon juice.
Pin
Print
Ingredients
1

pint

strawberries

,

chopped

2

tbsp

granulated sugar

2

tsp

lemon juice

4

Yogurt
Instructions
In a medium glass bowl, stir strawberries with sugar and lemon juice.

Allow berries to sit for 45 minutes, stir and serve overtop of yogurt.
Did you try this recipe?
Leave a comment + rating and let me know what you think!
Disclosure: This post was sponsored by Laiterie Chalifoux – as always, all opinions are my own. Thank you for supporting my sponsors and allowing me to continue creating content like this recipe for macerated strawberries with yogurt.