Start your day off on the right foot with this healthy breakfast of kale and sweet potato hash with chorizo and topped with eggs.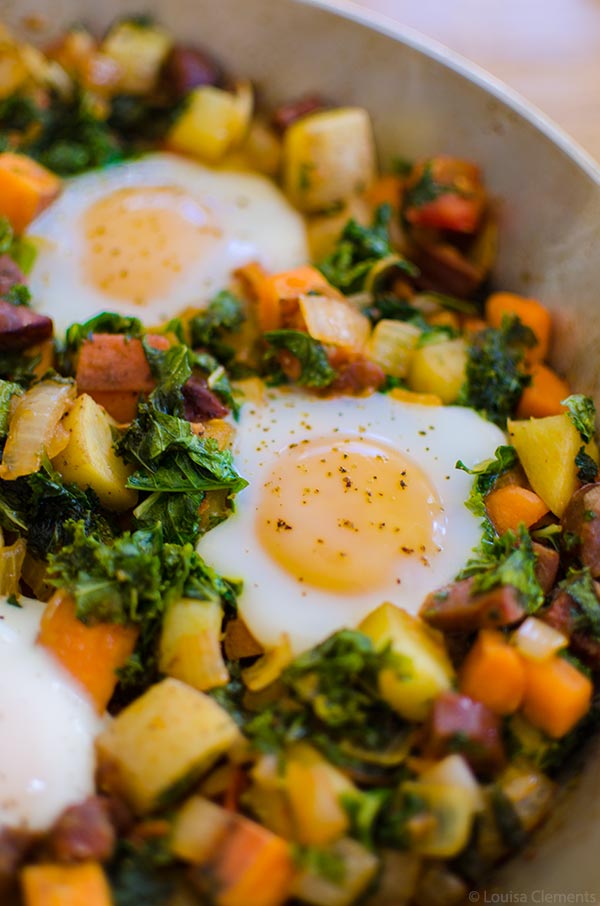 They say that a healthy breakfast is the most important meal of the day, but I'm going to be honest here and admit that I'm really bad at eating breakfast. Now, I like to think that I'm pretty good at making breakfast, but actually eating it, not so much. I tend to not get hungry for a couple of hours when I wake up in the morning and more often than not, a steaming cup or two of coffee is all I'll have until about 11 o'clock.
I know, it's a bad habit, but it takes me a while to feel hungry in the mornings. That's probably why brunch is more up my alley. That said, I think brunch is pretty much everyone's alley these days, is it not? In true millennial fashion, by Wednesday I already had brunch plans for Sunday, which means I'll just have to make this kale and sweet potato hash on Saturday instead.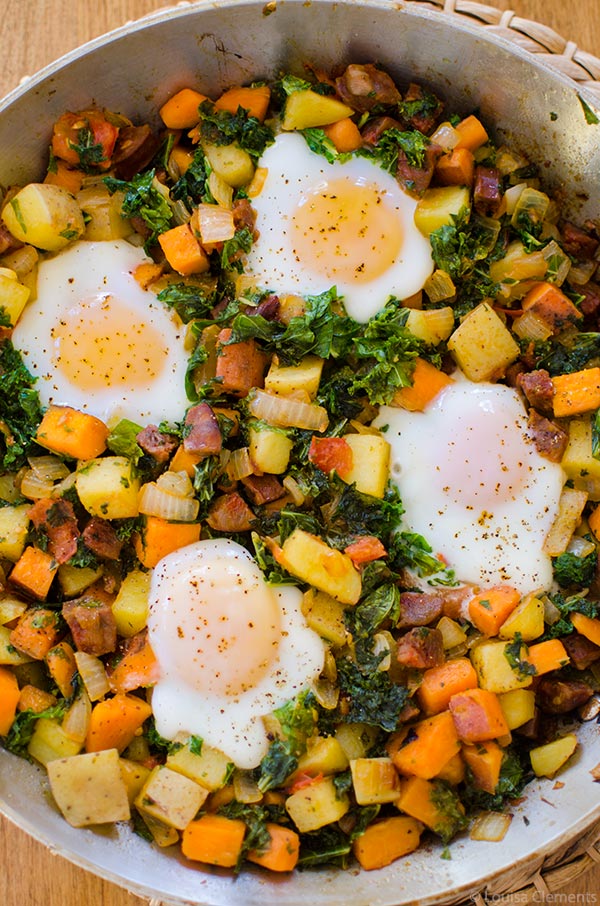 I always get this restless feeling in January, after all, they say that January is like a month long Monday. For me, I think it's a mix of the post-holiday comedown and the beginning of a New Year and the pressure (both self-imposed and societal) that comes along with it. I've been pretty good about not putting so much pressure on myself recently, especially in the past year, but there's just something about 2016 that makes this year feel especially weighty. It holds so many questions, so many unknowns, opportunities and possibilities. It can almost seem like too much at times, but I've been breaking it down into smaller steps and focusing on doing "the next right thing" as I tend to remind myself over and over again.
2016 has thrown me for a bit of a loop already. There's been so much change just in the first week alone (and the end of December, too) that it is taking a bit more of an adjustment than I thought. With just the first week under my belt, I can't wait to see where this year takes me. I touched on it briefly in my yearly reflections post, but it's crazy when you think about how much can change in a moment or in the span of a couple of months, let alone an entire year.
Anyways, enough of my rambling, back to this breakfast recipe. It's kind of funny how this recipe came about, it was Christmas eve, and I was starving (as usual in the evenings), but all the food we had in our fridge and pantry was for Christmas dinner the next day, therefore my options were pretty limited. I had a little bit of chorizo leftover and was able to scrounge a potato, a couple of shallots and a bit of kale that was way past its prime to whip up a quick breakfast hash for dinner situation. But it was definitely lacking something and then it hit me: sweet potatoes.
I've been a fan of the kale and sweet potato combination forever, and it all started with my sauteed kale and sweet potatoes recipe from a couple of years ago. I knew that the combination of a bit of smokiness and heat from the cured chorizo, a slight bitterness from kale and then the sweetness from the sweet potato would create the ultimate balance of flavour for this healthy kale and sweet potato hash. I also added tomato and onion for additional flavour and to up the healthy factor of this recipe.
Whenever I made this breakfast hash recipe, I always used four eggs, but it could easily fit a couple of additional eggs and serve six, so there's an option to use either four or six eggs in this recipe.

Kale and Sweet Potato Hash with Chorizo
Start your day off on the right foot with breakfast hash. This version is made with kale, sweet potato and chorizo and topped with eggs.
Pin
Print
Ingredients
2

tbsp

olive oil

,

divided

1

onion

,

diced

4

oz

/115 g cured chorizo

,

finely diced

1

large yellow potato

,

diced

1

medium sweet potato

,

diced

½

tsp

salt

,

divided

1

tomato

,

diced

3

cups

finely chopped packed kale

4

eggs
Instructions
Heat a large non-stick frying pan over medium heat. Add 1 tbsp of oil, onion and chorizo. Cook until onion is browned and chorizo is starting to crisp, about 5 minutes. Using a slotted spoon, remove and set aside.

Return pan to the heat, add remaining oil, potatoes, sweet potatoes and ¼ tsp salt. Cook, stirring occasionally until potatoes are tender and have browned, about 10-12 minutes.

Add tomato, kale and remaining ¼ tsp salt. Cook another 3 minutes until kale is wilted. Return onion and chorizo to pan, stir to combine and create 4 wells in the hash. Crack eggs into wells, reduce heat to low, cover and cook until eggs are set, about 6-8 minutes.
Did you try this recipe?
Leave a comment + rating and let me know what you think!
Get a healthy start for breakfast with this easy recipe for sweet potato and kale hash with chorizo, let me know if you give it a try in the comments below.