Toast walnuts with garlic and hot chili flakes for a simple, vegetarian herbed pasta dish with fresh parsley and basil.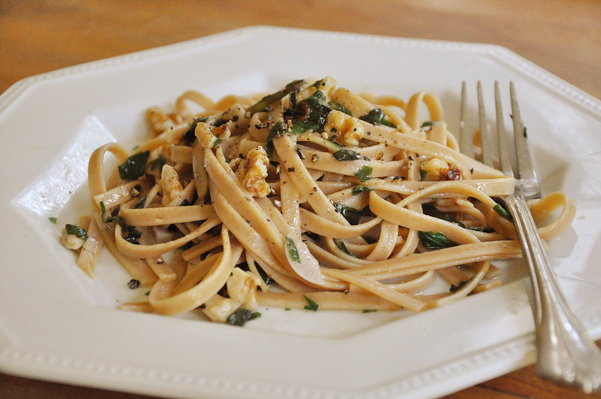 This herbed pasta is a bit of a break from the typical kinds of pasta recipes that I develop and eat. And when I say eat, I mean I literally eat pasta on a weekly basis, but I'm usually more of a saucy and cheesy pasta kind of girl.
You know, that pasta, the quintessential pasta, the one where the pasta sauce that is simmered for hours before being mixed with pasta, then its thrown in a casserole and covered with cheese and baked in the oven until it's all melted and bubbly. That's usually the type of pasta I go for, and this dish, well surprise folks, it's not that. So, why am I sharing it you ask?
Because it's pretty much perfect, it's delicious, and flavorful and best of all EASY. It's ready in the amount of time it takes to cook pasta, about 8-10 minutes.
You say that it's not as comforting? I say that it's pretty comforting knowing that it's not going straight to my hips, or my thighs, or both. Don't knock in 'til you try it folks, coming from someone who loves her pasta sauce (ahem, my favourite sauce is a loaded and flavorful bolognese sauce.) this is now one of my favourite pasta dishes. Seriously guys, it's the best.
Herbed Pasta with Garlic and Walnuts
Ingredients
3 tbsp olive oil
3 cloves garlic, thinly sliced
½ tsp hot chili flakes
½ cup chopped walnuts
⅓ cup chopped fresh parsley
¼ cup chopped fresh basil
226g/8 oz of whole wheat linguine
lots of freshly cracked pepper and Parmesan cheese (omit cheese for vegan)
Instructions
In a pot of salted boiling water, cook pasta according to directions. Reserve 1 cup of cooking water.
In a large saute pan, heat olive oil over medium heat. Saute garlic and chili flakes until fragrants, 2-3 minutes. Add walnuts, stirring to cook. The parsley should wilt and the walnuts will become golden and toasted.
Drain cooked pasta, reserving 1 cup of cooking water. Add pasta and reserved water to pan, stirring to coat. At the last minute, add the parsley and basil. Serve.
Nutrition
Nutrition Facts
Amount Per Serving

Calories

189

% Daily Value*



Total Fat:

19 g

29.23%

Saturated Fat:

g

0%

Cholesterol:

mg

0%

Sodium:

mg

0%

Potassium:

mg

0%

Total Carbohydrate:

4 g

%

Sugar:

g

Protein:

3 g

Vitamin A:

0%

Calcium:

mg

0%

Iron:

mg

0%
7.8.1.2
294
https://www.livinglou.com/herbed-pasta-with-garlic-and-walnuts/
Enjoy this simple pasta dish, packed with flavour and ready in 10 minutes!