Enjoy the flavours of Greek cuisine in a Greek turkey burger studded with feta cheese, thyme and lemon. These healthy burgers are unique and delicious.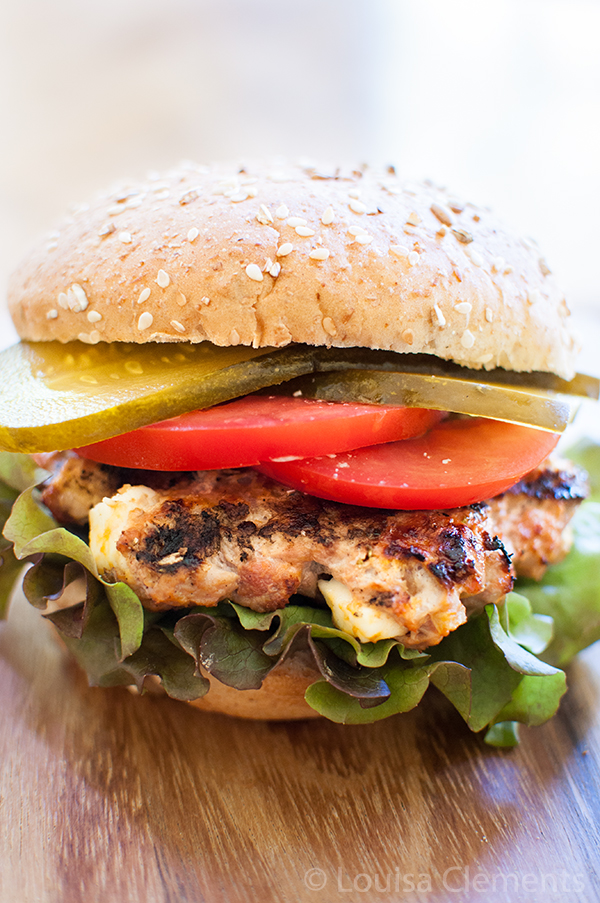 Last week was all about salads and this week, well, it isn't, it's all about greek turkey burgers with feta. Studded with feta to be exact. This is mostly because I love a good burger as much as the next girl and I've come to the realization, that I've kind of deprived you guys of burger recipes over the past four years. I am so sorry about that. I hope this recipe for Greek turkey burgers with feta will make up for that absence. Plus, if you really want that salad (which I definitely recommend), you can always eat your salad on the side.
There are so many components to food blogging, but writing has always been something that I've loved for as long as I can remember. Seriously, if I had a penny for every poem or short story that I've written… You see, once I have an idea for a story, a poem or a blog post, I just go. When I started my blog, I never really thought much about the writing component, to me it was more about the food and the recipes but I've slowly realized that writing is one of the things that I've come to love the most about this blogging thing.
It's such a great way to explore different ideas, search for answers and ask questions, both small and big. It's also the most time consuming part of the process. I've found that as the years have gone on, crafting a blog post has started taking longer and longer because it's almost like putting together a puzzle. The hardest part for me is deciding what topic I feel like writing about. Staring at that blank screen is intimidating. It's hard to know where to go from there and it can feel as though I'm just sitting there staring at the screen for hours. There are times that I feel like there is just nothing going on up in that brain of mine and I end up sitting for hours, picking at my split ends trying to figure out where to start. I don't know how those bloggers who blog every single day do it, I would run out of things to say!
This recipe is just your classic burger recipe except I've taken the flavours of Greece (thyme, lemon and feta) and mixed them together with ground turkey. You could also use ground beef or ground chicken here, but I opted for the somewhat lighter ground turkey. You'll love how the patties are studded with feta, it's absolutely divine and because feta keeps its shape when cooked it doesn't melt into the patty the way you would expect. A little trick I've learned for my burgers is to add ketchup into the patties. It keeps the burgers incredibly moist while adding a touch of sweetness to help balance out the flavours (I told you there was lemon in there). Give these Greek turkey burgers with feta a try and let me know what you think.
Greek turkey burgers with feta recipe breakdown
Enjoy the flavours of Greek cuisine in a healthy burger studded with feta cheese, thyme and lemon. These fresh burgers are a unique take on a summer favourite.
Yields 8 servings
Greek Turkey Burgers with Feta
Enjoy the flavours of Greece in this healthy turkey burger!
10 minPrep Time
8 minCook Time
Ingredients
2 lbs ground turkey
1/2 red onion, finely chopped
4 cloves garlic, minced
1/2 tsp dried thyme
1/4 cup ketchup
zest of 1 lemon
1 cup diced feta
Instructions
Preheat grill to medium-high heat.
In a large bowl, mix together all ingredients.
Shape into 8 patties.
Grill for 6-8 minutes per side or until fully cooked.
Notes
Recipe by Louisa Clements
7.8.1.2
75
https://www.livinglou.com/greek-turkey-burgers-feta/
Healthy and simple, Greek turkey burgers with feta are a unique twist on a summer favourite.