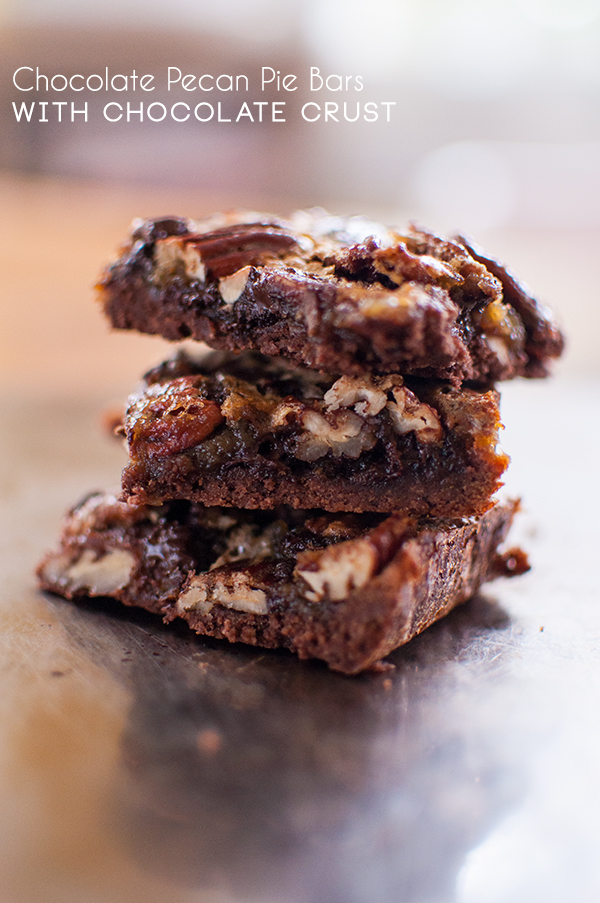 These double chocolate pecan pie bars are the recipe to try this holiday season. Yes, get ready, friends the holidays are upon us. And I'll tell you one thing, these loaded chocolate and pecan bars are vital to your November plans. I've always loved chocolate pecan pie, but I wanted to try and see if it was possible to stuff even more chocolate into it. Good idea? I'd say yes! So while the filling is loaded with chocolate chips, i've also created a chocolatey pastry crust. This is the dessert of a chocolate-lover's dreams.
I am a firm believer in the idea that at this time of year, baking should always be part of your weekend. Right now, we're right in the sweet spot for fall/winter baking, which is probably my favourite time of the year. You see, right now, we're heading towards the peppermint and ginger flavour profiles of the holiday season but it's still totally appropriate to bake with pumpkin. It's kind of the best of both worlds, no? If you're feeling a little more autumn inspired this week, you can give my Whole Wheat Pumpkin Quick Bread a try – it's perfect for breakfast or an afternoon snack with a cup of coffee.
This is also the time of year where life can start to get away from you, especially being in university/college. Midterms are coming up, with finals following a little too closely behind. Then, for all of you non-university folks, it's the all too familiar holiday induced frenzy. Yesterday, my Twitter feed was filled with people tweeting about having finished their Christmas shopping. Yikes. Believe me, it's the last thing I want to think about right now, too. And I'll have you know that I'm a chronic last-minute shopper, so you won't be seeing me tweeting that anytime soon. Are you a last-minute holiday planner too? Every year I say that I'm going to be better. I'm going to prep Christmas cookies months in advance and freeze the dough. I'm going to get my shopping done by Thanksgiving. So many plans, so little time.
I've simplified one thing for you, finding the perfect dessert for the holidays. If you're looking for a dessert for any Thanksgiving or holiday potluck, these double chocolate pecan pie bars are the answer. Seriously, look no further. You can go ahead and close the thousands of tabs you have open right now. Crisis averted! I like serving this pecan pie style dessert in individual bars because it's much easier for a potluck and you don't have to worry about slicing the perfect piece of pie.
Looking for some more Thanksgiving help? Roasted brussels sprouts and kale salad should both be on your menu.
Chocolate pecan pie bars recipe breakdown
It doesn't get more chocolatey than these double chocolate pecan pie bars. With a simple, chocolate crust and a gooey pecan pie filling these bars are perfect for a Thanksgiving potluck.
Double Chocolate Pecan Pie Bars
Print
Ingredients
For Crust:
1 ¼

cup

all purpose flour

½

cup

melted unsalted butter

¼

cup

granulated sugar

2

tbsp

cocoa powder

½

tsp

salt
For Filling:
1

cup

corn syrup

½

cup

packed brown sugar

3

eggs

2

tbsp

flour

1

tbsp

white vinegar

1

tsp

vanilla extract

2

cups

pecans

½

cup

chocolate chips
Notes
Recipe by Louisa Clements
Did you try this recipe?
Leave a comment + rating and let me know what you think!
Double chocolate pecan pie bars will be your go-to dessert this holiday season.