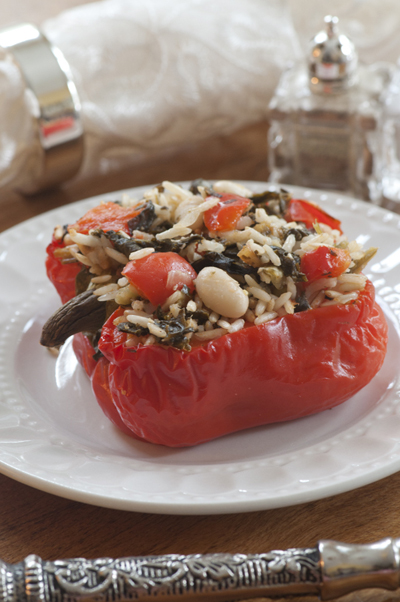 I've mentioned my love for Cookin' Greens before and my feelings have only grown since I first tried their products in the summer. I'm a big fan of their nutrient-packed, not to mention convenient, frozen vegetables. I love that the veggies can be cooked straight from frozen with no prep! I always have a bag in my freezer, so when I was approached to participate in an exciting project involving Cookin' Greens and the TV show Dragons' Den I jumped at the chance.
This week, Cookin' Greens will be on Dragons' Den, which is a show where aspiring entrepreneurs pitch their ideas and businesses to five multi-millionaires with the expertise and money to turn great ideas into booming businesses. It's a favourite show of mine and I can't wait to watch the episode. Leading up to the episode, Cookin' Greens has been posting a new recipe each day on their Facebook page developed by myself and other bloggers.

I developed an uber-healthy and delicious recipe of Cookin' Greens Stuffed Peppers using Cookin' Greens Athlete's Mix in honour of their appearance on Dragons' Den. The Athlete's Mix features collards, spinach, kale, sweet red pepper and white beans – it's a great combo of fibre, protein, iron and vitamins A and C. This recipe was inspired by my favourite dragon and fellow foodie, Jim Treliving. It was a little intimidating to create a recipe for a fellow foodie, but I knew I wanted to highlight his philanthropic efforts with the Heart and Stroke Foundation and create a heart healthy dinner that everyone would love. Head on over to the Cookin' Greens Facebook page to get my full recipe for Cookin' Greens Stuffed Peppers and be sure to watch the episode on March 24th at 8pm EST.
Disclaimer: This is a sponsored post on behalf of Cookin' Greens. I was compensated for my time, but all opinions expressed are my own.