Cinnamon chili roasted sweet potatoes are the perfect fall side dish with hints of sweet and savoury flavours from chili powder and cinnamon, roasted at 450F.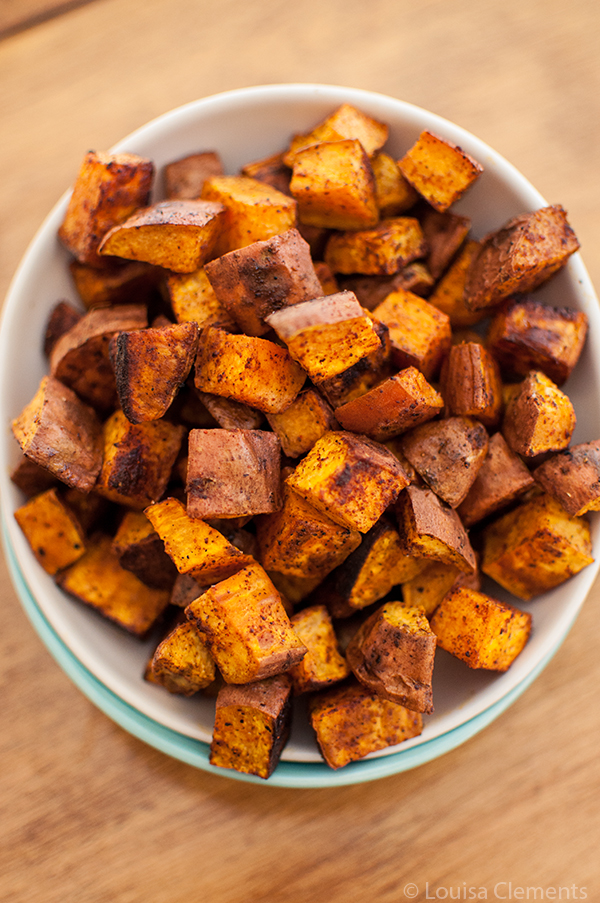 I'm having a moment with these cinnamon chili roasted sweet potatoes. Sweet potatoes have always been a favourite ingredient of mine because of their versatility. They can be roasted and pureed into soup, baked on the barbecue, and even baked into desserts. This new recipe uses them in what I think are their simplest preparation; roasted. I really think I've hit the jackpot with the cinnamon and chili combination on these tasty bites. These sweet potatoes check all the "boxes" for me. Perfect side dish? Check. Perfect snack? Check. Healthy? Check. Superfood? Check. Flavourful? Check. Easy? Check. Check. Check. I love them so much that I think this recipe should be added to your weekly rotation – and that's a pretty bold statement.
With this awful cold weather we've had in Toronto recently, I've been spending lots of time inside watching shows and working on new recipes which has resulted in these delicious cinnamon and chili roasted sweet potatoes and the crispy chili shrimp I shared last week. In fact, I think you should serve these two together for a perfect weeknight dinner as I did a couple of times when I was testing these recipes.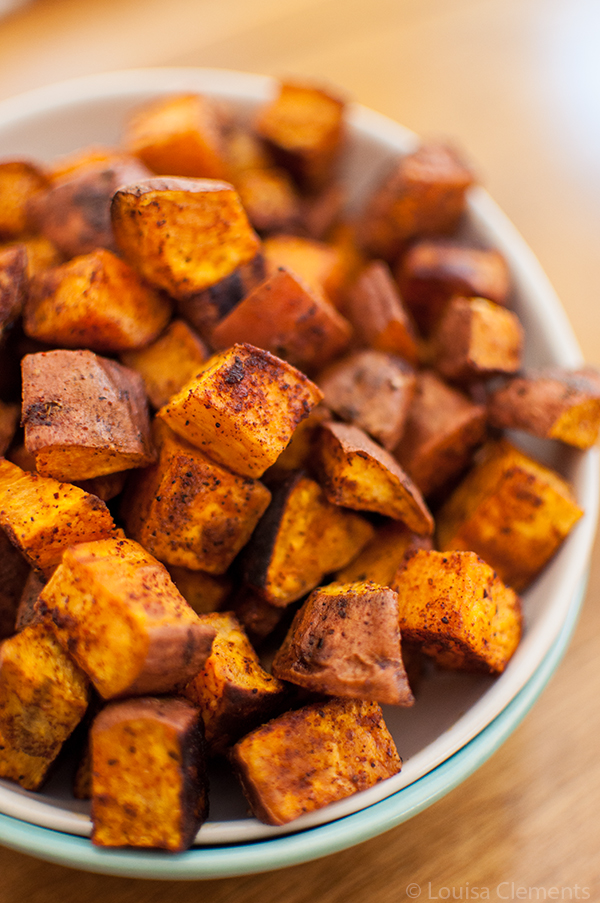 In terms of non-food things, because believe it or not, they do exist, I'm also having a moment with the show Six Feet Under. I know these things are complete unrelated, but it's happening. Can we talk about how good the show Six Feet Under is? Woah. It aired in 2001, when I was 8, so I missed it during its original run but that's the amazing thing about Netflix and the internet, you can become immersed in a show that you wouldn't have otherwise had the chance to watch. So I've been watching it for the past month or so and am completely addicted. Not only is the show amazing, but it's also so much fun to see all the old technology. One of the characters has the same cellphone my Dad had, and I had forgotten how big desktop computers once were. It's like a little walk down memory lane – the early 2000s really were a phenomenal time, don't you think?
The only relation between these roasted sweet potatoes and Six Feet Under is that I will mindlessly eat these while bingeing on a few episodes. It's better than snacking on chips, right? Give this flavour combination a try, it may seem a little out there, but cinnamon and chili really highlight the sweetness of the potatoes in ways you wouldn't expect!
Roasted sweet potatoes recipe breakdown
Chili and cinnamon are the perfect flavours to match with sweet potatoes. This is the perfect, healthy family friendly side dish.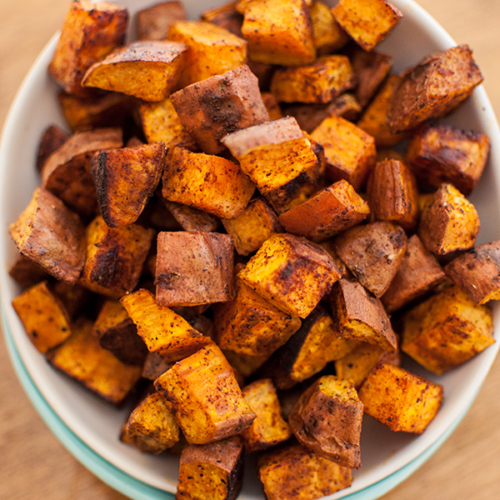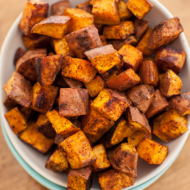 Cinnamon Chili Roasted Sweet Potatoes
Cinnamon chili roasted sweet potatoes are the perfect fall side dish with hints of sweet and savoury flavours from chili powder and cinnamon, roasted at 450F.
Pin
Print
Ingredients
4

cups

peeled and diced sweet potatoes

,

4-6 sweet potatoes, depending on size

2

tbsp

olive oil

1

tsp

chili powder

½

tsp

cinnamon

½

tsp

salt
Instructions
Preheat oven to 450F. In a large bowl, toss diced sweet potatoes with olive oil. Sprinkle with spices and salt, tossing to coat. Arrange, in one layer, on a baking sheet.

Bake for 20 minutes, tossing sweet potatoes halfway through.
Notes
Recipe by Louisa Clements
Did you try this recipe?
Leave a comment + rating and let me know what you think!
Let me know if you give these cinnamon chili roasted sweet potatoes a try in the comments below.