Chicken, asparagus and lemon pasta is a quick spring dinner recipe with leeks and hot pepper flakes.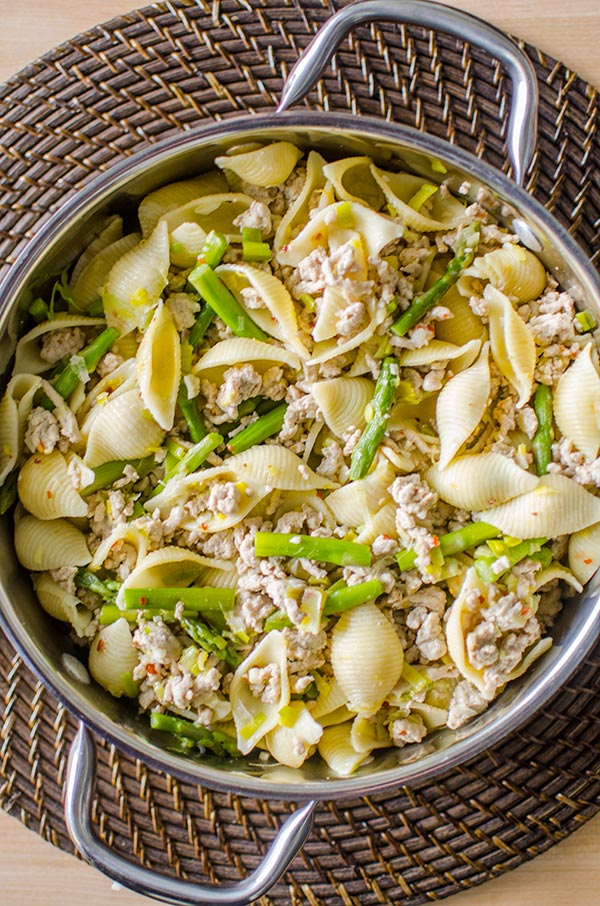 The sun is shining, warmer temperatures are here and I feel like I have a literal spring in my step. With this literal new season, comes a new outlook. I woke up this morning and decided that I was done being bogged down by negative energy. I've always found April to be a challenging month.
You'll notice if you go back through the archives that April has always held a lower number of posts. It's hard for me to find inspiration to write when I'm not feeling inspired about much.
In the past couple of days, I've realized that I've been focusing too much on a couple of negative things, when really, there are so many good things happening that eclipse those smaller gripes. It's all about perspective, and choosing to focus on where I'm putting my energy.
This pasta recipe is perfect for this time of year because it celebrates both spring and winter produce. For me, asparagus is the vegetable I look forward to the most during the spring. Sweet with grassy notes, it's perfect in pretty much every preparation. In this recipe, it's paired with leeks.
Leeks, a member of the Allium family, bring a subtle onion and garlic flavour to this dish. The whole thing is brightened by lemon zest and balanced by the heat of chili flakes.
I like to use ground chicken in this dish because it allows pasta shells to capture every component in a single bite. Hello, heaven! Honestly though, this is such a simple dish it works perfectly for a weeknight and is great reheated as leftovers the next day.
It's definitely not a 'saucy' pasta, so if that's what you're looking for I'd recommend trying my sausage and leek pasta as another spring pasta alternative.
Pasta with Chicken and Asparagus
Chicken, asparagus and lemon pasta is a quick spring dinner recipe with leeks and hot pepper flakes.
Pin
Print
Ingredients
4

cups

/290g dried pasta shells

2

cups

cut into 1" pieces of asparagus

1

tbsp

olive oil

1

lb

/ 454g ground chicken or ground turkey

1

leek

,

light green and white parts only, washed and thinly sliced

2

cloves

garlic

,

minced

1

tsp

hot pepper flakes

½

tsp

salt

1

tbsp

lemon zest

¼

cup

grated Parmesan cheese for serving
Instructions
Cook pasta according to package directions, reserving 1 cup of pasta water to finish the sauce. Add asparagus to the pasta during the last 2 minutes of cooking. Drain and reserve.

Meanwhile, in a large saute pan, heat the olive oil over medium-high heat. Cook the ground chicken, breaking up any lumps, until lightly coloured, about 4 minutes.

Add the leeks and cook, stirring, until soft, about 4 minutes. Stir in the garlic, hot pepper flakes and salt, cook for 1 minute.

Add the cooked pasta and asparagus to pan with chicken and leeks. The mixture may seem dry so add reserved pasta water as needed, about two tablespoons at a time. Finish with lemon zest and toss well.

Serve with grated parmesan cheese.
Did you try this recipe?
Leave a comment + rating and let me know what you think!
Let me know if you give this chicken, asparagus and lemon pasta a try in the comments below.