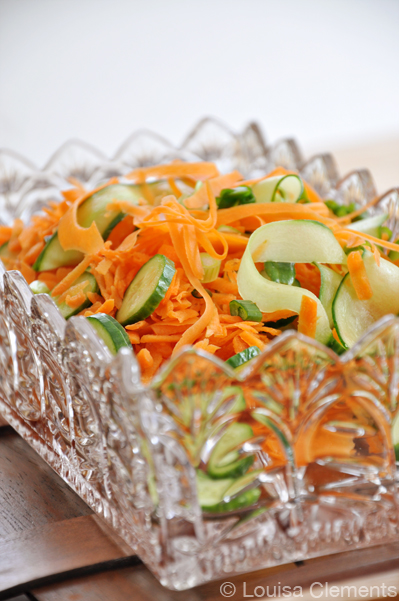 Last week I mentioned this health kick that I've been on lately and this Carrot Salad is a result of said new health kick. There's something about February that has me craving the freshness of summer, and I think this salad definitely brings that freshness to the table (ha! literally and figuratively). I've also had carrots on my mind recently with the relaunch of an old favourite app of mine, CarrotLines™ Powered By Tommy Europe™. Now I'm sure you all know that I am a total app addict – hence my tweet about Songza the other day (seriously obsessed with the 60s French Pop Playlist), but CarrotLines is the only health app I have on my phone because quite frankly, with the CarrotLines app, I don't need another one.
My favourite feature of this free app is the bar code scanner, it's amazing. When you scan the bar code of a product, it pulls up the nutritional information and tells you if the product fits with your nutritional goals, whether it be low-fat or gluten free etc. Plus, there is exclusive nutrition and fitness video content by Tommy Europe. I've loved using the app while grocery shopping and for purging my pantry of items that I really shouldn't be eating. I already had the CarrotLines app on my phone so all I needed to do was update it, but if you don't have the app you can download it from the Canadian app store.
Now, to spread the #carrotlove I've created this delicious Carrot Salad. It's so simple and is a great way to change up your salad routine.
Carrot Salad (serves 4-6)
Recipe by Lou
Ingredients
For Salad
5 large carrots, peeled and grated
4 mini cucumbers, sliced
1 green onion, sliced
For Dressing
⅓ cup olive oil
1 tbsp white wine vinegar
3 tbsp lemon juice
1 clove garlic, crushed
salt and pepper to taste
Directions
In a large bowl, toss together vegetables for the salad.
In a small bowl, whisk together the dressing ingredients.
Pour dressing over salad and toss to coat.
Carrot Salad is one of my favourite salads because not only is it gorgeous and colourful but also really easy and delicious.
– Lou
Disclaimer: I am proud to be a media sponsor and brand ambassador for CarrotLines™ Powered By Tommy Europe™.  All opinions expressed are my own.