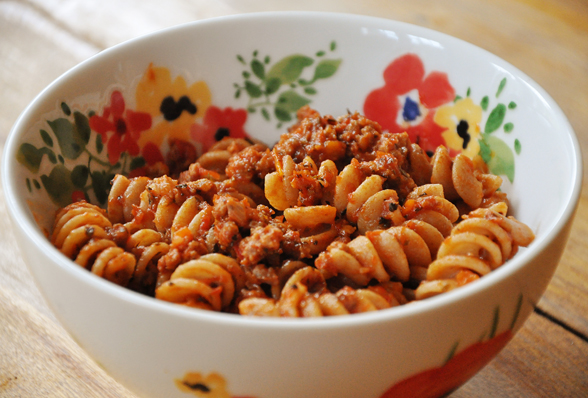 Seems as if I'm all about the sauces these days! Three in a row! First pesto sauce, then pizza sauce, and now, this scrumptious and aromatic bolognese sauce! This is, honestly the best meat sauce I have ever tasted, and smelled. It's aroma fills up the entire house. And guess what? Even after being in the fridge for a couple of days, when you take the lid of it's container, you're engulfed in the smell of this delicious sauce.
Somehow, someone works their magic, and all of the flavours just blend together in perfect harmony. It's like, when you're listening to an orchestra, and it sounds amazing, but then when you listen to just one instrument on it's own, it's not quite as wonderful, but somehow together all the instruments create magic. You know, if you're into orchestras and all that jazz. (Pun intended.)
I think everyone (obviously, not vegetarians!) love a good meat sauce, there is something so comforting about it, and on these cold November nights, there is nothing better than a nice comforting dish.
I can already tell that this recipe is going to be a staple around here during the winter months, and I can't wait to make it again!
p.s How cute is this bowl? Gotta love Anthropologie and my mother's obsession with everything being mismatched!
Bolognese Sauce
Ingredients
1 lbs ground chicken or turkey
1 lbs sausage meat (preferably spicy)
½ red bell pepper
½ stalk celery
1 carrot
1 small onion
2 cloves garlic (crushed)
1 28oz can crushed tomatoes
1 5.5oz can tomato paste
1 tsp salt
2 tbsp dried basil
1 tbsp dried oregano
¼ tsp nutmeg
2 tbsp milk
pepper to taste
Directions
If you've got a food processor, throw in the red pepper, celery, carrot and onion, and pulse a few times until your desired size. I like my vegetables to be small, especially so that my sister would eat it, she hates all things veggies, so I pulsed probably about 5 or 6 times. If you don't have a food processor, you could chop them by hand, I just found this to be a lot easier, and less time consuming. Once finished, set your vegetables aside.
Next, throw the chicken/turkey and sausage meet in a pan and cook.
Once the meat is cooked, add in the chopped veggies, and cook for about 3 minutes. Then add in the crushed garlic and cook for another minute.
Spoon in the tomato paste, and stir it around in the pan, you want it to be evenly distributed and be sure to let it cook for about a minute in order for it to sweeten. After the minute, add in the crushed tomatoes and stir. Finally, stir in the milk and lastly, add in salt, pepper, nutmeg and herbs (basil, oregano).
Simmer the sauce for about 20 minutes. Once done simmering, serve with whichever pasta you like, we went with whole wheat rotini!
Hope that you enjoy this sauce, I can't get enough of it!
– Lou
recipe adapted from: Tyler's Ultimate Lasagna