Jazz up rice and add an extra serving of vegetables to your weeknight supper with this simple side dish for bell pepper rice.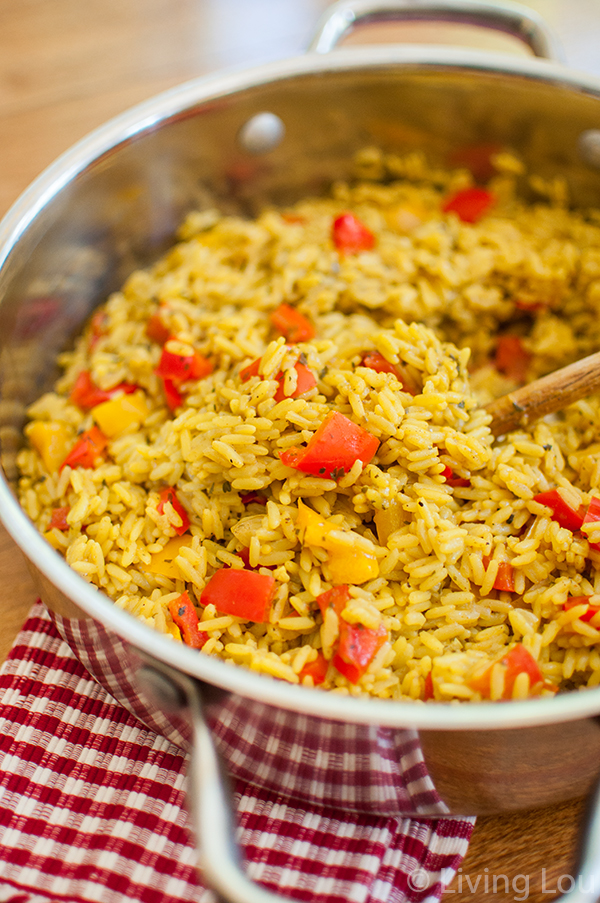 Do you ever find yourself getting bored of plain old rice? I sure do and that's why I'm so excited to share this recipe with you today. This recipe for bell pepper rice is packed with flavour and will make you fall in love with rice all over again. Have you ever thought about how crazy it is that people can have completely different tastes in something?
Whether it's food, art or music, each one of us has our own distinct style. As you know, I've been travelling throughout Europe with my older sister. Doing all sorts of different things, hitting up the museums, visiting markets in each city (which has quickly become our favourite thing), drinking wine in France and beer in Germany. And not to mention eating everything in sight. But something that I've really noticed is just how different our tastes are. She loves yellow, I love navy blue. Anything caramel for her, anything chocolate for me. I love bell peppers, my sister, not so much, but we're working on it.
This rice gets its flavour from the peppers and the help of a few favourite spices; coriander, cumin and turmeric. I couldn't forget flavour packed herbs so you'll find parsley and basil in here.  I know that it might sound like a lot of flavour for a simple rice dish, but trust me on this one, if you're looking for a new side to add to your weekly rotation, this rice fits the bill.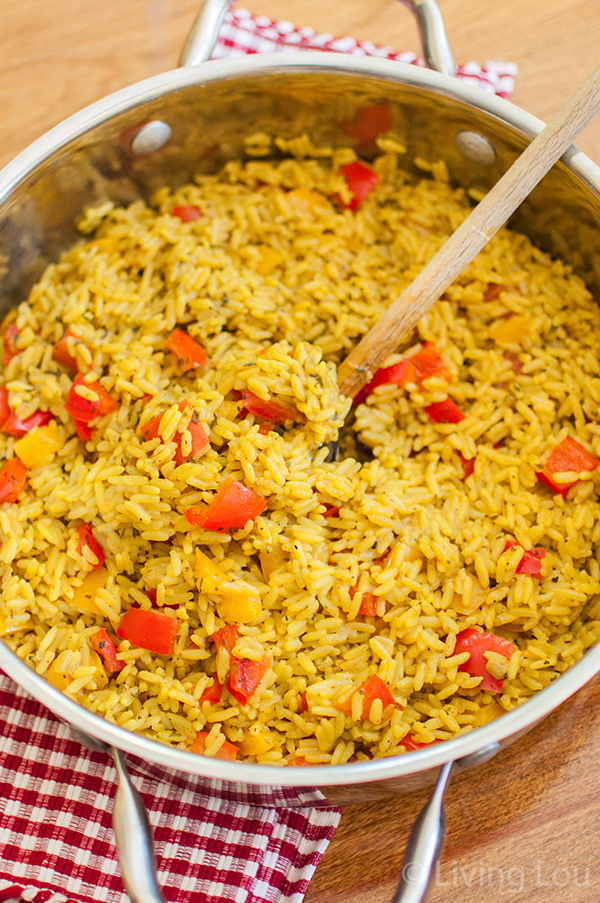 But what does any of this sister talk have have to do with bell pepper rice? Well, you see, my sister loves rice and well me, not so much. I know, I'm posting a recipe for rice and admitting that I don't even like the grain? It wasn't until I amped up the flavour that I really started to love rice. I've always found it to be extremely boring and bland, I'd even go as far as to say that I prefer brown rice to white rice, which is an uncommon opinion.
When it comes to rice, I always try to either a) avoid it or b) jazz it up. I feel like there are quite a few people out there with the same opinion about plain old boring rice as me, so this recipe is for you. I've decided to add sweet bell peppers (both red and yellow) in here for some added flavour and eating more vegetables doesn't hurt, right? This dish is quite similar to a rice pilaf, if that is something you're a fan of you are bound to love this dish. So, if you're on the hunt for a new side dish to make for dinner, give this a try.
Bell pepper rice recipe breakdown
Add some flavour to boring rice by adding aromatic spices and herbs and sweet bell peppers – this simple rice dish will be your new favourite side dish.
Yields serves 4
Bell Pepper Rice
15 minPrep Time
25 minCook Time
5 based on 1 review(s)
Ingredients
1 cup rice
2 cups water
2 tbsp olive oil
1 red bell pepper, diced
1 yellow bell pepper, diced
1 small onion, diced
2 cloves garlic, minced
1 tsp dried parsley
1 tsp coriander
1/2 tsp cumin
1/2 tsp turmeric
1/4 tsp basil
1/4 tsp salt
1/4 tsp pepper
Instructions
In a medium sized pot, heat olive oil over medium heat.
Add bell peppers and onion. Cook for 4-5 minutes.
Add in garlic, herbs and spices. Cook for another minute or until fragrant.
Add in rice, stirring to coat in bell pepper and spice mixture.
Add water. Bring to a boil, cover and reduce to a simmer.
Cook for 20 minutes.
Season to taste.
Notes
Recipe by Louisa Clements
7.8.1.2
83
https://www.livinglou.com/bell-pepper-rice/
If you're looking for a new side to add to your weekly rotation, look no further than this recipe for bell pepper rice.