Enjoy a special weekend brunch with this recipe for baked croissant French toast with lemon zest, cinnamon and chocolate.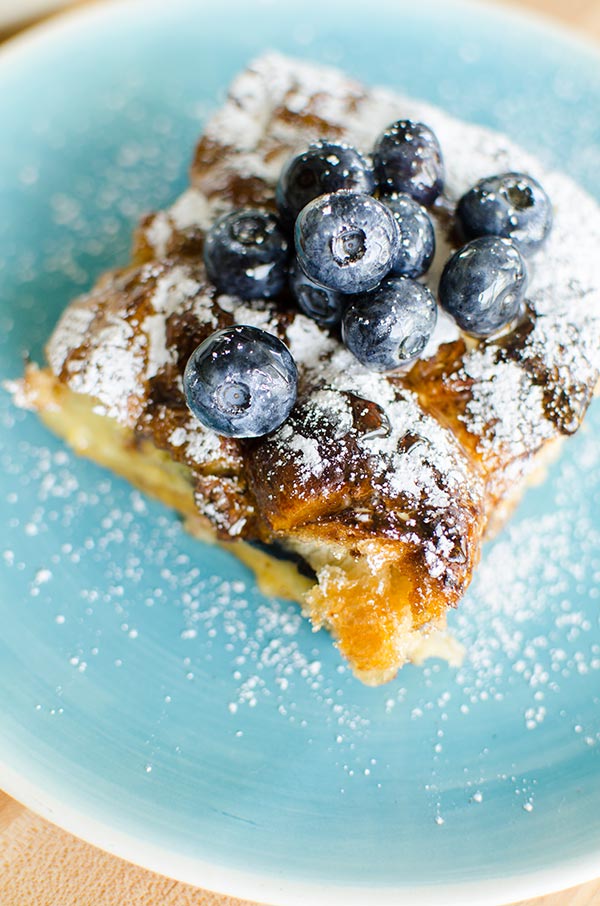 Brunch is one of those meals that everyone loves, but I'm going to be honest and say that I'm kind of on the fence when it comes to brunch. I know, it's a polarizing opinion to have as a millennial foodie. There are a few reasons for this though, mostly, it's because I'm not a big breakfast eater in general. But I also like to take things slowly on the weekend, and I don't always want to cook a big brunch, and I definitely don't want to drop $40 on it either.
My weekends always start with a big pot of coffee and then when it does include breakfast, the next questions is, sweet or savoury?

I'm usually a savoury girl, but every now and then when I'm craving something sweet, I usually end up making French toast or pancakes, two of my childhood favourites. Not only are they delicious dishes, but they also hit that nostalgia "flavour note" as well.
And yes, I think that "nostalgia" is an ingredient in a lot of my favourite recipes, and I'm sure it's an ingredient in a lot of yours as well. That's one of the best things about food, it can take you back to different times in your life. There is an episode of Netflix's Chefs Table where renowned chef, Grant Achatz, takes you through the creation of one of his dishes based on the concept of "nostalgia", talk about creativity. If you haven't had the chance to watch that yet, please add it to your list (I've watched the episode twice).
Back to this recipe, I love using croissants for French toast because they are able to absorb so much flavour and liquid, plus these Bauli croissants have an incredible chocolate filling, which is the perfect compliment to the lemon zest and cinnamon in the custard mixture.
Louisa Clements
Yields 4 servings
Baked Croissant French Toast
1 hr, 10 Prep Time
50 minCook Time
2 hrTotal Time
Ingredients
6 chocolate flavour Bauli croissants
4 eggs
1 ½ cups milk
1 tbsp granulated sugar
1 tbsp lemon zest
1 tsp cinnamon
1 tsp vanilla extract
Instructions
In an 8x8 baking dish, whisk eggs with milk, sugar, lemon zest, cinnamon and vanilla. Dip croissants into mixture to soak up liquid. Cover with plastic wrap and refrigerate for one hour.
Preheat oven to 350F. Remove plastic wrap from dish and bake for 45-50 minutes.
Serve with icing sugar, maple syrup and blueberries.
Nutrition
Nutrition Facts
Amount Per Serving

Calories

642

% Daily Value*



Total Fat:

27 g

41.54%

Saturated Fat:

g

0%

Cholesterol:

mg

0%

Sodium:

mg

0%

Potassium:

mg

0%

Total Carbohydrate:

64 g

%

Sugar:

g

Protein:

32 g

Vitamin A:

0%

Calcium:

mg

0%

Iron:

mg

0%
7.8.1.2
310
https://www.livinglou.com/baked-croissant-french-toast/
Disclosure: This post was sponsored by Bauli – as always, all opinions are my own. Thank you for supporting my sponsors and allowing me to continue creating recipes like this recipe for baked croissant French toast.