Try the Italian favourite of adding beans to pasta by tossing pesto with pasta, asparagus, white beans, tomato and green onion for a light and healthy spring dinner for asparagus and white bean pesto pasta.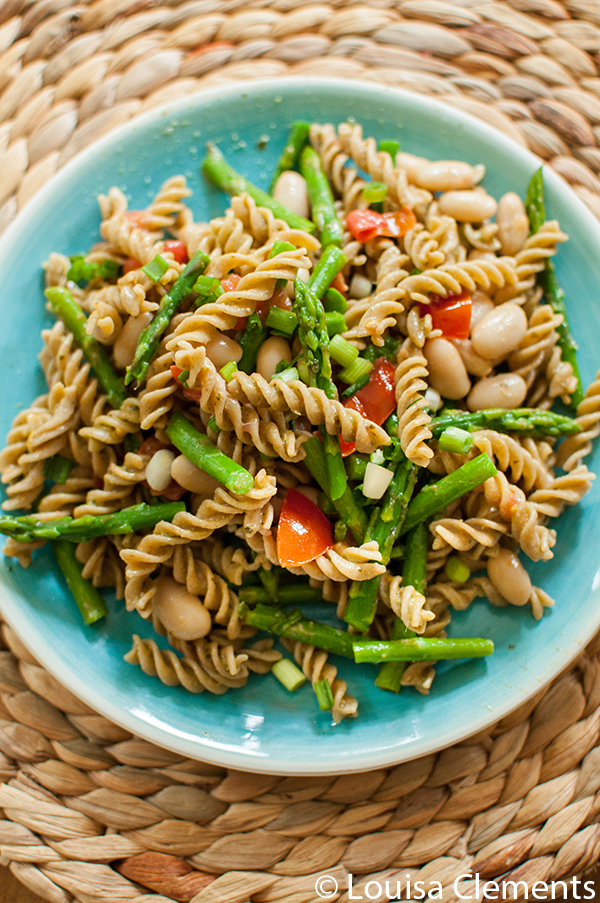 It's hard not to be inspired by the warm weather and fresh, in-season ingredients like asparagus. Just seeing them in the stores makes me excited about all the spring and summer recipes I have in the works. Seriously, just look at the gorgeous colours in this asparagus and white bean pesto pasta. It's like spring on a plate.
I don't know what it's like in your part of the world, but in Toronto it's been a much cooler spring than normal. It's making me a little nervous about what this season is going to be like for fresh local produce, but I'm sure by the time June rolls around we'll have a ton of fresh produce. But, even though it has been cooler, this weather is not always a bad thing because I feel like it has made these past few warmer and sunshine-filled days even nicer.
I think we have a bit of that "You can't appreciate what you've got until it's gone" kind of thing going on here. In my search for moments I think I've started overthinking things more than normal…which is probably not a good thing. Ha! We can talk about that overthinking thing another time.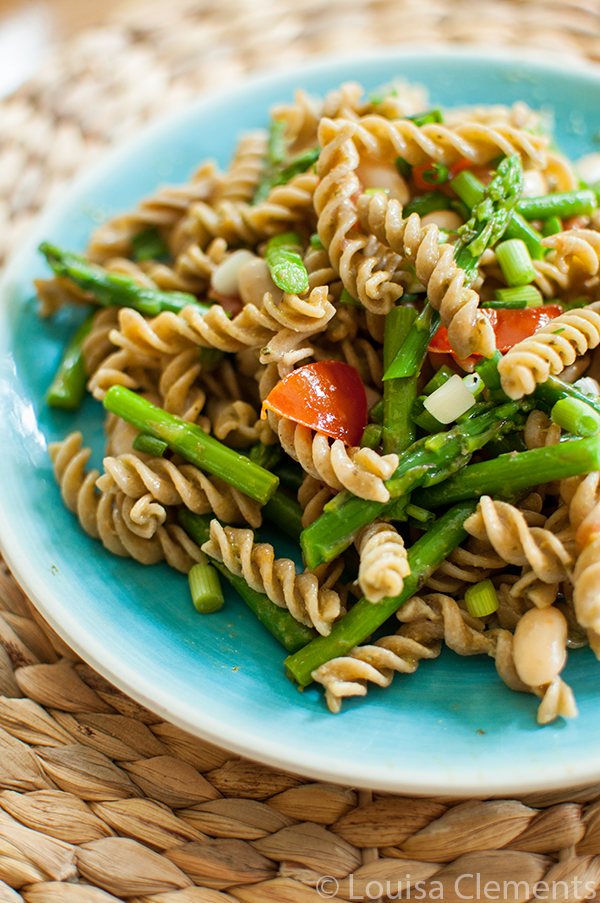 This is a recipe for a simple, vegetarian pasta dish that can be eaten warm or cold, it's pretty versatile that way. Just the way I feel like most recipes should be, versatile. A warm spring pasta one night and a cold pasta salad for lunch the next day? It's kind of the perfect meal – built in leftovers. I cooked this up earlier last week, just kind of throwing together ingredients that I already had in my fridge (asparagus, tomatoes, green onions, pesto) and in my cupboard (pasta and white beans).
This is a great "clean out your fridge" kind of recipe. You could even swap out the asparagus for another veggie like broccoli or even green beans, but with local asparagus in season I knew this dish needed some of its sweet, grassy flavour. I finished this dish off with a squeeze of lemon as the citrus and acidity brightens the flavours of this dish – I often find that if a dish seems a little lacking, a hint of lemon, lime or vinegar will do the trick.
The pesto adds a ton of flavour to this dish and acts as the sauce, in combination with the fresh vegetables and white beans I think this meal is a perfect 10. A trick that I use in my kitchen is to always have a jar of pesto in the fridge. It's a simple and healthy way to make a meal and it's what keeps this pasta more on the light side and away from the ooey-gooey, cheesy goodness of baked pasta we love in the winter.
Asparagus, white bean and pesto pasta recipe breakdown
A great clean-out-the-fridge meal, this vegetarian pasta filled with asparagus and tomatoes is a healthy dinner. With protein from white beans and flavour from pesto, this recipe works well both warm and cold (a perfect spring-time pasta salad).

Asparagus, White Bean Pesto Pasta
Enjoy the fresh vegetables of spring with this simple, protein packed vegetarian pasta dish.
Pin
Print
Ingredients
1 375

g

package whole wheat pasta

3

tbsp

prepared pesto

,

or to taste

1

bunch asparagus

,

tough ends trimmed and cut into 1-inch pieces

2

tsp

olive oil

1

large tomato

,

diced

1 19

oz

can white beans

,

drained and rinsed

4

green onions

,

sliced

juice of 1 lemon
Instructions
Cook pasta to package directions and toss with pesto.

Steam asparagus for 5-7 minutes or until tender. Shock in a cold water bath to stop cooking.

Heat olive oil over medium heat in a large pan, add tomato and cook for 2-5 minutes. Remove from heat and toss with asparagus, white beans green onions and pasta.

Sprinkle with lemon and serve.
Notes
Recipe by Louisa Clements
Did you try this recipe?
Leave a comment + rating and let me know what you think!
Let me know if you try this asparagus and white bean pesto pasta in the comments below.