Make the best apple blondies with melt-in-your mouth flavour, fresh apples in the batter, cinnamon and nutmeg.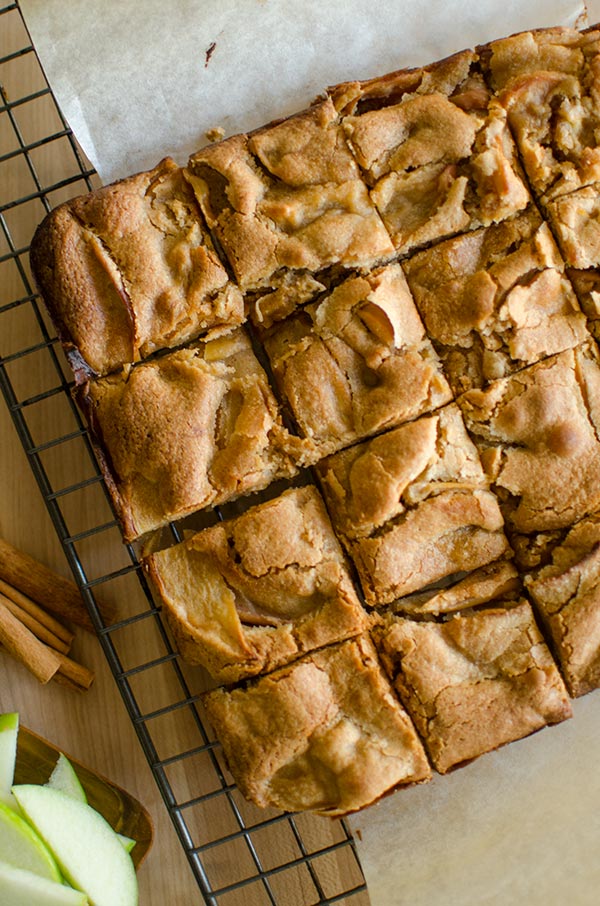 The internet goes crazy for pumpkin in the fall, but I'm more of a fan of the simple apple. Toss apples in a fall-inspired salad, throw apple in a grilled cheese for some extra crunch, or stir caramelized apples into blondie batter and pat yourself on the back. Your kitchen (or your entire tiny city apartment, in my case), will smell of fall spices (there is apple and nutmeg in these blondies).
The idea for these squares came to me a couple of weeks ago and I knew that I had to bake them right away. Usually, I'm known for planning recipes way further in advance so that I have lots of time in between testing (basically so I don't eat the same thing for weeks on end), but I made these twice in a row and knew that I needed to post this fall dessert ASAP so you can make the most out of apple season.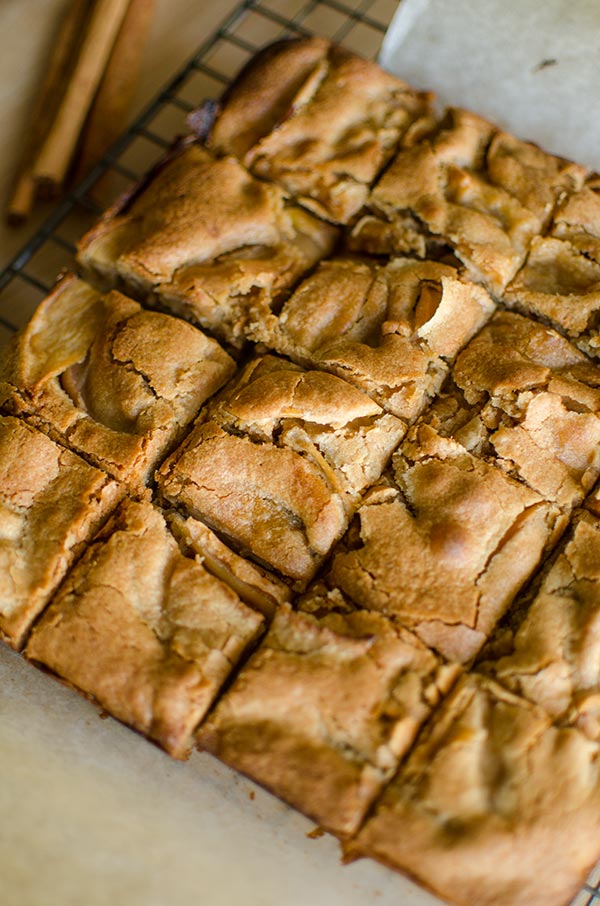 The key to this recipe is to really cook down the apples so that they almost melt into the blondie batter. I slice them thinly and then saute them in butter for about ten minutes–at this point they start to really break down. Then I stir in some cinnamon, and fold them into the blondie batter.
When you're making the batter, it may seem as though it's too thick, but once you fold in the apples, it will loosen up. The apples also release moisture as the bars bake, so you in the end they are super moist and delicious with the perfect cracked top you expect to find in blondies.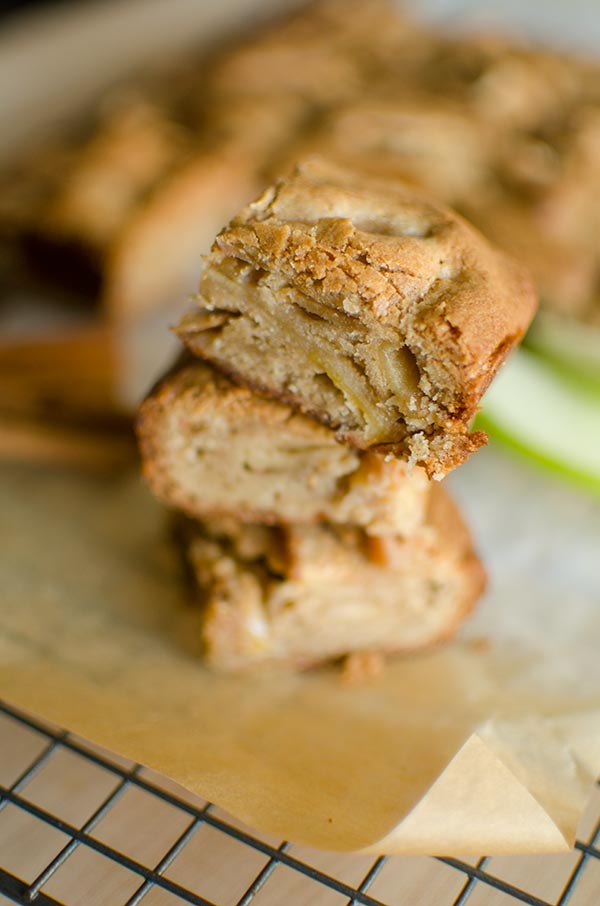 The apples end up becoming like layers in these bars and they are so good. I use a standard Gala apple for these–it's a great all-purpose apple for baking. They will hold their shape better than a McIntosh and are slightly sweeter than Granny Smith. For most fall baking recipes that call for apples I'd recommend sticking with a gala unless otherwise noted.
You'll also notice that there is no baking powder or baking soda in this recipe–I'm a purest when it comes to blondies and I like a denser texture over a cakey one.
Apple Blondies
Make the best apple blondies with melt-in-your mouth flavour, fresh apples in the batter, cinnamon and nutmeg. 
Pin
Print
Ingredients
1

tbsp

butter

2

Gala apples

,

peeled and thinly sliced

½

tsp

cinnamon

,

divided

½

cup

butter

,

melted

1

cup

packed brown sugar

1

egg

1

tsp

vanilla extract

1

cup

all purpose flour

¼

tsp

salt

⅛

tsp

nutmeg
Instructions
Preheat oven to 350F. Line an 8x8 baking dish with parchment paper.

Heat a medium frying pan over medium-low heat. Melt butter, add apples and cook, stirring occasionally until very soft and caramelized, about 12-15 minutes. Remove from heat and stir in ¼ tsp cinnamon.

Meanwhile, in a large bowl, whisk melted butter with brown sugar until combine. Whisk in egg and vanilla extract.

Using a spatula, stir in flour, salt, remaining cinnamon and nutmeg. Fold in apple slices.

Pour batter into prepared pan. Smooth the top and bang the bottom on the counter to ensure batter is even in the pan.

Bake in the centre of the oven for 20-25 minutes. Remove from oven, allow to cool for 15 minutes, then flip and cool completely on a wire rack. Cut into 16 squares.
Did you try this recipe?
Leave a comment + rating and let me know what you think!
Let me know if you give these apple blondies a try in the comments below.