With just five ingredients, this healthy homemade honey almond granola is simple to throw together and flavoured with honey and cinnamon.
I find myself making a batch of granola on a weekly basis because it is the ultimate snack and breakfast. Because I make this dish so often, I wanted to create a ridiculously simple five ingredient granola to share with you. I really don't think there is a better way to start your morning than with a bowl of yogurt, fresh fruit and granola. This honey almond granola is also the ultimate afternoon snack with a touch of sweetness, some crunch and a boost of protein.
It's not only making granola that I find myself repeating over and over again, these days, I find myself repeating the same sentence over and over again: "We're so young". On a muddy walk through the ravine. Over a glass of wine in a dimly lit bar. Over FaceTime to friends who have scattered around the world. To you, here on this blog. It seems to be a common theme of my life these days.
Maybe it's because of the impending graduation and that big, ominous capital-L, Life thing that's coming, but "We're so young" is my catchphrase of the moment. It's reassuring. I was talking with a few friends of mine about this the other night; some are off to grad school, others hope to travel, some of us, like myself, will be working, but we're all just doing, going with it and seeing where it takes us. While reassuring ourselves that we have time to figure it out. Because that's really the only thing that we have to hold on to right now – we have time, we don't need to figure it out right now.
Over the past year, I've been trying to live my life in the moment. And really process and live these moments. I've realized that I'm only 21 and that I don't need to have my whole life figured out right this second. It's more fun this way. It's better this way. It took me a while to figure this out, but as my favourite professor said to me: take the pressure off. I'm notorious for putting an incredible amount of pressure on myself. Pressure to develop new recipes and publish new content here once a week. Pressure to get better grades in school. To work, to achieve.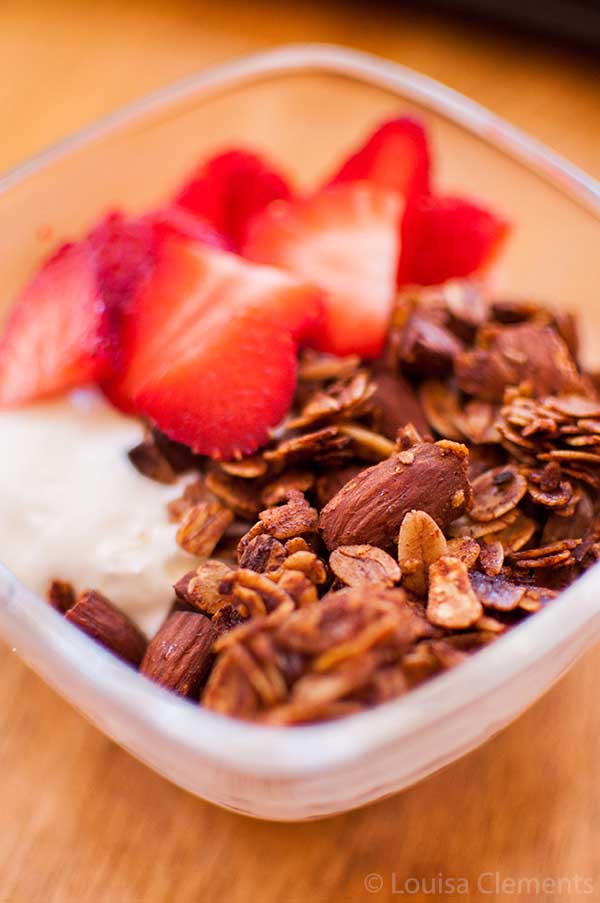 Recently, I've done just what my professor advised, and I have been so much happier. Happier following my own wandering, winding path. And filling my life with more of the things I love; cooking, writing, and spending time with the people I love.
That means different things every day, but last night it meant making my famous chicken wings and spicy caesars and watching March Madness with my sister and Mum. I wouldn't have it any other way. (Well, actually if only my bracket wasn't already busted…) is anyone else obsessed with March Madness? It's probably one of my favourite times of the year and this granola is a pretty great, healthy basketball watching snack.
Honey almond granola recipe breakdown
With just five ingredients, this healthy homemade granola is so simple to throw together and is flavoured simply with honey, almonds and cinnamon.
Yields 4 1/2 cups
5 Ingredient Honey Almond Granola
5 minPrep Time
30 minCook Time
35 minTotal Time
Ingredients
3 cups rolled oats
1 1/2 cups almonds, chopped
1/4 cup honey
1/4 cup canola oil
1 tbsp cinnamon
Instructions
Preheat oven to 350.
Arrange oats on a baking sheet and toast for 13-15 minutes.
Meanwhile, bring honey, canola oil and cinnamon to a boil. Whisk and boil for 30 seconds.
In a large bowl, pour honey mixture over chopped almonds. Stir in toasted oats.
Dump granola and spread into in a single layer on a baking sheet.
Bake for 15 minutes, stirring halfway through.
Allow to cool on baking sheet for 10 minutes to harden.
Notes
7.8.1.2
100
https://www.livinglou.com/5-ingredient-honey-almond-granola/
I hope you'll join me in making this five ingredient honey almond granola over and over again. You won't regret it. Have a great week!