Learn how to make the best homemade granola with this easy and frugal recipe for honey almond granola made with just five ingredients.

I find myself making a batch of granola on a weekly basis—for me, it's the ultimate snack and breakfast. I especially like to make this granola to go with yogurt that I bring to work for an easy, on-the-go breakfast. The thing is, granola can be an expensive snack.
Is it cheaper to make your own granola?
It depends on the granola recipe, because this honey almond granola only has five ingredients, I imagine that this version would be cheaper and more frugal than buying granola in the store. It's when there are a variety of nuts and seeds in it that homemade granola can start to get really expensive.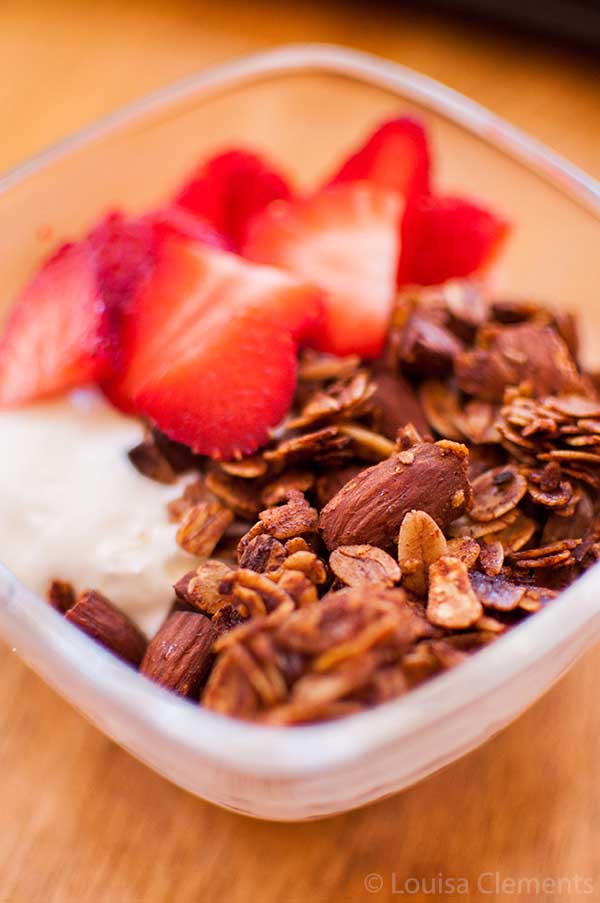 With just five ingredients, this homemade granola is flavoured with honey, almonds and cinnamon. I always like to toast my oats first (toasting oats for granola is a trick I picked up from Bon Appetit) as this adds a nutty aroma to the granola.
How to toast oats in the oven
Start by preheating your oven to 350F and spread the oats onto a rimmed baking sheet, toast them for 13-15 minutes. You'll start to notice a warm, nutty aroma coming from the oven and the raw oats will turn a light, golden colour.
How long can you store homemade granola?
Store granola in an airtight container, in a cool, dry spot for 5 days or up to 1 month in the refrigerator.
5 Ingredient Honey Almond Granola
Pin
Print
Ingredients
3

cups

rolled oats

1 ½

cups

almonds

,

chopped

¼

cup

honey

¼

cup

canola oil

1

tbsp

cinnamon
Instructions
Preheat oven to 350.

Arrange oats on a baking sheet and toast for 13-15 minutes.

Meanwhile, bring honey, canola oil and cinnamon to a boil. Whisk and boil for 30 seconds.

In a large bowl, pour honey mixture over chopped almonds. Stir in toasted oats.

Dump granola and spread into in a single layer on a baking sheet.

Bake for 15 minutes, stirring halfway through.

Allow to cool on baking sheet for 10 minutes to harden.
Did you try this recipe?
Leave a comment + rating and let me know what you think!
This post was updated in 2019, here is an excerpt from the earlier post, published in 2015:
I find myself repeating the same sentence over and over again these days: "We're so young". On a muddy walk through the ravine. Over a glass of wine in a dimly lit bar. Over FaceTime to friends who have scattered around the world. To you, here on this blog.
Maybe it's because of the impending graduation and that big, ominous capital-L, Life thing that's coming, but "We're so young" is my catchphrase of the moment. It's reassuring. I was talking with a few friends about this the other night; some are off to grad school, others hope to travel, some of us, like myself, will be working, but we're all just doing, going with it and seeing where it takes us.
While reassuring ourselves that we have time to figure it out. Because that's really the only thing that we have to hold on to right now – we have time, we don't need to have it all figured out right now.
It took me a while to understand this, but as my favourite professor said to me: take the pressure off. I'm notorious for putting an incredible amount of pressure on myself. Pressure to develop new recipes and publish new content here once a week. Pressure to get better grades in school. To work, to achieve.
Recently, I've done just what my professor advised, and I have been so much happier. Happier following my own wandering, winding path. And filling my life with more of the things I love; cooking, writing, and spending time with the people I love.
I hope you'll join me in making this five ingredient honey almond granola over and over again. You won't regret it. Have a great week!