Whole wheat pumpkin chocolate chip bars are so light and fluffy you won't even believe they are made with whole wheat flour.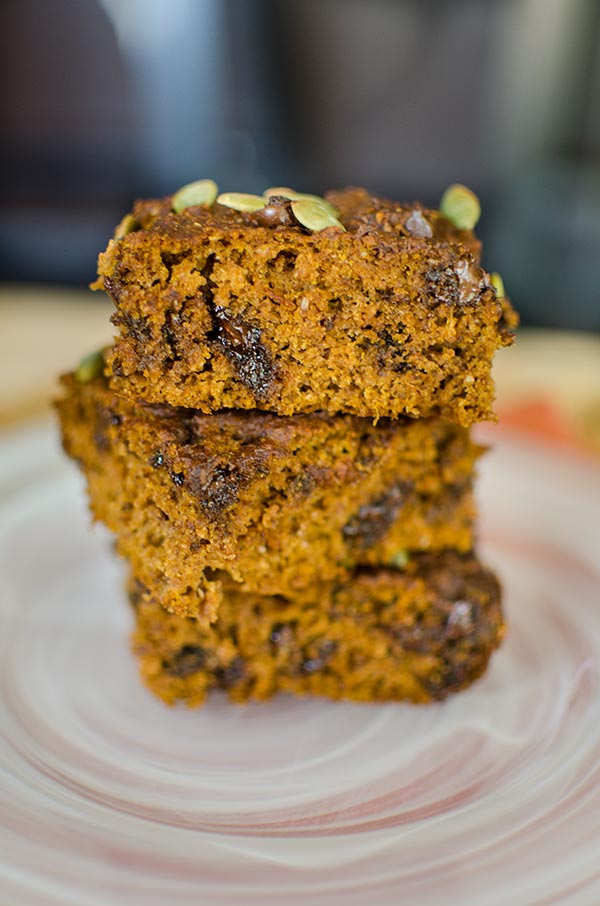 October has basically gone by and I haven't posted a single recipe for anything pumpkin. I know, what is wrong with me! Well, there's nothing wrong with me, it's just that I've been travelling a bit and have been working on a few exciting new projects, the first of which, if you follow me on Instagram I'll be sharing more about tomorrow!
Do you feel like we've hit peak pumpkin? There is a pumpkin version of everything these days, and while I don't need pumpkin spiced candles in my life, I do still love a good pumpkin dessert. I feel like you should bake with pumpkin at least once every fall, don't you? I love pumpkin pie at Thanksgiving, but seeing as though I was away for Thanksgiving this year, I've been baking these whole wheat pumpkin chocolate chips bars nonstop. It's basically like a pumpkin brownie, they are so good.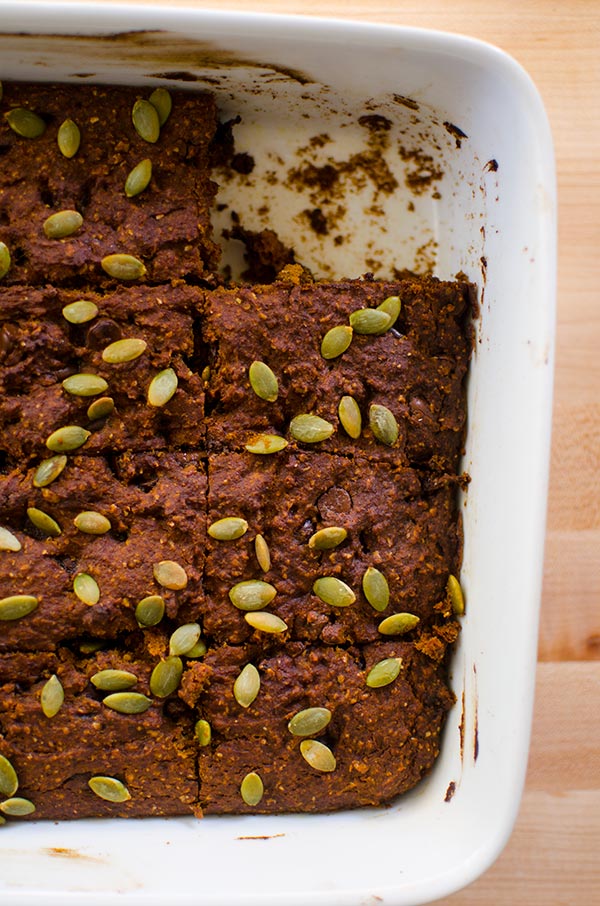 These pumpkin bars are whole wheat because I love the slight nuttiness that whole wheat flour gives to these bars, and despite being made with 100% whole wheat flour, they are not dense at all.
I've made these with both dark chocolate and semi-sweet chocolate, and while I prefer the semi-sweet (which is what you'll find in this recipe), dark chocolate chips were also delicious! I also love to sprinkle pepitas on before baking because they add a nice texture and the flavour works so well with the whole wheat flour, but you could leave these out if you don't have them handy.
With fall almost in full swing (the weather has been gorgeous in Toronto), I think it's about time to get baking with pumpkin.
Louisa Clements
Yields 16 squares
Whole Wheat Pumpkin Chocolate Chip Bars
20 minPrep Time
23 minCook Time
43 minTotal Time
4.5 based on 2 review(s)
Ingredients
1 ½ cups whole wheat flour
⅓ cup packed brown sugar
2 tsp baking powder
1 ½ tsp pumpkin pie spice
½ tsp salt
1 cup pumpkin puree
½ cup canola oil
¼ cup molasses
1 cup semi-sweet chocolate chips
2 tbsp pepitas (optional)
Instructions
Preheat oven to 350F and line a 9x13" baking pan with parchment paper.
In a large bowl, whisk together dry ingredients.
In a separate bowl, whisk together wet ingredients.
Create a well in the center of dry ingredients and pour in wet ingredients. Lightly mix, until just combined.
Stir in chocolate chips.
Pour into prepared pan and sprinkle with pumpkin seeds.
Bake for 20-23 minutes or until a toothpick inserted comes out clean. Allow to cool for 15 minutes then cut into 16 squares.
Nutrition
Nutrition Facts
Amount Per Serving

Calories

3076

% Daily Value*



Total Fat:

176 g

270.77%

Saturated Fat:

g

0%

Cholesterol:

mg

0%

Sodium:

mg

0%

Potassium:

mg

0%

Total Carbohydrate:

388 g

%

Sugar:

g

Protein:

39 g

Vitamin A:

0%

Calcium:

mg

0%

Iron:

mg

0%
7.8.1.2
314
https://www.livinglou.com/whole-wheat-pumpkin-chocolate-chip-bars/
Let me know if you give these whole wheat pumpkin chocolate chip bars a try in the comments below.