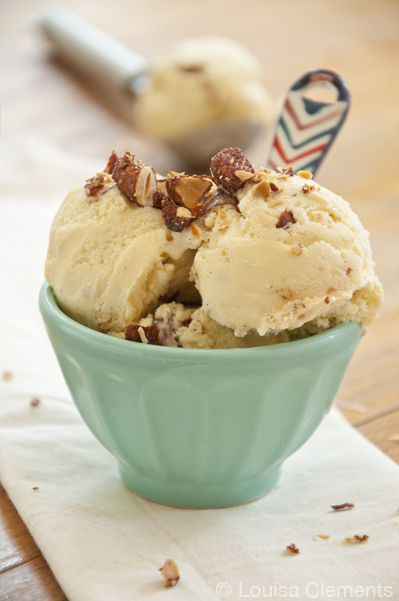 So here I am, writing about this delicious Vanilla Chipotle Almond Ice Cream at 5 in the morning. Hello breakfast – more like – Hello jet lag!
I'm back from a wonderful time spent in Greece with friends and family. I got one post off from the other side of the Atlantic, but I spent most of my time relaxing by the beach instead of blogging. Which is exactly what I needed. This ice cream is something I made before heading over to Greece, as you can see it features my favourite and absolutely addicting Chipotle Roasted Almonds. The combination of sweet, salty and slightly spicy mixed with the creamy and comforting vanilla ice cream is a match made in heaven. This is undoubtedly one of my favourite recipes I've ever shared on Living Lou because it is so good.
This is the type of cold treat that would've been perfect to have over in Greece, unfortunately no ice cream maker meant that I had to wait until I got home to make and enjoy this ice cream again!
Here are a few photos from my trip to give you a little glimpse!
My Grandparents house in Greece.
My gorgeous sister (left) and I.

My Nona taking in the view.
One of my favourite beaches.
Vanilla Chipotle Almond Ice Cream (makes 1 quart)
Recipe by Lou
Ingredients
3 egg yolks
2 cups whipping cream
1 vanilla bean, split in half, seeds and pod
½ cup granulate sugar
1 cup 2% milk
1 ¼ tsp vanilla extract
½ cup Chipotle Roasted Almonds, chopped
Directions
In a small bowl, whisk egg yolks and set aside.
Next, in a pot over high heat, bring cream, vanilla seeds, vanilla pod and sugar to a boil.
Remove a ¼ cup of the cream mixture and whisk into the egg yolks to temper the yolks. Add the yolks to the remaining cream mixture. Remove and discard the vanilla bean pod.
Next add the milk and vanilla extract to the cream. Refrigerate for an hour.
Freeze according to ice cream maker instructions. When there are five minutes remaining in the churning process, add the chopped roasted almonds.
This Vanilla Chipotle Almond Ice Cream will take your summer desserts to the next level. Enjoy!
– Lou