The top 10 activities and eats in Banff, Alberta. My guide to the perfect trip!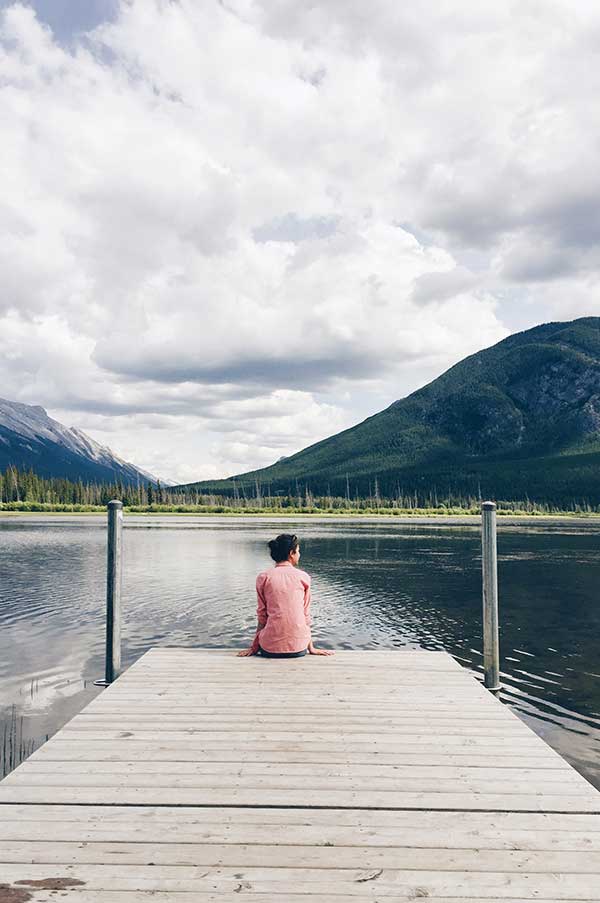 A couple of weeks ago I was invited to explore Banff, Alberta with my friends over at Food Bloggers of Canada and Banff-Lake Louise Tourism as well as few talented Toronto bloggers – Annie, Julie, Yuli and Davida (as well as Ethan from Food Bloggers of Canada). If you follow me on Instagram, you probably know that I'm a little travel obsessed. I spent five weeks touring around Europe last summer and have been plotting my next adventure ever since (see you in August, Kefalonia). It's pretty sad because my travel experience within Canada is quite limited, so I jumped at the chance to head to Banff and get to know this beautiful country. I now have the itch to see the rest of the country – cross-Canada road trip anyone?
10. Check out the Banff farmer's market
I love a good farmer's market and I was lucky enough to stumble upon the Banff Farmer's Market in the heart of downtown Banff on a beautiful, sunny Wednesday morning. This photo is one of the stalls filled with organic produce, I had the most juicy and flavourful cherry that had just been picked the day before and a nice chat with the farmer. This is a great spot to check out for local produce and local artisan products (great gifts for friends and family).

9. Have a beer at Banff Ave Brewing Co.
I loved the atmosphere at the Banff Ave Brewing Co. and we were lucky enough to have a fabulous brewery tour (one of the most interesting I've ever been on – I even got to taste different varieties of hops). I love hearing people speak about things they are passionate about, and the team at Banff Ave Brewing Co. are incredibly passionate – and the beer was A+.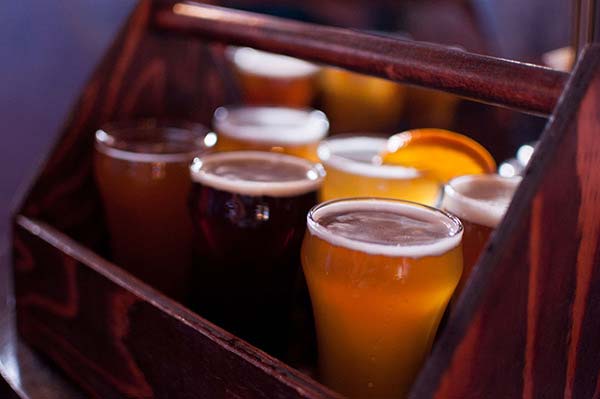 8. Dine at the Fairmont Banff Springs
This is a must for the scenery alone. The decor of the hotel is absolutely gorgeous and the views are impeccable. They have such an array of restaurants there is something for everyone. We were lucky enough to enjoy the menu for Indian Summer, and as a Torontonian who loves her Indian food I am pleased to report that I was definitely wowed by the meal.
7. Hike Hoodoos trail
The first thing we did when we got to Banff was head out for a quick pre-dinner hike on Hoodoos trail. Going for a hike is one thing you must do in Banff. There is something so magical and rejuvenating about being out in nature. I love exploring the outskirts of Toronto for hikes (the area around Tews falls and Rattlesnake Point are two favourite spots), but they are nothing compared to Banff.

6. Have dinner at Sleeping Buffalo Restaurant
Sleeping Buffalo restaurant is the restaurant of Buffalo Mountain Lodge (our accommodations for the trip – part of the Canadian Rocky Mountain Resorts group). The food at Sleeping Buffalo is exactly what have to/want to eat in Banff; Rocky Mountain cuisine. If you don't know what that is, it's lots of meats (think venison, caribou, elk and buffalo) combined with local, fresh ingredients. What really made it for me was that they have their own game ranch where they source their own meats – the elk tenderloin was unlike anything I've ever had.

5. Drink & eat at Park Distillery
Inspired by campfire cuisine, Park Distillery is one of the newest spots to open in Banff. Wood-fired, spit-roasted and smokey food make up the menu – Annie ordered the trout and it was absolutely delicious. Like the name says, they distill their own spirits and you can even go on a tour of the distillery. They also make a mean cocktail, so be sure to grab a drink while you're here.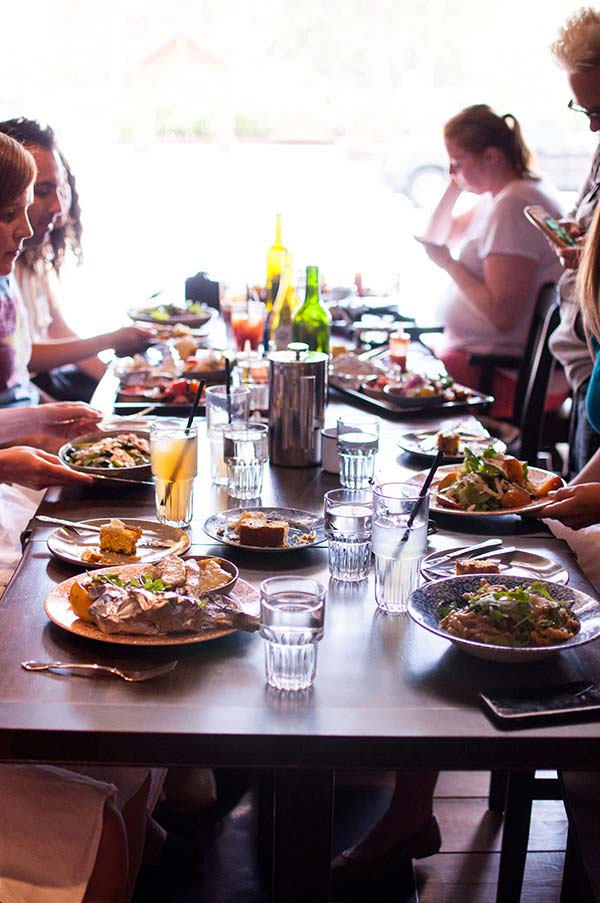 4. Rent a townie Bike
If you want a great way to take in the sites and sounds of Banff, rent a cruiser bike and spend the afternoon exploring the town. This was by far one of my favourite activities!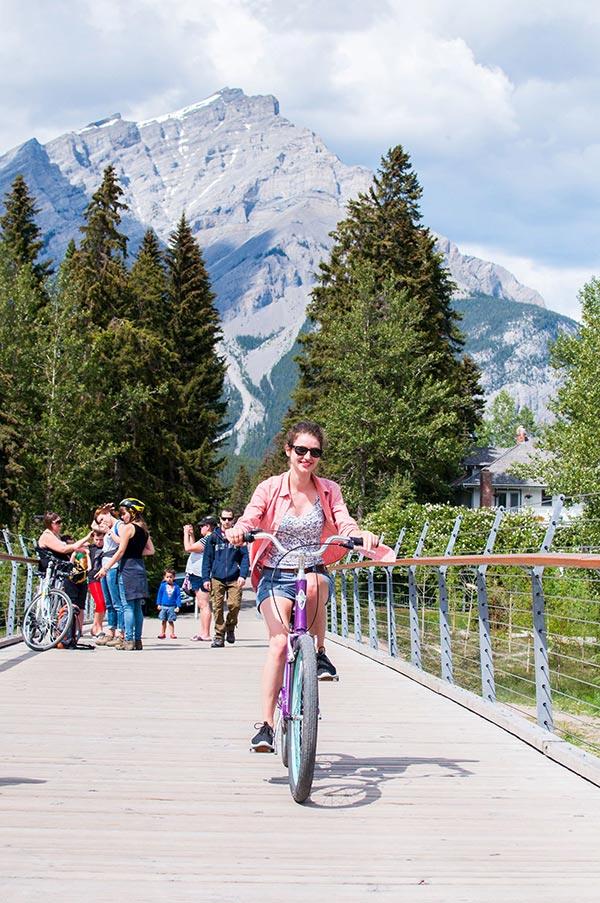 3. Kayak or Canoe at the Banff Canoe Club
I can't think of a better way to spend the morning than out on the beautiful, turquoise waters. Annie, Davida and I rented kayaks one morning from the Banff Canoe Club and paddled around. This is a great outdoor activity, especially on a warm day – serene and calm, it really takes your breath away.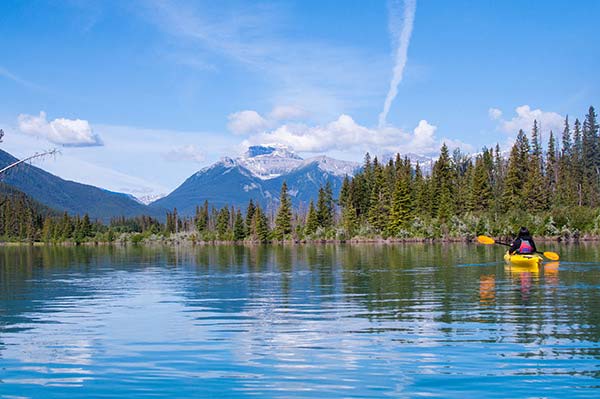 2. Dine at Juniper Bistro
Juniper Bistro really has one of the most unbelievable views I've ever seen in my life (photos do not do it justice), surrounded by mountains this patio doesn't even seem real. Definitely a must-see and visit spot when in Banff.

1. Climb the Mount Norquay Via Ferrata (& re-fuel at Cliff House Bistro)
Easily one of my all-time favourite experiences ever (and by that I mean like in my life, ever) was climbing the Via Ferrata at Mount Norquay. I never thought I'd do something like climb a mountain, but it was a completely exhilarating (& safe!) adventure. We did the 2.5 hour climb, which was the perfect length for beginners. Highly recommended for anyone with a thirst for adventure. (Bonus: they provide all the gear, helmets, hiking boots, harnesses and gloves). Be sure to re-fuel with a charcuterie platter at the Cliff House Bistro after your climb.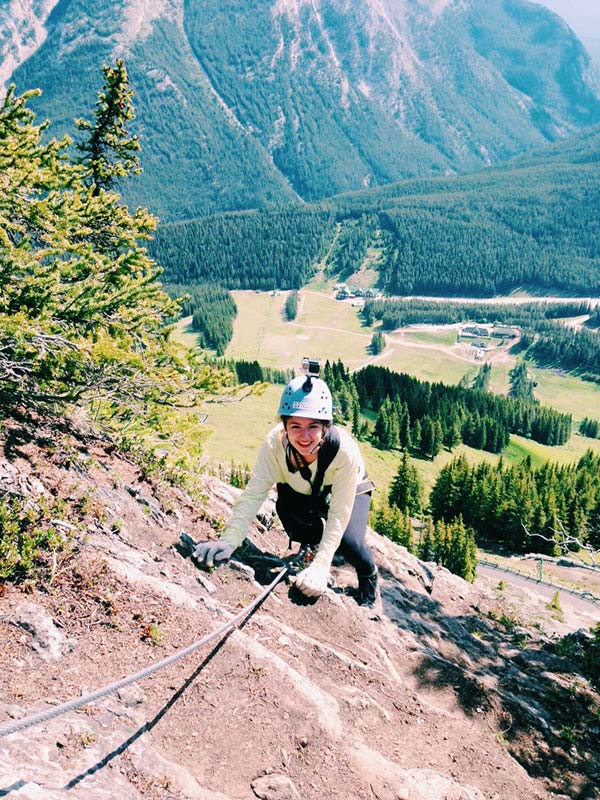 So there you have it, my recommendations for the perfect active, adventurous and food-filled summer in Banff. Did I forget your favourite spot? Let me know in the comments below.
Disclosure: I was a guest of Banff Lake Louise Tourism as such, my transportation, accommodation, excursions and meals were covered. I am not being further compensated for writing this post about my experiences. As always, all opinions are my own. Thank you for supporting Living Lou.