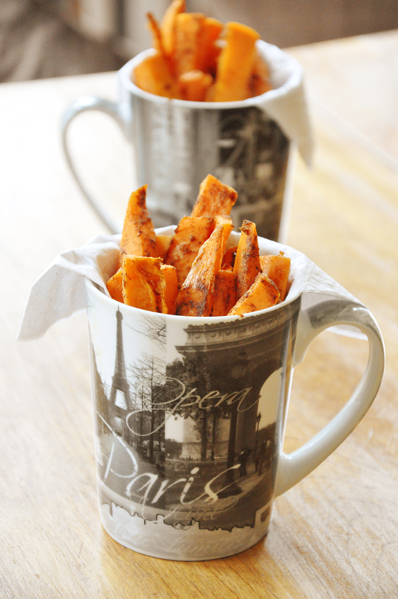 We're less than one month away from Living Lou's first birthday…did you know the first recipe I ever posted was for sweet potato fries? It seems pretty fitting that today I'm talking about my new, favourite recipe for sweet potato fries.
Sweet potato fries remind me of my mom because she loves them as much as I do. Often when we're watching one of our favourite shows, I'll make a batch of sweet potato fries for us to snack on. Not only are they fun to eat (who doesn't love fries?) but they are really good for you as well. This year we're watching season 2 of Jamie Oliver's Food Revolution… and all I'm saying is that I'm so glad that I pack my own lunch.
These sweet potato fries are a little spicy, but full of exotic flavors which pair nicely with the sweetness of the potatoes. Not only do these make a great snack but they are a pretty nice side dish with dinner – kids will love them…who doesn't love fries?
Spicy Sweet Potato Fries (4 servings)
Recipe by Lou
Ingredients
2 medium sized sweet potatoes (each sweet potato should yield 2 servings), cut into matchsticks
2 egg whites
½ tsp each of paprika, cumin, chili powder and black pepper
¼ tsp each of garlic powder, onion powder and salt
⅛ tsp cayenne pepper and cinnamon*
* omit the cayenne pepper if you don't like spicy foods or are making for children.
Directions
Preheat oven to 425F.
Peel and cut sweet potatoes into desired size. I like to cut mine into thick matchsticks, or the classic french fry shape. Place fries in a large bowl.
Combine all the spices, salt and pepper in a bowl.
Whisk the two egg whites together and pour over the sweet potatoes. Using your hands to mix around making sure all the potatoes are evenly coated.
Pour the spice mixture over top of the sweet potatoes and toss to evenly distribute flavors.
On a baking sheet lined with parchment paper, bake sweet potatoes for 20-25 minutes or until fully cooked.
What shows are you enjoying?
– Lou