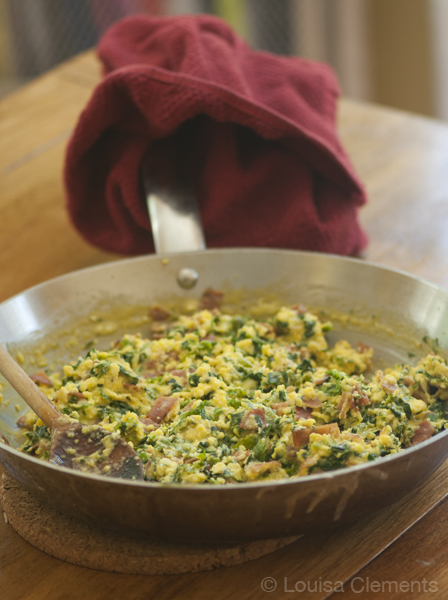 This dish was a complete fluke; scrambled eggs with kale and prosciutto you say? Weird combination, right? Wrong. This started out as one of those, throw whatever you have into the pan kind of breakfasts, something that was not destined for the blog. There are a lot of recipes like that, something I just throw together without thinking about and then once I taste it, I have one of those "a-ha" moments and realize that it must be perfect and posted on here. That's what happened with these scrambled eggs. This combination of flavours just worked, and tasted magical. And I knew I had to share it, plus, sharing it required making it a few more times to get it just right, and that I could do. Food blogging can be pretty time consuming, but it's amazing when you can recipe test a dish in the morning before work and have a delicious breakfast. I'm a big believer in recipe testing because the way I think about it is if you happen to stumble upon my blog one time and decide to make one recipe and it sucks, you'll never be back. So I take great care in developing and testing recipes that to me are perfect, sometimes it takes two or three tests, sometimes four or five. It really depends on the recipe.
I know a recipe for scrambled eggs may seem a little bit silly, but to me it's the combination of the bitter kale and the salty prosciutto that makes this recipe something special. I think it would be a great dish to whip up on a Saturday or Sunday because it's not time intensive at all and it's pretty impressive. The first step is to crisp up the prosciutto, I like to dice it up and then crisp it up in some olive oil. Then comes the kale, which is thinly sliced so that each bite gets a bit of salty prosciutto, kale and creamy scrambled eggs. I wouldn't add more prosciutto than the four slices because your dish will become a little too salty in that case. The next step is scrambling in the eggs and then working on the balance of the flavours. I like to add lots of freshly cracked pepper and hot sauce. I find that most recipes need a little but of saltiness, sweetness and spice for the ultimate balance.
You may have seen me post this on Instagram earlier this week – I like to top mine with lots of hot sauce. Yum.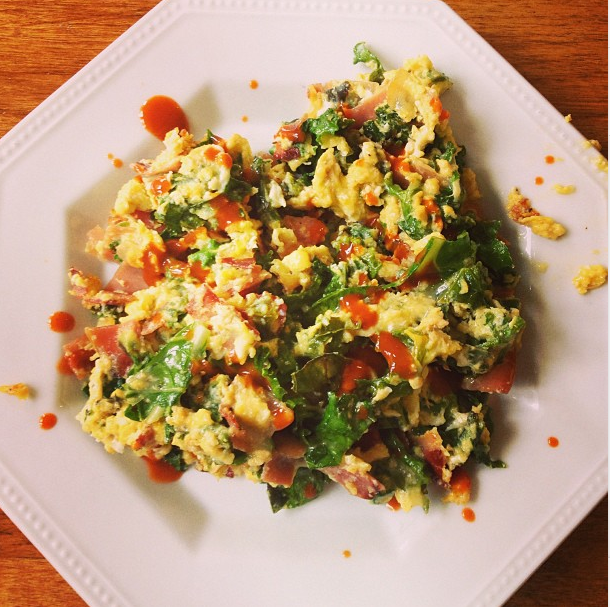 I've really been into sharing sneak peeks at recipes on Instagram these days, so make sure you're following me over there for a little taste of recipes to come. Anyways, back to these scrambled eggs with kale and prosciutto, they are ready in just 12 minutes and if you're really crunched for time, these also make a great breakfast-for-dinner sort of recipe, just serve them with some spicy roasted potatoes or balsamic roasted veggies and you're good to go.
Yields 4 servings
Scrambled Eggs with Kale and Prosciutto
A simple breakfast scramble that will impress your guests!
Ingredients
2 tbsp olive oil
4 slices of prosciutto, diced
4 cups chopped kale
8 eggs
½ cup shredded cheddar cheese
hot sauce for serving

(Optional, but highly recommended!)
Instructions
In a large pan, heat olive oil over medium-high heat.
Add prosciutto and cook for 4-5 minutes or until starting to crisp, stirring occasionally.
Add chopped kale to pan. Turn down heat to low. Cook for 4-5 minutes, stirring occasionally.
Turn heat back up to medium. Crack eggs into pan, stir with kale and prosciutto.
When eggs begin cooking add in cheddar cheese. Scramble until fully cooked and cheese has melted.
Serve with lots of hot sauce.
7.8.1.2
28
https://www.livinglou.com/scrambled-eggs-with-kale-and-prosciutto/
Scrambled Eggs with Kale and Prosciutto is a simple breakfast made with 5 ingredients and the recipe can easily be reduced or doubled,