Combine kale and sweet potatoes for the perfect brunch dish or side dish with this simple recipe for sauteed kale and sweet potatoes.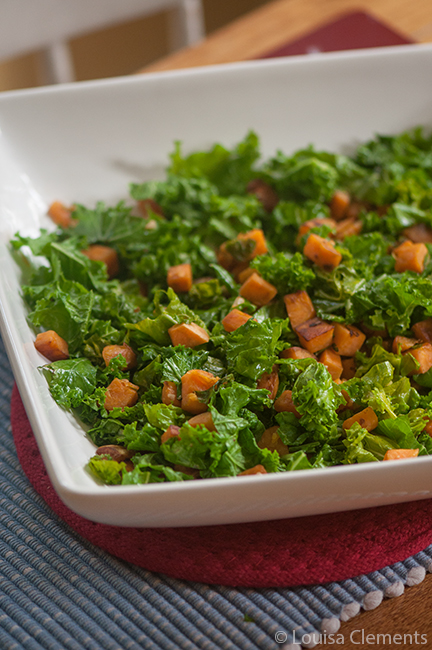 I've had a thing for sweet potatoes for ever, and more recently I've fallen for kale, but the two of them together is a match made in heaven. I love the way the sweetness of the potatoes balances the bitterness of the kale. I've been dreaming up all sorts of ways to combine these two, but I wanted to go for something really simple and easy. Things are a little crazy right now, so 5 ingredient recipes are the only way to go. I've also made a delicious kale and sweet potato hash with chorizo which is another fabulous recipe for combining these two flavours.
Whenever I need to figure something out or really think something through I take my dog on a walk. It's funny how much clearer things can become in 20 minutes – it's kind of like my own form of meditation.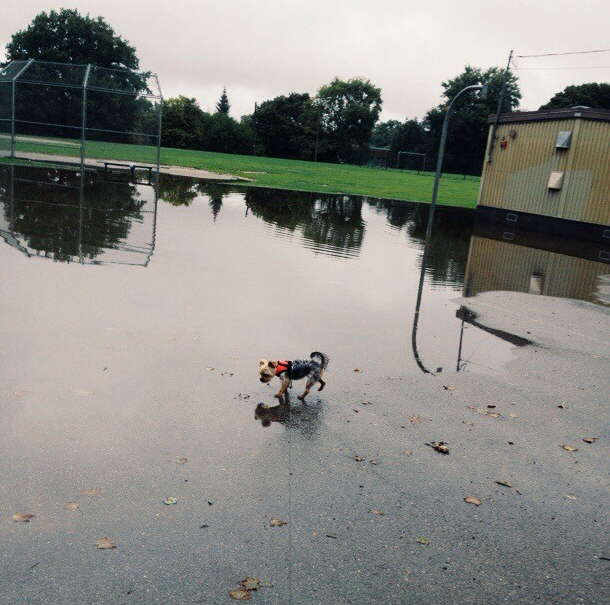 A recent walk with Sophie via Instagram. 
I always have trouble adjusting to a new school year. With a completely random schedule and a long commute, it really throws me off balance. It takes a bit of time to get used to being back in the swing of things, but I guess that's normal for any type of change. I'm not sure, sometimes I wish I was better at adapting to these things. That said, over the past three years of university, I've found that cooking and blogging have really given me a "centre". Between school, blogging and interning, I can't help but sometimes feel that life is getting away from me. I try to plan for this, I schedule recipes, posts, blocks for doing homework…basically, I schedule my life, but that doesn't seem to be working, or making me happy. It's all becoming too planned out, there isn't enough room for spontaneity and it's definitely starting to wear on me. This is something that I realized on this walk, and with that, I realized that I can also choose how I feel and I choose to be happy because these things are, for the most part, in my control, and for the most part, life is good. There will be ups and downs, but it's time to focus on the peaks and not the valleys.
This side dish has been a recurring character throughout all of September – you'll see it on the plate in my recipe for Perfectly Roasted Chicken Thighs. I've finally made it and not eaten it before I had a chance to photograph it!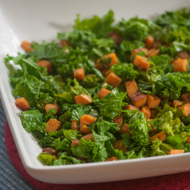 Sautéed Kale and Sweet Potatoes
A simple and delicious side dish made with kale and sweet potatoes.
Pin
Print
Ingredients
4

tbsp

olive oil

2

medium sweet potatoes

,

peeled and diced

4

cloves

garlic

,

finely minced

6

cups

roughly chopped kale

¼

tsp

salt
Instructions
Heat olive oil over medium heat. Add diced sweet potatoes and cook for 8-10 minutes until tender, stirring occasionally. Add garlic and cook for another minute, until fragrant.

Add kale and salt, stir to combine with sweet potatoes. Cook until kale wilts, about 2-4 minutes.
Did you try this recipe?
Leave a comment + rating and let me know what you think!
I love to eat this Sautéed Kale and Sweet Potatoes breakfast or serve it with
chicken
for dinner.