Make the perfect side for Mexican night with this simple and healthy recipe for rice and beans.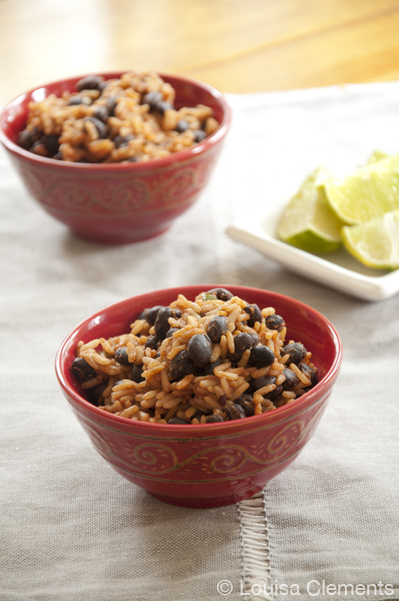 A couple of weeks ago, I was asked to take part in something called "The 10 Day Consumer Challenge" basically, you're only supposed to buy necessities for ten days. You know what that means…no movies, no chocolate bars for that 5pm chocolate craving (no, it is not a necessity!) and no ordering in dinner – it's a lot harder than it sounds. Until finishing the challenge, I never realized how many things I buy on a regular basis that are completely unnecessary.
I mean, did I really need that burrito during class the other day or was I just bored? And as much as I love seeing movies on the weekend, maybe a couple of nights a weekend, I should just watch what's on TV. I saved a heck of a lot of money by only purchasing what I needed and not what I wanted – I'm going to try and implement a few of the "10 Day Consumer Challenge" principles on a regular basis – as a college student, I can't get enough of saving money.
What the challenge also had me thinking about was pantry staples – and the meals you can create from items already stocked in your pantry. I couldn't even tell you the amount of times I look in my pantry and walk away saying there is nothing to eat or to make for dinner. In reality there are cans of beans, tuna, crushed tomatoes, diced tomatoes, rice and pasta.
About halfway through the challenge I was a little uninspired by the ingredients in my pantry, but knew I couldn't go out and buy anything because I had everything I needed for a good meal at home, that's where this Rice and Beans recipe came from. It was super quick and filling, plus I had lots of leftovers for lunch and dinner the next day. It works great as a side dish or even as a main course because the black beans add a ton of protein.

Louisa Clements
Yields 4-6
Rice and Beans
A simple side dish perfect for Mexican night.
5 minPrep Time
25 minCook Time
30 minTotal Time
Ingredients
1 tbsp olive oil
1 cup uncooked long grain white rice
2 garlic cloves, finely chopped
1 jalapeno, cored and finely chopped (leaving in the seeds depends on how hot you like it)
2 teaspoons ground cumin
1 teaspoon chili powder
¼ tsp dried oregano
1 ½ cups cold water
½ cup crushed tomatoes
1 (19 ounce) can black beans, drained and rinsed
Instructions
In a saucepan, heat olive oil over medium heat.
Add rice, stirring to coat in oil. Toast rice for 1-2 minutes.
Add the garlic and jalapeno, stirring to combine with rice. Cook until fragrant - about a minute.
Stir in spices and oregano.
Add water, tomatoes and black beans. Bring to a boil, cover and turn off heat.
Steam for 20 minutes or until liquid has been absorbed and rice is cooked.
7.8.1.2
146
https://www.livinglou.com/rice-and-beans/
Serve as a meal or with your favourite Mexican foods like my favourite
Shredded Chicken Tacos
. I challenge all of you to try out the "10 Day Consumer Challenge" – let me know how it goes! Did you find any changes?