The perfect fall snack, this recipe for pumpkin spiced granola is made with pumpkin puree, almonds, walnuts, coconut and dried cranberries.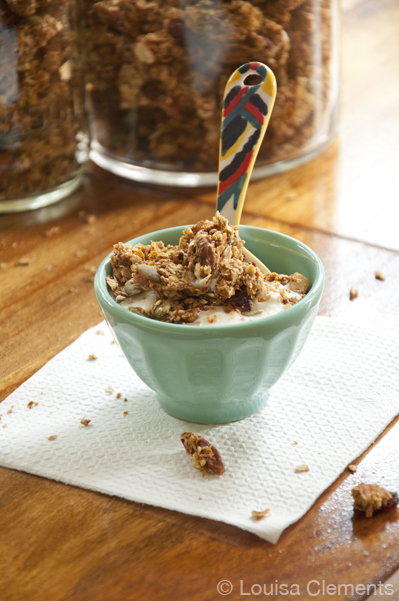 I've had this Pumpkin Spiced Granola up my sleeve for a while, but I wasn't quite sure what to write about it. It hit me yesterday; I finally figured out exactly why I love this granola. Apart from being utterly delicious, the real reason why I love it is because I can eat it in my car.
Yesterday I tweeted* that I eat more meals in my car than anywhere else. I'm here to tell you that that is a fact. I tend to eat my lunch on the way to class from my internship or from class heading to my internship. However today, I ate breakfast, lunch and dinner in my car – while driving. And this granola was part of all of those meals. It's an easy thing to munch on while driving, every time I stop at a red light, I can grab a handful of granola. Plus it packs a nutritious punch – lots of nuts and seeds in there for that protein which is pretty important when constantly on the go. While this granola isn't enough for lunch itself, it's a good start. I like to pack a bunch of things in my lunchbox – I'll show you all soon!
*Can't believe I just said "tweeted". All my friends know I can't stand the word "tweet". No.
Louisa Clements
Pumpkin Spiced Granola
10 minPrep Time
1 hr, 45 Cook Time
1 hr, 55 Total Time
Ingredients
3 cups toasted oats (toast for 15 minutes at 375 degrees)
1 cup chopped almonds
1 cup unsweetened, shredded coconut
1 cup chopped walnuts
½ cup pepitas
½ cup dried cranberries, roughly chopped
½ cup pumpkin puree
1 tsp vanilla extract
¼ cup canola oil
¼ cup maple syrup
¼ cup honey
1 tbsp cinnamon
2 tsp pumpkin pie spice
Instructions
Heat oven to 375F, arrange oats on a large baking sheet and toast 15 minutes.
Turn oven down to 250F.
In a large bowl, combine toasted oats, almonds, walnuts, coconut, pepitas and dried cranberries.
In a small saucepan, bring pumpkin puree, vanilla, canola oil, maple syrup, honey, cinnamon and pumpkin pie spice to a boil.
Remove liquid mixture from heat and stir into dry ingredients.
Grease a baking sheet with cooking spray and press the granola mixture into pan.
Bake for 30 minutes at 250, then turn the heat down to 200 and cook for 1 hours.
Remove from oven and allow to cool before breaking up and storing in an airtight container.
Nutrition
Nutrition Facts
Amount Per Serving

Calories

4975

% Daily Value*



Total Fat:

324 g

498.46%

Saturated Fat:

g

0%

Cholesterol:

mg

0%

Sodium:

mg

0%

Potassium:

mg

0%

Total Carbohydrate:

426 g

%

Sugar:

g

Protein:

177 g

Vitamin A:

0%

Calcium:

mg

0%

Iron:

mg

0%
7.8.1.2
313
https://www.livinglou.com/pumpkin-spiced-granola/
Please tell me I'm not the only one who eats meals in the car? If you're like me, definitely pack this Pumpkin Spiced Granola along for the drive.