Combine your two favourite fall breads into one delicious quick bread with this simple recipe for pumpkin banana bread.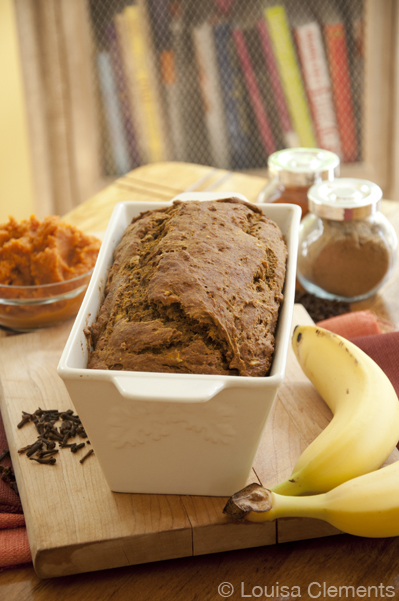 Now that it's starting to feel like fall, I figured it was a good time to share this recipe for pumpkin banana bread. There are a few things that I love about the fall and pumpkin is one of them. I don't really enjoy the cooler temperatures, but I do love the sweet potatoes, soups and stews. Let's not forget the spices – cinnamon, cloves and allspice that are so loaded with warmth and flavour. I am also in love with the cozy sweaters and jackets. I love baking with pumpkin, adding it into pies and somewhat healthier whole wheat muffins, because pumpkin and all of those delicious aromatic spices are kind of a package deal. You can't have one without the other.
In Toronto, it seems as though the temperature has dropped 10 degrees within the past week. A little too much too soon if you ask me. We already have to withstand a gazillion months of winter, we shouldn't have October weather in September, you know? Last year I didn't get around to making as many pumpkin/fall themed things as I wanted to, so this year I'm planning to do a lot of fall baking and cooking. What kinds of things are you all looking for this time of year?
To celebrate the beginning of fall I'm sharing a new recipe for pumpkin banana bread. This recipe is a hybrid of your favourite banana bread and pumpkin bread, it combines both the fruits (yes, pumpkin is a fruit) into one moist breakfast cake or afternoon snack. I've used part whole wheat flour and part all-purpose flour here, the whole wheat has added health benefits and the all-purpose flour is there to keep this quick bread light and fluffy. For this recipe, I wanted to make use of seasonal pumpkin and those leftover bananas you have sitting on the counter right now. As I mentioned, I love fall spices and because of the amounts I have used in this recipe, you'll find that your entire house will smell of delicious fall pumpkin banana bread all afternoon. And this is a good thing, unless you wanted to keep the fact that you're making this pumpkin banana bread on the down-low so you don't have to share with your friends or family. If that is the case, I'm sorry, they will all come running into the kitchen to see what's going on.
Looking for more fall pumpkin recipes? Try these: 
Whole wheat pumpkin quick bread
Make ahead pumpkin French toast
Whole wheat pumpkin pancakes

Louisa Clements
Pumpkin Banana Bread
Ingredients
1 ¼ cup whole wheat flour
1 ¼ cup all purpose flour
1 ½ tsp baking soda
½ tsp salt
2 tsp cinnamon
1 tsp pumpkin pie spice
½ tsp ground cloves
3 tbsp butter, softened
¾ cup brown sugar
2 eggs
2 ripe bananas, mashed
1 ½ cups pumpkin puree
1 tsp vanilla
Instructions
Preheat oven to 325F. Butter the sides of a 9x5 inch loaf pan.
Whisk flours with baking soda, salt and spices in a large bowl.
In the bowl of a stand mixer or using an electric mixer cream butter and sugar together. Beat in eggs, mashed bananas, pumpkin puree and vanilla.
Stir dry ingredients into wet ingredients. Be careful not to over mix.
Pour batter into prepared pan and smooth top.
Bake for 50-60 minutes.
7.8.1.2
145
https://www.livinglou.com/pumpkin-banana-bread/
I hope you're as excited for Fall as I am, enjoy the season with this lovely Pumpkin Banana Bread, let me know if you give it a try.