Prosciutto wrapped asparagus is served with pesto goat cheese on a delicious Nairn's Oat Cracker for the ultimate healthier holiday appetizer.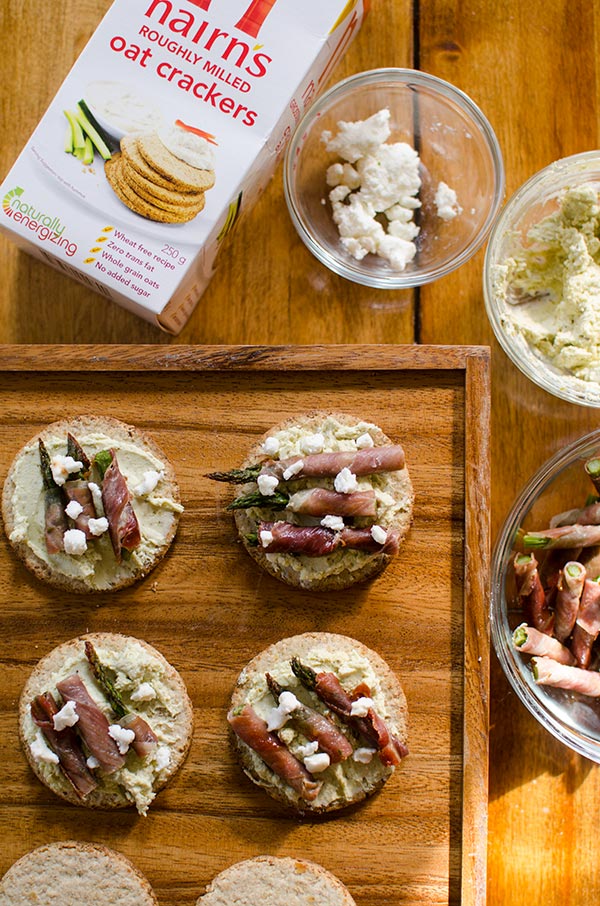 I love the holiday season for a couple of reasons, but mostly because it involves so much time with family and friends. My social calendar is already pretty packed with gatherings this December ranging from casual potlucks and cookie exchanges to more formal dinners and annual parties. While I'm not hosting a party myself this year, I will definitely be bringing delicious eats with me to pretty much every holiday event. I can guarantee that these prosciutto wrapped asparagus with pesto goat cheese on Nairn's Oat Crackers will be on the menu.
The thing about holiday parties is that they don't usually involve dinner. Typically there will be passed appetizers and drinks, which is a wonderful way to catchup with friends, but it can also mean that you aren't quite getting the nutrition you need to sustain a late night. That's why this holiday appetizer is the perfect option for those cocktail parties! I've paired asparagus with prosciutto, mixed goat cheese with pesto and served it all on top of Nairn's oat crackers. Because these crackers are made with whole grain oats, they will keep you more energized throughout the night. Plus they just taste delicious! The tart goat cheese, with the salty prosciutto, aromatic pesto and sweet asparagus pairs perfectly with the toasted oat flavour of the roughly milled oat crackers.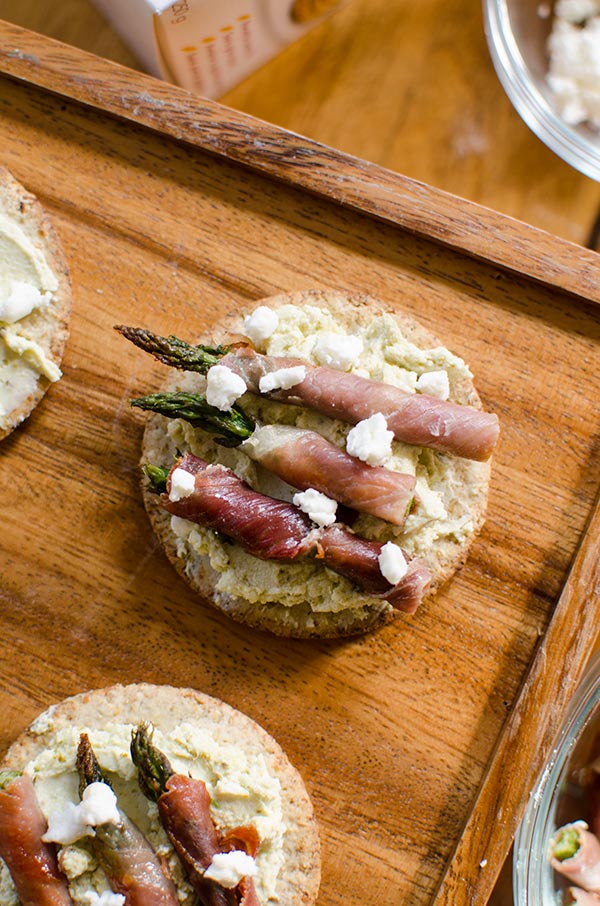 The first step is to prep the asparagus which can actually be done ahead of time because this dish is served cool. I like to slice my prosciutto in half lengthwise because it makes wrapping the asparagus stems a little bit easier, plus because prosciutto tends to be on the saltier side, your palette won't be completely overwhelmed. The asparagus is roasted for 12 minutes at 450F, before it's cut into 1-inch pieces. The tang of the goat cheese also helps to cut through the fat and saltiness of prosciutto, to add to the flavour I stir in a tablespoon of pesto which also helps makes the goat cheese easier to spread. Finally, I like to sprinkle a little more goat cheese on top, mostly because it looks pretty, and we all know, that half of eating we do with our eyes.
Louisa Clements
Prosciutto wrapped asparagus with goat cheese on crackers
30 minPrep Time
12 minCook Time
42 minTotal Time
Ingredients
1 250g pkg. roughly milled Nairn's Oat Crackers
1 ½ lbs asparagus, tough ends trimmed
250g prosciutto, halved lengthwise
1 cup goat cheese + ¼ cup for sprinkling
1 tbsp prepared pesto
Instructions
Preheat oven to 450F.
Wrap asparagus in prosciutto and arrange in a single layer on a baking sheet. Roast for 12 minutes, allow to cool completely. Cut into 1" pieces and set aside.
Meanwhile, in a small bowl, stir goat cheese with pesto.
Arrange crackers on a platter, evenly spread with goat cheese and pesto mixture, top with asparagus and sprinkle with remaining goat cheese.
Nutrition
Nutrition Facts
Amount Per Serving

Calories

1905

% Daily Value*



Total Fat:

96 g

147.69%

Saturated Fat:

g

0%

Cholesterol:

mg

0%

Sodium:

mg

0%

Potassium:

mg

0%

Total Carbohydrate:

33 g

%

Sugar:

g

Protein:

252 g

Vitamin A:

0%

Calcium:

mg

0%

Iron:

mg

0%
7.8.1.2
261
https://www.livinglou.com/prosciutto-wrapped-asparagus-with-goat-cheese-on-crackers/
Disclosure: This post was sponsored by Nairn's – as always, all opinions are my own. Thank you for supporting my sponsors and allowing me to continue creating recipes like these prosciutto wrapped asparagus with goat cheese.