You'll feel like you're in Italy with this prosciutto, mozzarella and pesto-marinated tomato sandwich.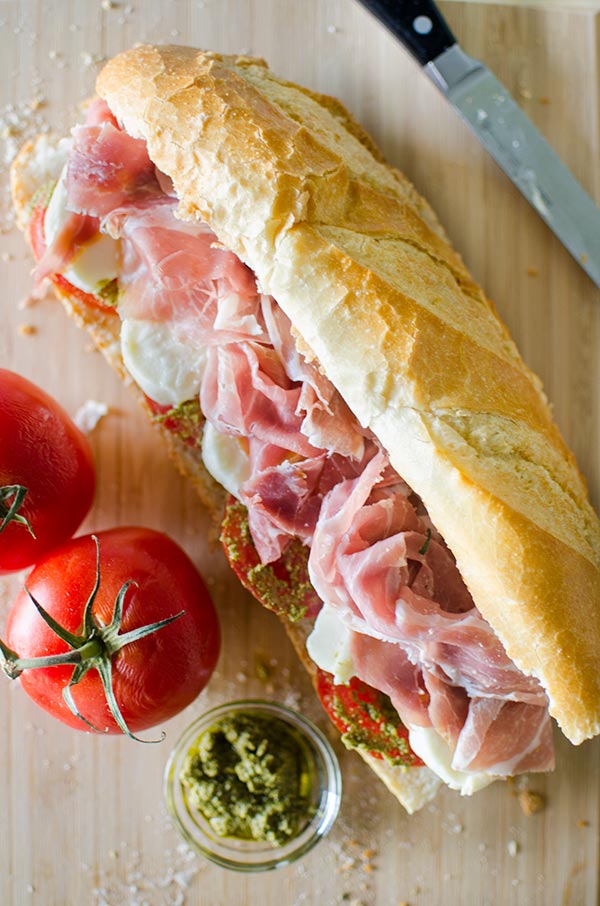 A good sandwich is totally underrated. It's probably because I've had so many mediocre and just plain bad sandwiches in my life that I'm always reticent to make or order one. When I was in Italy a couple of years ago, a friend of mine recommended this tiny sandwich shop, and told me I had to order the prosciutto, tomato and mozzarella sandwich, so naturally I did. I take first hand recommendations very seriously.
I think the key to a great sandwich starts with the bread. Whether it's a crusty hunk of Italian bread, or a soft and buttery brioche bun, I truly believe the bread makes or breaks a sandwich.
The next step to a great sandwich are the spreads, whether it's mayonnaise or Dijon or in this case, pesto. This ensures that you won't have a dry sandwich. And in my opinion, there is nothing worse than a dry sandwich.
This is one of those sandwiches that is perfect this time of year because tomatoes are in season. They are juicy, sweet and supremely delicious. Because this sandwich has so few ingredients, this is the time that you really want to splurge for that high quality, melt-in-your-mouth mozzarella and salty prosciutto. Get it thinly sliced from the deli counter if you can.
And don't forget about the pesto, make your own or go for the more "gourmet" variety at your local store, you won't regret it. The pesto flavours the tomatoes and also soaks into the bread.
The best way to eat this? Wrap it up in plastic wrap and take it to go–on a boat or to the park, maybe to the beach (I always hate when sand gets in my food). Ideally, take this sandwich somewhere fun and share it with someone you care about, because then you'll associate this sandwich with good memories like I do.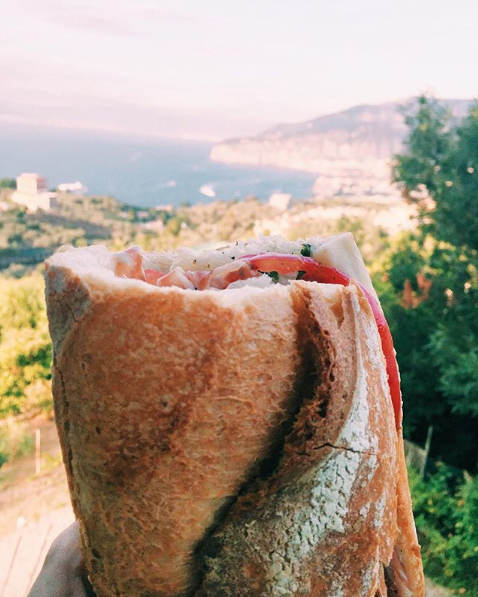 And above is the sandwich that inspired it all. I can still taste it.
Prosciutto Mozzarella and Pesto-Marinated Tomato Sandwich
You'll feel like you're in Italy with this prosciutto, mozzarella and pesto-marinated tomato sandwich.
Pin
Print
Ingredients
2

loaves Italian bread (180g each)

,

halved lengthwise and halved crosswise to create 4 sandwiches

1

large tomato

,

sliced

2

tsp

high quality pesto

8

oz

fresh mozzarella

,

sliced

8

oz

thinly sliced prosciutto
Instructions
In a medium bowl, toss tomatoes with pesto and let sit for 10 minutes.

Arrange tomatoes, mozzarella and prosciutto on bread. Serve.
Did you try this recipe?
Leave a comment + rating and let me know what you think!
Let me know if you give this prosciutto mozzarella and pesto-marinated tomato sandwich a try in the comments below.