Homemade pasta is possible in just 15-minutes with the Philips Pasta Maker. Try this quick recipe for pasta with chicken and fresh herbs!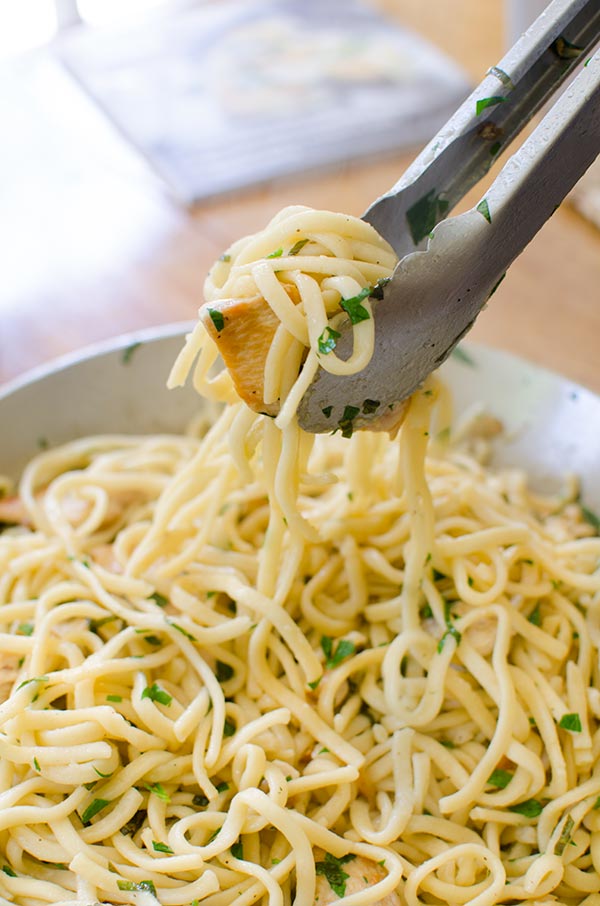 Last summer, I headed to the Amalfi Coast with my sister, and other than the beautiful views and charming coastal towns, I was most excited about homemade, fresh pasta. It's synonymous with Italy, is it not? This was my first time in Italy and I knew that I would be eating 99% pasta and I was 100% ready for it.
Homemade pasta is something I've dabbled in over the years, and I think most foodies or passionate home cooks would say the same.
The first time I made homemade pasta was when I was about twelve years old. We rolled the pasta by hand and made these little rustic pieces, and it took forever. After that first foray into homemade pasta, I've continued to play around with it, but it always just ended up being too much work. Then I tried the Philips Pasta Maker and now all of my homemade pasta dreams are a reality.
I am so excited about this appliance. It makes one pound of pasta in 15 minutes. Literally. It's basically any pasta-lover's dream because there are endless, customizable pasta-making possibilities. I've been playing around with this machine for the past couple of weeks, and I am completely smitten. You could say that I've reverted to my Italy-vacation vibes and consuming 99% pasta.
What I love about the Pasta Maker is that it makes pasta in the amount of time it takes to boil your water and prep your ingredients. (Especially for this incredibly quick and easy pasta with chicken, fresh basil and parsley, if you're wondering.) It begins with adding the flour to the machine, followed by the liquid (water + egg). Then all you do is choose your setting (there are two choices, pasta for 1-2 servings or 3-4 servings) and turn it on. 
Within three minutes, there will be noodles coming out of the machine! They come quickly, so I like to stand by with a pair of scissors to cut them to my desired length. It comes with all of the homemade pasta recipes you could dream of, be sure you have a scale because the recipes are measured in grams.
For this recipe, I wanted to showcase the pasta with a light and fresh recipe highlighting my favourite summer ingredient–fresh herbs! I was inspired by a bunch of basil and fresh parsley I had in my fridge. With some chicken, a little garlic and Parmesan cheese, you have the easiest dinner on the planet.
I know, 'homemade pasta' and 'the easiest dinner on the planet' don't usually go together but in this case they do! This machine truly makes homemade pasta something that can be done on a weeknight, and trust me, I know how tired you can be after a 10-hour day at work. 
Louisa Clements
Yields Serves 4
Pasta with Chicken and Fresh Herbs
20 minPrep Time
15 minCook Time
35 minTotal Time
5 based on 1 review(s)
Ingredients
Nutrition
Nutrition Facts
Amount Per Serving

Calories

247779

% Daily Value*



Total Fat:

1147 g

1764.62%

Saturated Fat:

168 g

840%

Cholesterol:

186 mg

62%

Sodium:

1550 mg

64.58%

Potassium:

69140 mg

1975.43%

Total Carbohydrate:

49680 g

%

Sugar:

200 g

Protein:

8260 g

Vitamin A:

32.02%

Calcium:

10299 mg

1029.9%

Iron:

3022 mg

16788.89%
7.8.1.2
291
https://www.livinglou.com/pasta-with-chicken-and-fresh-herbs/
 Disclosure: This post was sponsored by Philips – as always, all opinions are my own. Thank you for supporting my sponsors and allowing me to continue creating recipes like this pasta with chicken and fresh herbs.