These mini pumpkin donut muffins are flavoured with pumpkin and pumpkin spice then rolled in butter and sugar to create a donut-like dessert. 
I've been dreaming of making mini pumpkin donut muffins forever, well, a year to be exact. They are kind of the perfect treat for Fall. They're fun, they're a little messy and you get to enjoy the comfort of a donut and the appeal of a muffin all at once. It's the perfect middle ground.
Can we talk about how sometimes, it's so confusing to "grow up"? It's like you wake up one morning and suddenly everything and everyone seems so different. It's not like in high school when everyone has a pretty similar experience, now, everyone has such different experiences, but we're all doing the same thing: trying to figure this thing out. I guess that's how we become the people we are? I've found recently that the people I never thought I would have anything in common with are the only people that I actually do. And that's okay. It's actually really nice. It's also kind of bittersweet, but I guess that's the way life goes? I haven't figured it out yet, but things are moving and changing in an interesting direction and I'm excited (kind of) to see where it goes, it's also a little nerve wracking, but that's the name of the game, I guess.
But you see, as confusing as it is, it's kind of a fun adventure! To start down a path and not know where it will take you. To wander, and learn and figure things out on your own. It brings people together and pulls them apart. It's messy and fun, kind of like these donut muffins. It's like the first time you try a new recipe and aren't really sure what to expect. Sometimes it's the most successful thing in the world and other times it might need a few tweaks and changes.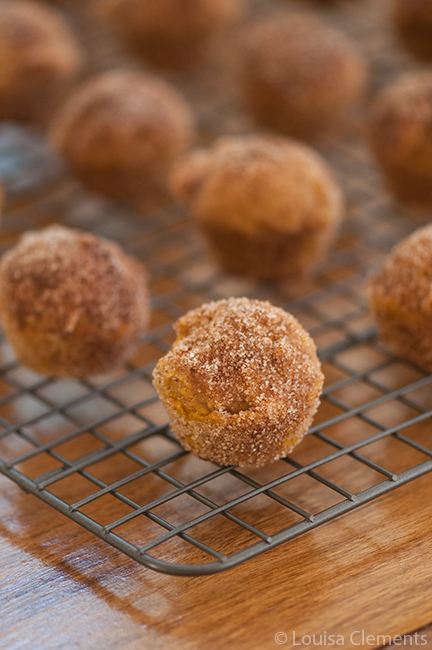 Louisa Clements
Yields 20-24
Mini Pumpkin Donut Muffins
15 minCook Time
15 minTotal Time
Ingredients
1 ¾ cup flour
1 ½ tsp baking powder
½ tsp salt
½ tsp nutmeg
½ tsp cinnamon
¾ cup pumpkin puree
½ cup white sugar
½ cup milk
⅓ cups vegetable oil
1 egg
1 tsp vanilla extract

Topping:

¼ cup butter, melted
⅓ cup white sugar
1 ½ tsp cinnamon
Instructions
Preheat oven to 350 F, grease a mini muffin tin.
In a medium sized bowl, whisk together flour, baking powder, salt, nutmeg and cinnamon.
In another bowl, whisk together pumpkin puree, sugar, milk, vegetable oil, egg and vanilla extract.
Add wet ingredients to dry ingredients and gently stir together. Be careful not to over mix.
Scoop roughly 1 tbsp of batter into each muffin tin.
Bake for 13-15 minutes or until when tested with a toothpick and it comes out clean.
Allow donut muffins to cool. Meanwhile, combine sugar and cinnamon in a bowl.
Brush each donut muffin with melted butter and roll in sugar and cinnamon mixture.
7.8.1.2
163
https://www.livinglou.com/mini-pumpkin-donut-muffins/
I find that these mini pumpkin donut muffins are best within the first couple of days of making them.