I'm back with a new recipe for Kale and Sausage Baked Pasta. Baked pasta is the quintessential cozy comfort food, is it not? Cheese, pasta, sausage and a slight healthy touch from kale are really all it takes for this winning dish. This is a recipe that is so simple that it is one of those no-brainer, busy weeknight, holiday season sort of dinners. Plus it's loaded with healthy kale and the always flavourful hot Italian sausage. I will admit that I am a little biased here, but I think this will make your holiday season a little less hectic. (And by that I mean you will have more time for holiday cookie baking.) And this is the kind of recipe you can make all winter long and I can guarantee that your family will love it. My family went crazy for it when I made it for our Sunday lunch.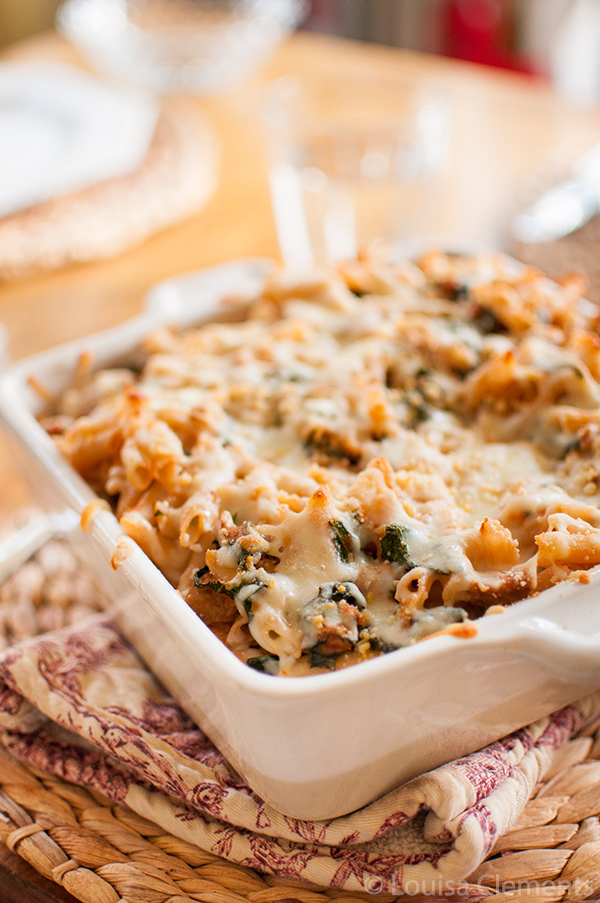 Did you know that in the four-plus years that I've been doing this blogging thing, I've never taken a break. There have definitely been lulls in posts during finals week and busier times of the year, but this space has always been a place of comfort for me. A constant for me during a period in my life filled with change. Somewhere to express myself through my food and my words. But sometimes there are no words, and the comfort of the kitchen isn't enough. But slowly, the kitchen begins to call again, because I've realized that food is my thing, it's a part of me. Feeding people is what I love to do. But when things are difficult sometimes it's the last place I want to be. But it began to call again, it was just a whisper at first; I made a mushroom omelet. Then it got a little louder; I made oatmeal chocolate chip cookies for a friend, because food, as we know, brings people together and sometimes cookies are the best thing. Finally, the kitchen was screaming for me. There was the most beautiful bunch of kale on my counter, hot and spicy sausage waiting to be used in my fridge, and a cheese drawer overflowing with mozzarella. Before I knew it, I was in there crumbling sausage and grating mozzarella.
It's surprising that I haven't shared many baked pasta recipes on here in the past four years but I think you'll be seeing more of these comforting pasta dishes in the future. I'm just craving comfort food these days, you know? Plus, you can't go wrong with melty, ooey-gooey cheese, can you? I had a phase where I wasn't a huge fan of baked pastas, but I think that was because all of the recipes I was trying had over-baked and under-sauced pasta, which is basically the worst thing you can find in a baked pasta recipe. I feel like you could make this recipe vegetarian if you wanted, but I find the Italian sausage packs a ton of flavour and really makes this dish. If you do find yourself looking for a vegetarian baked pasta, I recommend trying pesto baked pasta.
Sausage and kale baked pasta recipe breakdown
A simple baked pasta that uses a simple, sausage and kale tomato sauce and mozzarella cheese for a comforting and simple winter dinner.
Yields Serves 4-6
Kale and Sausage Baked Pasta
10 minPrep Time
25 minCook Time
35 minTotal Time
5 based on 1 review(s)
Ingredients
454g / 1lb penne pasta
1 tbsp olive oil
454g / 1 lb hot Italian sausage, casing removed
2 cloves garlic, minced
4 cups chopped kale
1 cup crushed tomatoes
2 cups shredded mozzarella
2 tbsp grated parmesan cheese
Instructions
Preheat oven to 350F and bring a large pot of water to a boil. Cook pasta until al dente, according to package directions. Drain pasta.
Meanwhile, heat olive oil in a large pan over medium-high heat. Add sausage, crumble to cook, about 5 minutes.
Add in garlic, cook for another minute. Add in chopped kale, and cook for another 2 minutes or until kale is wilted. Remove from heat and stir in crushed tomatoes.
Add kale and sausage sauce to pasta and stir.
Dump pasta into a 9x13 casserole dish,
Sprinkle with mozzarella and parmesan cheeses.
Bake for 15 minutes or until cheese is bubbling and melted.
Notes
Recipe by Louisa Clements
7.8.1.2
92
https://www.livinglou.com/kale-and-sausage-baked-pasta/
If you're looking for a simple, weeknight dinner this holiday season, this recipe for kale and sausage baked pasta is the answer.