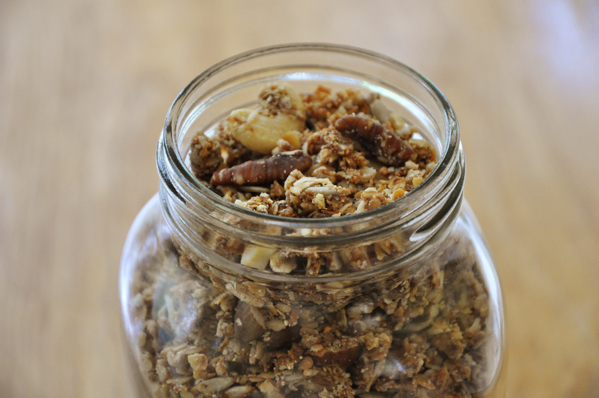 Mmmm, I love granola! I think everyone loves granola, don't you think? You can eat it as cereal, you can add it to your yogurt, you can make granola bars… seriously, it's such a delicious and healthy snack, you can even just grab a handful as you're running out the door. It's packed full of protein (in all of the nuts!) which will give you a protein kick as you begin (or carry on) your day. And it makes a seriously awesome gift. Since this recipe makes a ton, you don't have to worry about not having enough delicious granola left over for yourself and your own family after gifting some for friends and family. I ended up giving a lot of it away to friends and I received a ton of positive feedback.
Basic Granola
recipe adapted from: La Belle Bride
Ingredients
3 cups toasted oats (toast for 15 minutes at 375 degrees)
½ cup milk Powder
1 cup chopped almonds
1 cup coconut
½ cup sunflower seeds
1 cup chopped pecans
½ cup cashews
1 tbs cinnamon
1 tbs Vanilla
½ cup canola oil
¾ cup maple syrup or honey
⅛ cup peanut butter
Directions
Toast the oats for 15 minutes at 375 degrees.
While the oats are toasting combine the milk powder, chopped almonds, coconut, sunflower seeds, pecans, and cashews in a large bowl.
In a saucepan boil the canola oil, honey/syrup (I didn't have enough of either honey or syrup for ¾ cup so I mixed about half honey and half maple syrup to have the right amount), peanut butter, vanilla and cinnamon for two minutes.
Add your wet ingredients to the dry ingredients you mixed together before, and then add your toasted oats once they're done. Mix thoroughly.
Pour the contents of the bowl on a cookie sheet and cook in the oven at 250 for ½ an hour and then turn the heat down to 200 and cook for 2 hours.
Once done, let cool and store in any airtight container or mason jars.
So, try your hand at homemade granola! Your friends with love you forever – trust me!
– Lou