The perfect quick snack, frozen edamame with sesame seeds, sriracha and sesame oil is so easy and delicious.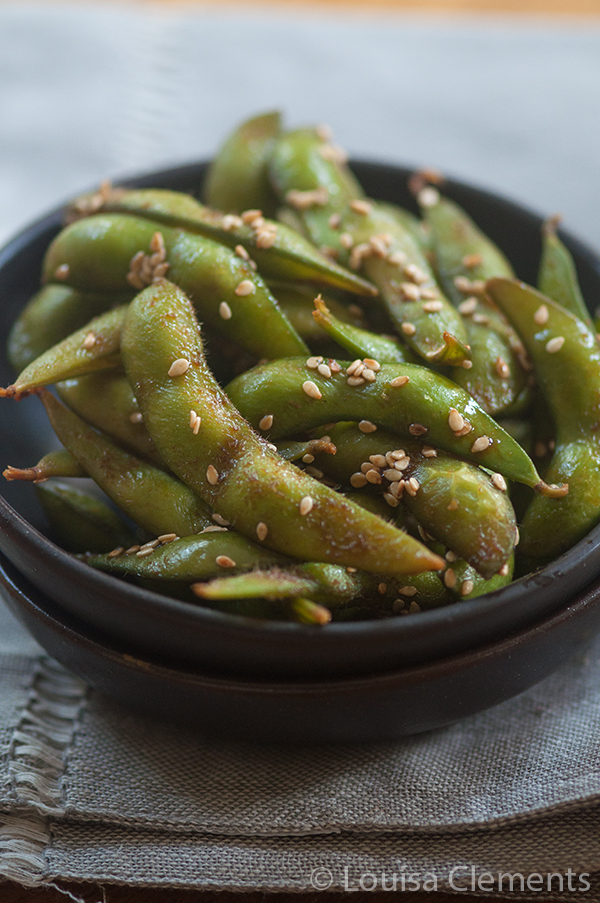 Edamame sprinkled with salt is one of my favourite snacks, I like to call it, the every creative that I am "edamame snack". It's packed with protein, is fun to eat and satisfies that salty craving, however, it can get a little boring. That's where this edamame recipe comes in. With a nutty undertone from sesame oil, a satisfying crunch from the sprinkle of toasted sesame seeds, a spicy kick from sriracha and salty flavour from soy sauce, this five ingredient quick edamame snack recipe will be your go-to after school snack. Who knew something so simple could satisfy so many cravings!
I love this edamame recipe because it take about 5 minutes to cook up which makes it the perfect study break. Then, I can munch on it while I finish up some readings, storyboarding or studying. Of which I did none this weekend. Sometimes you just need to take a weekend off, you know? Last week was wonderful, but my batteries needed recharging. I spent the weekend recipe testing and catching up on blogs. It was just what I needed and good for my soul. I'm a little over a week away from going into production on a school project which is a short film I wrote, am producing and directing. I'm totally freaking out, but trying to take things in little steps so I don't get overwhelmed, it seems to be working for now. Anyways, it's full speed ahead for the next week and a half, and I'll be snacking on this quick five-ingredient edamame snack the whole time.
Food for thought
"If you neglect to recharge a battery, it dies. And if you run full speed ahead without stopping for water, you lose momentum to finish the race." – Oprah Winfrey
Yields 1 serving
Healthy Edamame Snack
A healthy recipe for edamame that satisfies all your snack cravings.
5 minPrep Time
5 minCook Time
10 minTotal Time
Ingredients
2 ½ cups water
2 cups frozen edamame, with shell
2 tsp soy sauce
1 tsp sesame oil
1 tsp sriracha

(or any hot chili sauce)

2 tsp toasted sesame seeds
Instructions
Bring water to a boil.
Add frozen edamame and cook for 4-5 minutes and strain.
Meanwhile, whisk together soy sauce, sesame oil and sriracha.
In a medium sized bowl, toss edamame with soy sauce mixture.
Sprinkle with toasted sesame seeds.
Notes
Recipe by Louisa Clements
Nutrition
Nutrition Facts
Amount Per Serving

Calories

78

% Daily Value*



Total Fat:

7 g

10.77%

Saturated Fat:

1 g

5%

Cholesterol:

0 mg

0%

Sodium:

824 mg

34.33%

Potassium:

56 mg

1.6%

Total Carbohydrate:

2 g

%

Sugar:

1 g

Protein:

2 g

Vitamin A:

0.52%

Calcium:

25 mg

2.5%

Iron:

0 mg

0%
7.8.1.2
40
https://www.livinglou.com/healthy-edamame-snack/
Make yourself a simple and fresh snack, and let me know if you try this edamame in the comments below.