Looking for the ultimate gluten-free brunch recipe? Look no further these fluffy Gluten Free Belgian Waffles are the answer.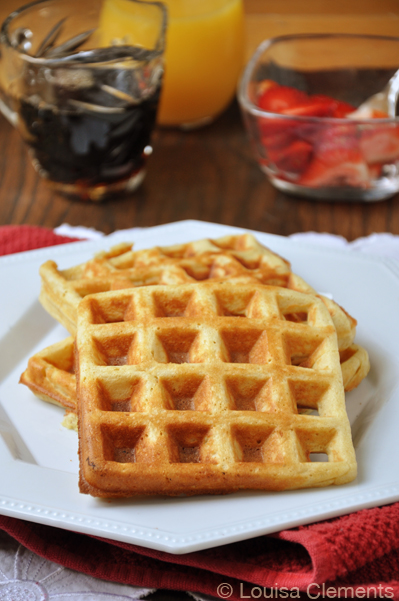 Boy, am I ready for the weekend! It's been non stop go-go-go ever since classes started, mind you, I love being busy, but I do miss eating a good breakfast. I can already tell that this weekend is going to be filled with waffles, of the gluten free variety, of course. Now, I'm someone who needs to follow a gluten free diet, but because my mom and sister both suffer from a gluten allergy, I've been experimenting with gluten free treats for as long as I can remember. Plus, I have to admit that experimenting with different types of waffles and pancakes is a lot of fun. Before these waffles, I'd never experimented with any type of gluten free breakfast food (other than my vegan and gluten free pancakes) but I wasn't sure how waffles would react when made gluten free. Here's the thing that I found out during my tests, gluten free Belgian waffles are as fluffy and delicious as regular Belgian waffles.
The secret to making Belgian waffles, even of the gluten free variety, is to separate the eggs and beat the egg whites separately until soft peaks form. The egg yolks and whisked with the other liquid ingredients, the flours are stirred in and then the last step is to fold in the egg whites. This helps create air in the batter which allows the waffles to become light and fluffy. Just the way I like them.
Before these Gluten Free Belgian Waffles my Mom hadn't had a waffle in something like 18 years. I can't even begin to imagine. She was gluten free long before being "gluten free" even existed. Back then there weren't any gluten free breads or frozen waffles, if you wanted to have a gluten free snack, you had to make it yourself. Which was equally as hard without all the "gluten free flour mixes" we have these days, (which make gluten free baking so much easier.) For this recipe, I use a standard gluten free flour mix, which works just perfectly in for these gluten free Belgian waffles. Be sure to serve them with lots of maple syrup, powdered sugar and strawberries – yum.

Louisa Clements
Gluten Free Belgian Waffles
Gluten Free Belgian Waffles mean that everyone can enjoy waffles for brunch!
15 minPrep Time
5 minCook Time
20 minTotal Time
Ingredients
2 cups of your favourite gluten free flour mix
1 tbsp white sugar
2 tsp baking powder
¼ tsp salt
4 eggs, separated
1 cup 2% milk
3 tbsp melted butter
3 tbsp vegetable oil
2 tsp vanilla
Instructions
Preheat waffle iron to medium.
In the bowl of an electric mixer, beat egg whites until soft, glossy peaks form.
In another bowl, whisk the flour, sugar, baking powder and salt.
In another bowl, whisk the egg yolks, milk, butter, oil and vanilla extract.
Mix the wet and dry ingredients together.
Next, carefully fold in the egg whites.
Using a ladle, ladle the batter into the waffle iron and cook until desired doneness, about 4 minutes for golden waffles.
Notes
Recipe by Louisa Clements
7.8.1.2
144
https://www.livinglou.com/gluten-free-belgian-waffles/
See, how easy is that. These Gluten Free Belgian Waffles taste just like regular waffles and they freeze really well and can be reheated quickly in the toaster.