Start your morning with a bright vegan ginger turmeric mango smoothie loaded with fresh ginger and turmeric root, orange, banana and mango.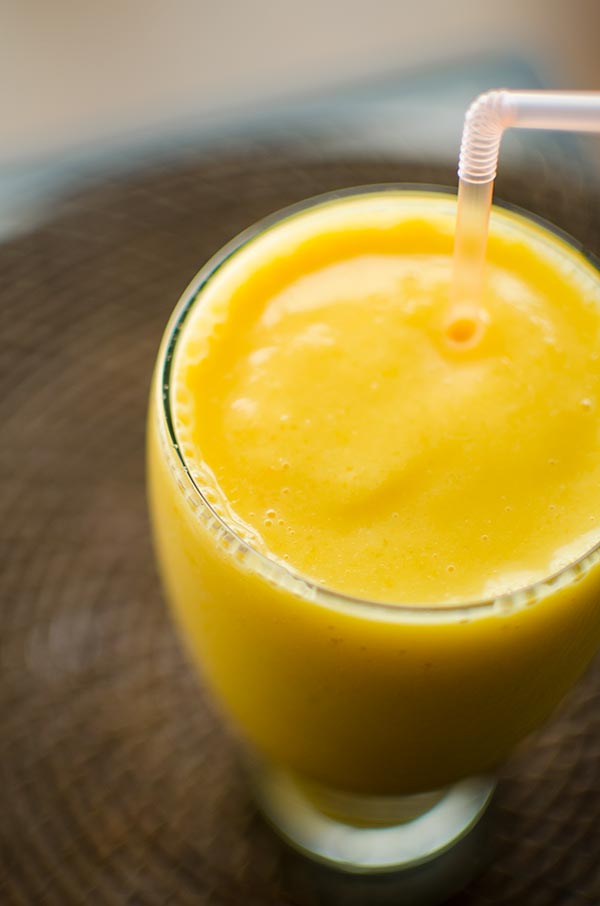 There's something to be said for starting your day with the right intentions. Whether it's packing in a ton of fruits and vegetables first thing in the morning, or waking up and doing a bit of meditation or a workout, I feel like if you are starting your day in the best way possible for you then you are doing something right.
My morning routine doesn't look nearly quite this good. I don't workout in the mornings, I definitely don't meditate, but I do wakeup and try my best to make a breakfast to bring with me to work. I also try my best to start my day on a positive note, you know those days when you wake up feeling grumpy for no reason? I'm trying to curb those as much as possible. We don't need those grumpy mornings in our lives!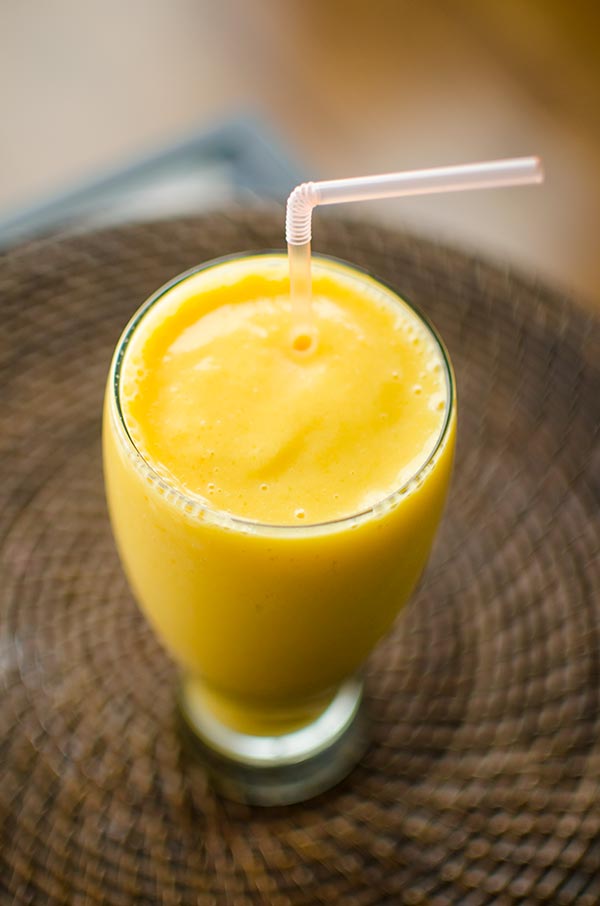 I changed jobs in the fall, and ever since then I've been able to reclaim my mornings. Which means that I haven't had to wake up at 5am every day for quite some time and it's been magical. I definitely don't take my slower mornings for granted, I love being able to ease into my day and not feel so exhausted all of time.
I'm not a breakfast person. I typically feel sick in the mornings, so I'll usually make something quickly before heading to work and then eat my breakfast around 10am at my desk after I've had my coffee. It's usually some yogurt and granola or a bagel with scallion cream cheese and cucumbers, but recently I've been making this delicious, powerhouse ginger turmeric smoothie.
I just feel better after I've had this smoothie, it's packed with flavour from ginger, turmeric and cinnamon with a base of banana, frozen mango and orange. I top it off with a little ice and some almond milk (but you could really use any milk you want here) and we're good to go.
Ginger Turmeric Mango Smoothie
Ingredients
1

orange

,

peeled and pith removed

1

cup

frozen mango

1

frozen banana

1 1/2

cups

almond milk

,

or other milk

½

cup

ice

1

tsp

grated ginger

1

tsp

grated turmeric

1

tsp

honey

1/4

tsp

cinnamon
Instructions
Combine all ingredients in a blender and blend until smooth.
Let me know if you give this ginger turmeric mango smoothie a try in the comments below.