A traditional tabbouleh salad gets an update using farro for a simple and healthy farro tabbouleh salad.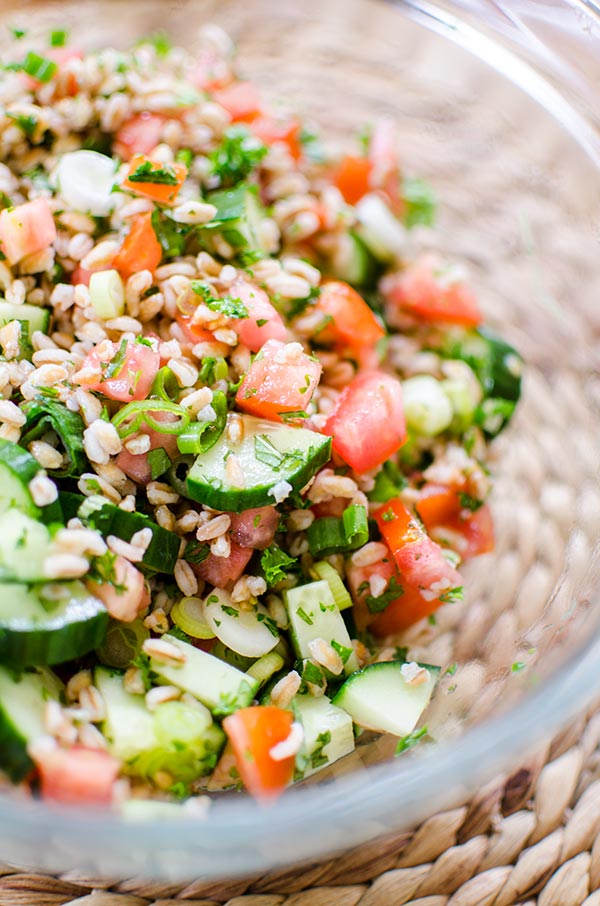 I've been a fan of farro since last summer, it's one of my go-to grains when I'm making a salad because it's really hearty and loaded with flavour. I made a charred corn and farro salad last year and have been planning my next farro recipe ever since. I used it in a lot of winter salads this year, but I never ended up sharing them (making a mental note for January).
This farro tabbouleh came about when I was planning on a making a quinoa tabbouleh salad, only to realize that I was completely out of quinoa. Luckily, I had an unopened box of farro in the cupboard and this salad was born. I think this was a sign from the Universe telling me that it was about time I posted another farro recipe!
Whenever I get an idea for a post, or something I want to talk/write about, I jot it down in the notes on my phone to save for later. I was going through this list recently for some inspiration and stopped when I read the line: what does it mean to live up to your potential. Seriously, what does it mean?
I'll start by saying that I absolutely hate that statement "live up to your potential". Do you hate it too?
It leaves such a bad taste in my mouth because it is such a loaded statement. Loaded with judgment and expectation. Who is anyone to say what your potential is. How do they know? I don't think I've ever had someone explicitly say this to me, but I've definitely been in situations where I have let people down. I think everyone has.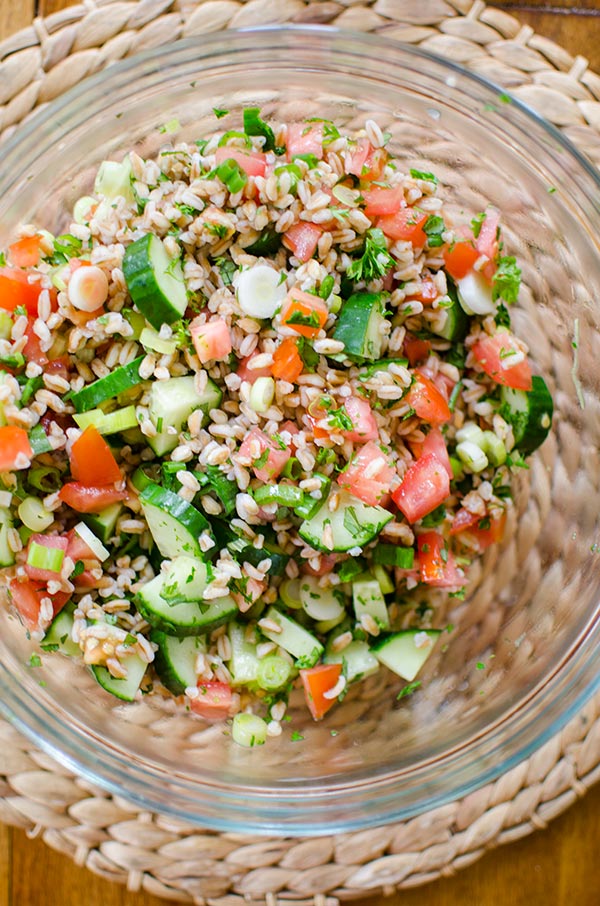 During my final year of university I ended up changing my thesis halfway through the year. This was a pretty complex situation, not only was the project itself a huge undertaking for one person, but there were also a few really difficult things going on in my life at the same time.
Was I worried that I was letting others down by changing my thesis? For sure. Was I worried that I was letting myself down? You bet. But in the end, with the support of a wonderful professor, I made the decision that was right for me and lead me down a healthier path.
Farro tabbouleh salad recipe breakdown
This salad takes the traditional flavours of tabbouleh, a cracked wheat salad with finely chopped ingredients and fresh herbs, and uses trendy farro as the grain, with a simple vinaigrette made of olive oil and lemon juice.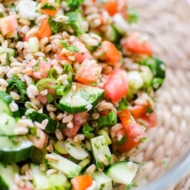 Ingredients
1

cup

farro

1 to

mato

,

finely chopped

½

cucumber

,

quartered and sliced

2

green onions

,

sliced

⅓

cup

chopped parsley

2

tbsp

chopped mint
Dressing:
2

tbsp

olive oil

2

tsp

lemon juice

½

tsp

Dijon mustard

¼

tsp

salt
Instructions
Cook farro according to package directions. Cool.

In a large bowl, whisk ingredients for dressing. Add farro, tomato, cucumber, onion and herbs. Toss and serve.
Did you try this recipe?
Leave a comment + rating and let me know what you think!
Let me know if you give this farro tabbouleh a try in the comments below.